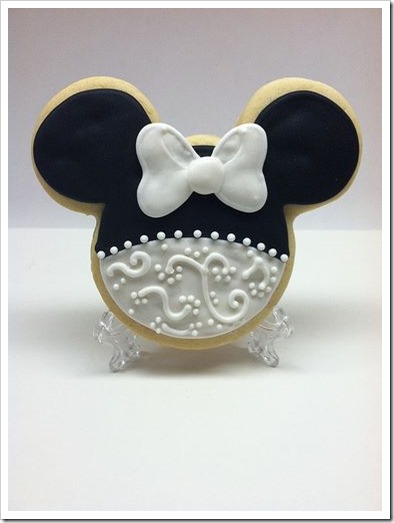 These gorgeous Mickey and Minnie Mouse Wedding Cookies were made by Cheers To Cookies. This Minnie Mouse cookie is stunning. I love how the whole cookie is black and white. The black makes the white really stand out. You notice the bow, pearl trim, and lacework more because of the use of contrasting colors.
Here is the matching Mickey Mouse Wedding Cookie. This cookie is black and red with one white lapel flower. Mickey looks dapper in his red jacket with black lapel and buttons. The bow tie looks great. You can even see the red shirt under the jacket and its red buttons.
I only have one complaint with these cookies….they are way too gorgeous to eat!!!
Also, check out these amazing Mickey and Minnie Mouse wedding cookies.
In addition, take a look at these out of this world Star Wars wedding cookies.