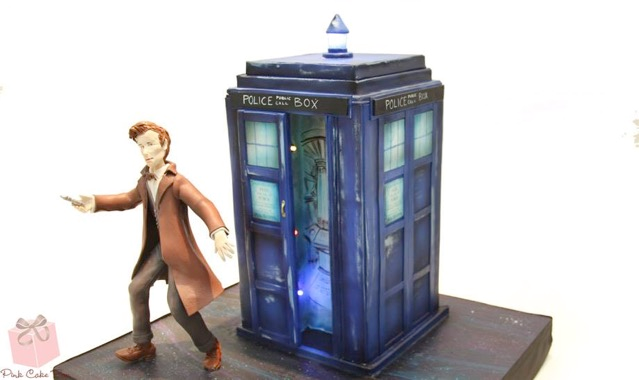 This Incredible Doctor Who Cake was made by Pink Cake Box. Matt Smith, the eleventh Doctor, is standing outside the TARDIS with his sonic screwdriver in his hand. The TARDIS door is open so you can see the TARDIS console inside.
This edible TARDIS has lights on the inside. This Doctor Who blue Police Box looks weathered like it has gone through quite some adventures while traveling through time. Matt Smith is wearing his bow tie and carrying his sonic screwdriver. He has just stepped out of the TARDIS, ready to encounter new aliens.
This cake was based on The Official Doctor Who 50th Anniversary Cake which was also made by Pink Cake Box. There is a nice video about this TARDIS cake.