Tonight, the final episode of the beloved British TV series Downton Abbey is broadcast.  Jennifer Kennedy, from Jenny's Haute Cakes, had a wonderful idea.  She got a bunch of her baker friends together and each made an edible masterpiece to celebrate the show.  The collaboration is called A Sweet Farewell To Downton. 

Today, I have a real treat, an interview with Jennifer.
Tell me about yourself: How long have you been decorating? How did you learn to decorate cakes? When did you open Jenny's Haute Cakes?  
I am a stay-at-home mother of four from a little town just south of Denver.   I have always been artistic, but working long hours as an attorney kept me from spending much time in creative endeavors.   Then, after the birth of my 3rd child, I became a stay-at-home mom.   I started painting again after years.   I made crafts with the kids.   I illustrated a children's book.  I was commissioned to create banner designs for a local company.  And every year, the kids birthday parties got more and more elaborate.  I was making decorations, and piñatas and then, of course, cakes.  As a family we used to watch "Cake Boss" and the kids would say, "Mom, you could make that!"  After a couple years making cakes for the kids, I started taking classes.  Then more and more people started asking me for cakes.  In 2012 I opened a cottage food business.  Jenny's Haute Cakes has been going strong ever since.
When and how did you learn about Downton Abbey?  Do you have a favorite character?  Do you have a favorite storyline, scene or episode?
I am a huge fan of the show Downton Abbey, and when they announced this would be the last season, I was just crushed.   I started watching the show in the 4th season, after my sister and sister-in-law kept tell me I HAD to watch because I would love it.   My husband and I watched the first episode of season 4 and were hooked!  We went out and bought the first three season and had marathon viewing sessions until we were caught up.   Once we were caught up, it was very difficult to have to wait a WHOLE WEEK between episodes!  We fell in love with the characters. We fell in love with the scenery.  We fell in love with the music. We fell in love with the wit.   I would watch the show just for Maggie Smith's quippy comments as Violet Crawley, the Dowager Countess.  Honesty, I marveled at what it must have been like to live in such a world.  I rooted for Mary and Matthew to finally end up together.  I cringed at Barrow and O'Brien's scheming.   I considered writing a letter to Julian Fellows begging for him to show Edith mercy and give her a happy ending!   I love all the characters , but my favorites are probably Carson, Mrs. Hughes, Tom Branson, Violet and Robert.  Frankly, the writers have done such an amazing job of giving us complex characters that are complex and sometimes flawed, but so very real, that even though it is a different world and culture, we can all relate to them.  
Have you created any other collaboration or is this your first one? What was your inspiration for creating a Downton Abbey themed collaboration?  What has been your favorite part?
I had been in several cake collaborations before, and began asking around if anyone was organizing one for the show.  Everyone encouraged me to organize one myself, so I did.  This is my first collaboration as organizer.  I am grateful for all the sugar artists who joined me on this fun little venture and am in complete AWE of the gorgeous body of work they have created!   We have not one, but TWO amazing sugar versions of Highclere Castle.  We have a bust of Carson carved from a 30 lb block of chocolate.  We have a working steam train.  We have sugar lamp cake that lights up.  We have props and figures who have been brilliantly recreated.  And we have literally dozens of cakes stunningly interpreting our favorite outfits that bring us right back to scenes and story lines over the last 6 years of the show.  
In keeping with the "vintage" feel of the show, I have created sketches of all the dresses people used as inspiration, and painted a watercolor of Highclere Castle that pops up as a background image here and there.
You can see part of Jennifer's watercolor of Highclere Castle in her photograph above and the collage bellow features Highclere Castle, Jennifer's cake and one of her sketches of the dresses worn on Downton Abbey.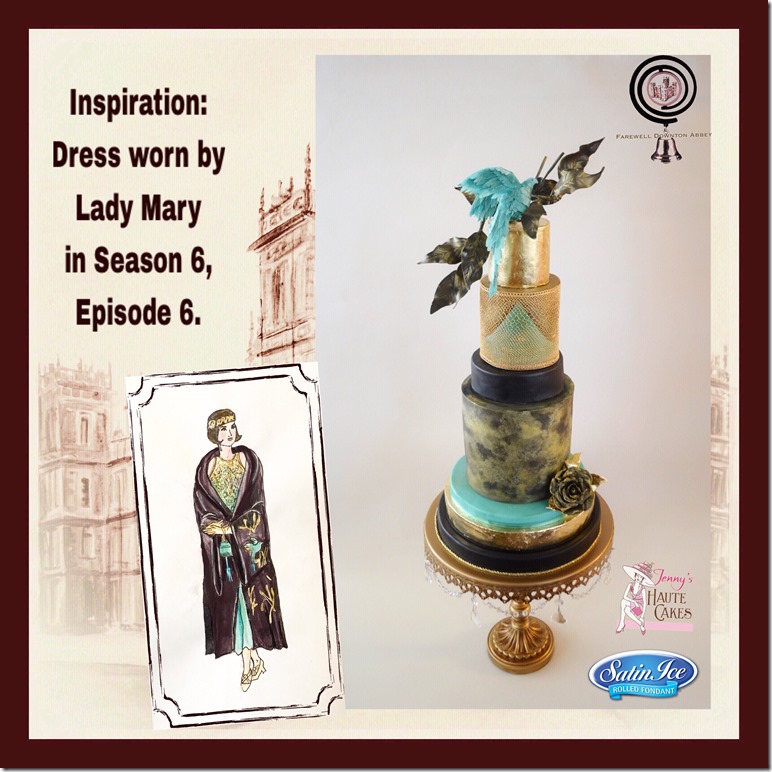 What was your inspiration for your cake? What is your cake made from and how did you make it?
I chose to do a fashion-inspired cake because it was very different from my usual cakes.  I specialize in novelty cakes, and doing something tall and beautiful isn't something I get to do very often.  I picked a gorgeous outfit that Mary wore during her courtship with Henry Talbot.  I got to use cake lace and gold leaf and flowers and gorgeous tall tiers.  So much fun!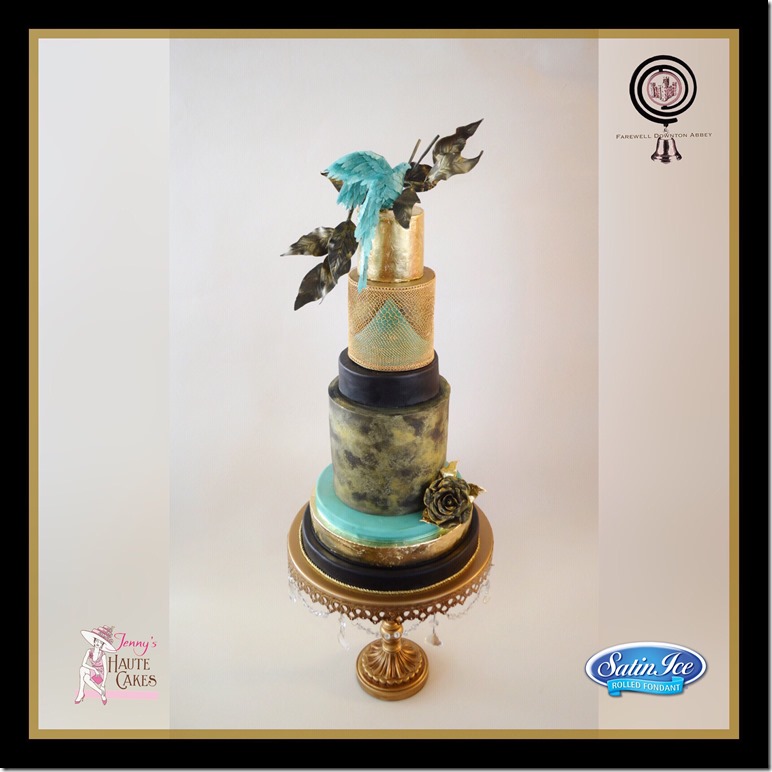 Here is Jennifer's description of her gorgeous cake:
I love the colors and the lace and the detailing on the shawl.  I was excited to try and create the different textures.  The second tier below the top was created with a fondant inlay and covered with cake lace, to mimic the halter of the dress.  The top tier is covered in gold leaf to accent the gold parts of the outfit.  The topper is a wafer paper bird and gum paste leaves. The design for the topper is taken directly from the detailing on Mary's shawl.  The tall middle tier is sponge painted with two colors of gold dust over black fondant to mimic the pattern of her headband, and is accented with a gumpaste rose detail, also from the headband she is wearing.  I added a splash of teal color to complete the look.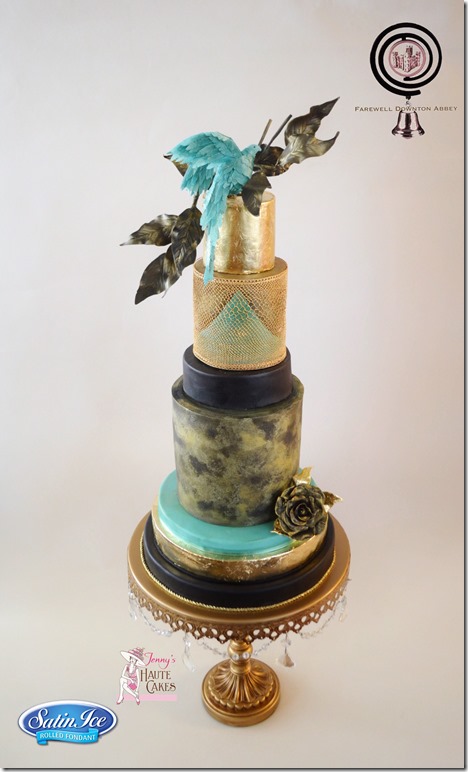 Want to see more gorgeous cakes inspired by Downton Abbey?  Remember to visit – A Sweet Farewell To Downton.