This Fabulous Downton Abbey Cake inspired by vintage telephone from 1910 was made for the Downton Abbey Themed Cake Collaboration – A Sweet Farewell To Downton.
This Fabulous cake was made by Jean Schapowal from Cakes with Character.
Here is Jean's bio:
My name is Jean A. Schapowal and I am a self-taught cake decorator/designer, creating cakes for 14+ years. I graduated from the School of Visual Arts in 1987 with a BFA in Fine Arts, majoring in cartooning and illustration.
As you can tell from my work it has a very heavy cartoony/pop feel to it! I freelanced for numerous years doing work for Putnam Publishing, Weight Watchers and DC Comics to name a few. I did logo design, wedding invites, calligraphy work, custom T-shirt designs and murals. With the start of my family my art career began to take a di erent route. I began to create cakes for my own kids birthday parties and thus Cakes with Character was born. Friends and family attending these functions would inquire about the cakes and business would begin to grow. After dabbling in numerous art techniques, I found that cake decorating was another amazing and creative new medium! Simple occasion and birthday cakes began to transform over the years. I became more serious in experimenting with new techniques, styles and designs that people were not offering here,practicing on cakes and donating to family, friends and charities. I began competing in cake shows across the country and taking the leap in competing in LIVE cake challenges. I love the endless possibilities cake decorating has to offer and I love bringing a smile to someone's face when they see their vision brought to life. Or the joy a child has when their cake is brought into the room! My artistic career may have taken a slight detour but I wouldnt have done it any different! it is an exciting and rewarding profession to be in!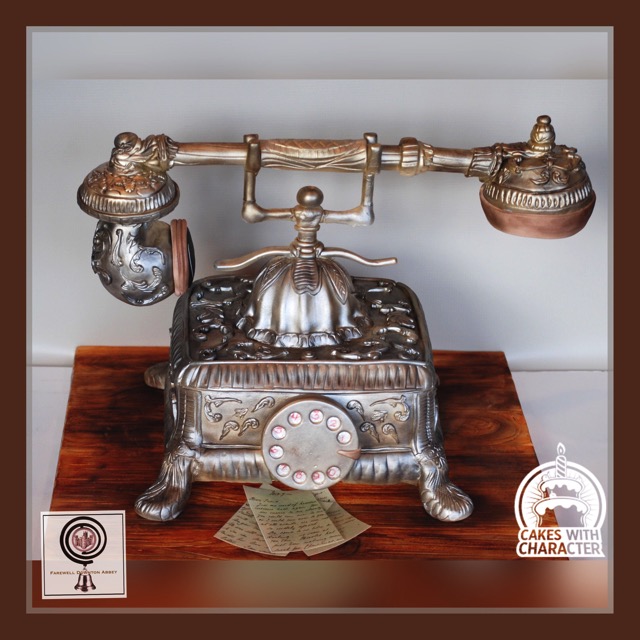 Here is Jean's description of her Fabulous cake:
I struggled with a dress design as that's not really my strong point. I was, however, intrigued by the many items/props featured on the show. I decided to do a vintage 1920s telephone. This way we could feature more items associated with the show. Little did I know the amount of work involved in this a s well. I had to construct the headset in stages so it would fully dry as I was constructing it. The base of the phone is RKT and the rest of the phone is modeling chocolate and fondant. There is an armature for the headset for support. I added in the accents with a mold and freehand and the entire piece was then airbrushed and dusted to give it that antique look. I am very proud of the final results.