This Marvelous Downton Abbey Cake inspired by Lady Mary's Hat was made for the Downton Abbey Themed Cake Collaboration – A Sweet Farewell To Downton.
This Marvelous cake was made by Teresa Baxter from Midnight Cake Creations.
Here is Teresa's bio:
My name is Teresa Baxter and I am the owner of  Midnight Cake Creations based in Somerset in the South West of England.I am a full-time Mother to five lively children and around that, as a means of earning some money, I decorate cakes…..hence the name of my business!I am very much a learner and participating in collaborations allows me to be more adventurous and attempt new styles and techniques that the paying customer would not necessarily request.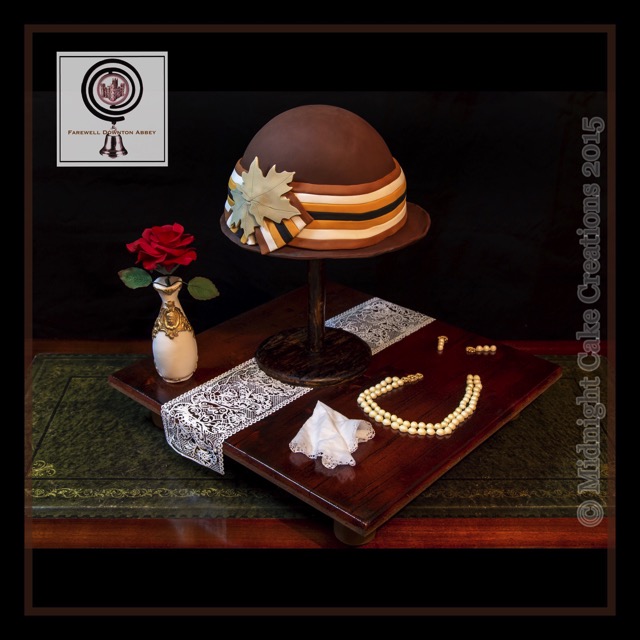 Here is Teresa's description of her Marvelous cake:
I came into the collaboration rather late after Jenny offered me the opportunity to take part.  I was very reticent and nervous as I have not participated in a collaboration before and seeing the calibre or the artists involved and the skill of the cakes and pieces already submitted was a little daunting to say the least.
I decided to attempt something that was a little different. Rather than replicating an outfit I thought I would take a hat worn by Lady Mary and use that as the focus of the piece and then accessorise it with items In keeping with the era and status.
It was so much fun, I loved the experimentation and learned so much. Thank you for Jenny for putting your faith in me and letting me in on the fun and games.