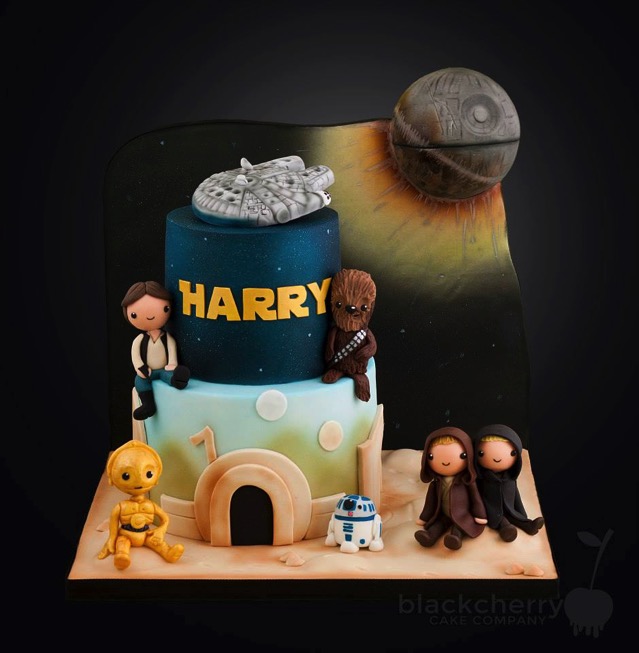 This Terrific Star Wars Cake was made by Black Cherry Cake Company.
This cake features Tatooine with its twin suns as the bottom layer of the cake. There is the number 7 on the top of the building to represent the birthday age. Sitting in front of the cake are C-3PO and R2-D2 and Anakin and Obi-wan. Obi-wan and Anakin represent the birthday boy and his brother. If you look closely at the cake board, you can see small sand dunes.
The top layer of the cake is blue to represent outer space. The birthday name is written in gold letters on the side of this blue layer. Han Solo and Chewbacca are sitting of opposites side of this cake layer.
The Millennium Falcon is resting on the top of the cake.
The backdrop behind the cake shows the Death Star about to explode. In Star Wars: Episode VI – Return of the Jedi, Lando Calrissian, piloting the Millennium Falcon, and Wedge Antilles, in his X-Wing, fly inside the Death Star and fire at the power regulator and the reactor core and cause a chain reaction that destroys the Death Star.
This cake has the Death Star exploding and the Millennium Falcon in the distance.
For more Chibi Star Wars, check out these:
Chibi Cake with Luke Skywalker and Darth Vader
When Leia and Rey were little Cookies
Chibi fondant Star Wars CupCake Toppers
Chibi Han and Leia Wedding Cake