This Marvelous Whitney Houston Tiana Cake was made by Elena Serana Michelizzi from Elena Serena Michelizzi – Cake Designer. This Tiana Cake has Whitney Houston dressed as Tiana and Michael Jackson as the Frog Prince.
This Fabulous Tiana Cake was made for the Disney Deviant Sugar Art A Worldwide Collaboration which is a cake collaboration where cake artists put their own spin on Disney characters.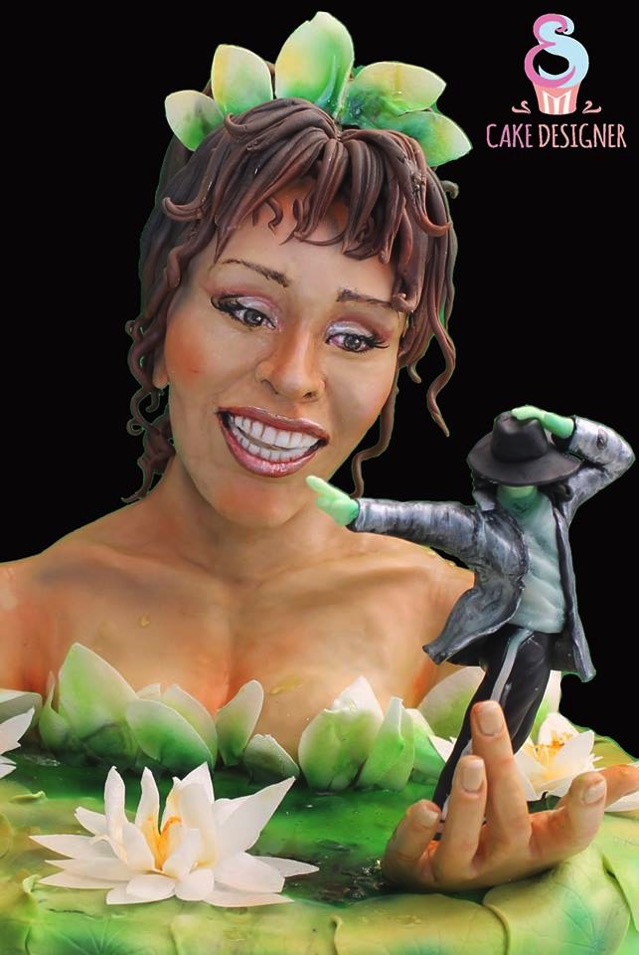 Here is Elena's description of this Wonderful cake:
I chose Princess Tiana because she is a singer and a baker! I was a singer, and I work in a pastry shop! I love her story, her willfulness, and her ascents due to her talent! I thought of a woman, an icon of music that made me so talented for me! The queen of pop, Whitney Huston, I loved her with madness, and I still move her story! She's a Divine Princess! As a frog prince I could not imagine another great icon, the prince, Michael Jackson, who changed the story of music! Prince you, but he felt frog, unaware of how divine, regal, handsome and talented he was! I used a new sugar paste that I love a lot, the Sugarfantasy Princess, molded on an aluminum paper support to give volume! The pond is Art Gel, a new gelatin created by my friend Gina Assini, cake artist! The flowers are in wafer paper, I used a common thin wafer host! I colored the pasta with gel colors and then created shadows and shades with the airbrush!