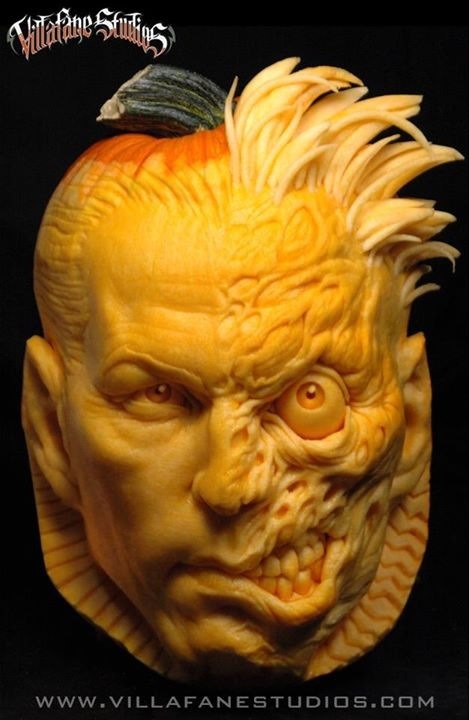 This Saturday is Batman's 80th birthday! I hope I look as good when I'm 80.

To celebrate Batman's big day, I'm declaring this Batman Birthday Week on Between the Pages. Each day, I'm going to feature a cool cake, cake topper, cookie, or pumpkin carving featuring the classic characters that make Gotham City home.
Today, I'm featuring this stunning Two-Face Pumpkin Carving made by Villafane Studios. As you can see, Villafane Studios are masters at pumpkin carvings, but they also make mindboggling sand sculptures and really cool toys. I highly recommend taking a few minutes and digging around their site or social media accounts. They are such amazing artists.
Three interesting pieces of trivia about Two-Face:
As many Batman fans know, before the horrific attack which transformed him into Two-Face, he was Gotham City's District Attorney Harvey Dent. That's not always been the case – when Two-Face first appeared, he was Harvey KENT! But, his name was changed to Dent because DC Comics didn't want Two-Face confused with a certain mild mannered reporter for the Daily Planet.
Legendary writer Harlan Ellison wrote a two parter for the Batman '66 television show called "The Two-Way Crimes of Two-Face". Unfortunately, the episode was never produced. Who was cast as Two-Face? A young star named Clint Eastwood.
What do Two-Face, Lando Calrissian, and Captain James T. Kirk have in common? Bill Dee Williams and William Shatner have both provided the voice of Two-Face in animated movies.
Come back tomorrow – same Bat-Time, same Bat-Channel – for Day 2 of Batman Birthday Week because Some Days You Just Can't Get Rid Of A Bomb.