You know Mickey, and Minnie, and
Goofy, and Pluto,
Donald, and Daisy, and
Chip, and Dale
But do you recall
The most miserly duck of all?
Scrooge, the world's richest duck
Welcome to the latest round of Super Blog Team Up!
As you can probably guess from my wacky redo of the Rudolph the Red-Nosed Reindeer theme song and this great Uncle Scrooge Cookie made by The Red Car Baking Company, I'm focusing on Scrooge McDuck today.
Right about the time I began writing this post, Disney announce that the current season of DuckTales would be the last. At first, writing this post seemed bittersweet, but as I worked on this post, I realized that Scrooge McDuck and the rest of the DuckTales gang aren't going away. There will still be comics, future cartoons, games, toys, and T-Shirts featuring these characters.
As soon as Charlton Hero announced that we were doing a December themed Super Blog Team Up, I knew I wanted to write a Christmas themed post. While I like Frosty the Snowman, The Grinch, and Rudolph the Red-Nosed Reindeer, my favorite Christmas character has got to be Scrooge McDuck.
This marvelous hand painted Uncle Scrooge Cake was made by Bake Susha Bake.
I know a lot of you are thinking that other than borrowing his first name from Charles Dickens' most famous character, Scrooge isn't a Christmas character. That only because you've never spent Christmas on Bear Mountain.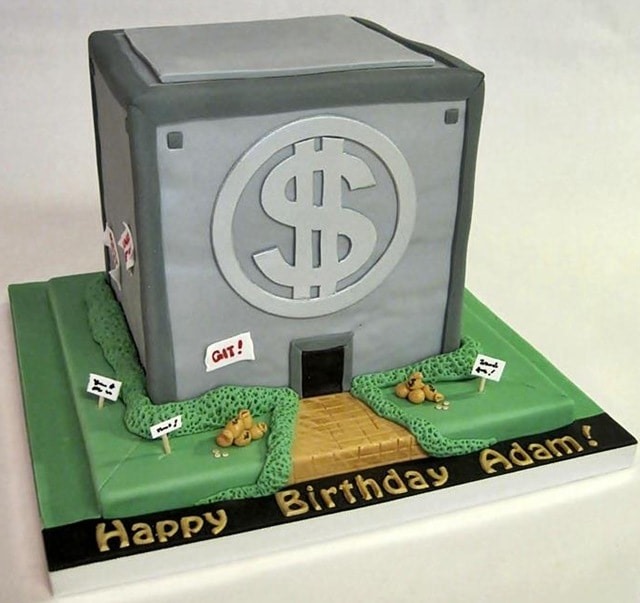 Dream Cakes by Robyn made this wonderful Scrooge McDuck's Money Bin Cake.
Before we can spend time on Bear Mountain, we need to pay a visit to Carl Barks. Carl was an employee of the Disney Studios. He was in inbetweener, created some gags which appeared in cartoons, and worked in the story department. He also worked on two comic book stories – Pluto Saves The Ship and Donald Duck Finds Pirate Gold. These were the first Pluto comic book story and the first original Donald Duck comic book story. Carl was one of the scripters on the Pluto story and one of the artists on the Donald Duck story.
After Carl left Disney Studios during World War II, he approached Western Publishing about working on Donald Duck comic books for them. Since Carl had already worked on two Disney comic books, he was hired. Carl would end up creating around 500 comic book stories staring Disney's ducks, flesh out their world, and become one of the most popular comic book creators ever. For most of his stories, Carl wrote, pencil, inked and letter them. He was a master at one page gags, ten page stories, and longer adventure stories. He created Scrooge McDuck, Magica De Spell, Flintheart Glomgold, Gyro Gearloose, The Beagle Boys, The Junior Woodchucks, Gladstone Gander and dozens of other characters. Carl Barks became one of the most beloved people to ever create comics. That is amazing because Western Publishing didn't include creator credits in their comics, so for years he was just known by his fans as the Good Duck artist.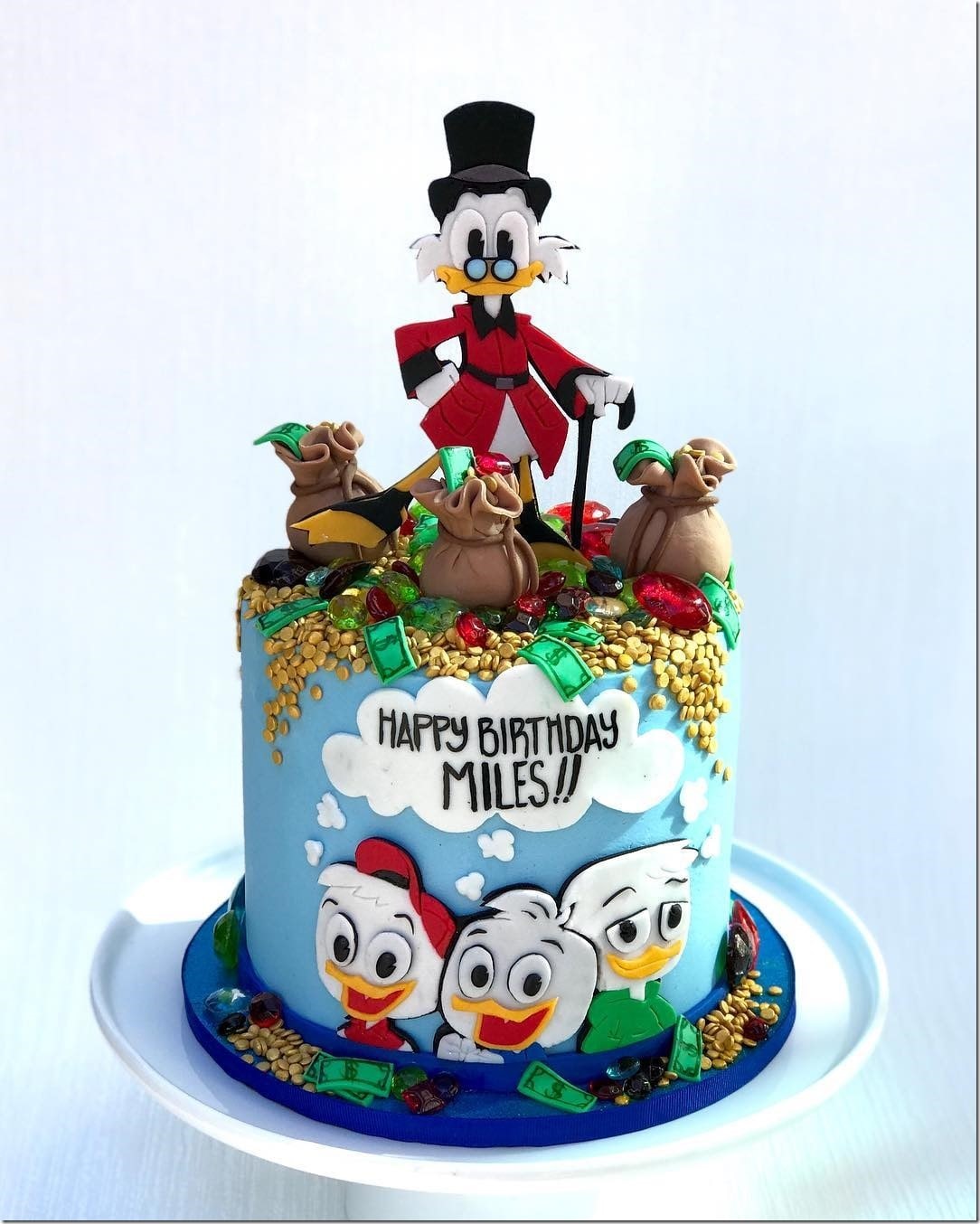 This delightful DuckTales Birthday Cake was made by The Sugar Butcher.
In 1947, Carl Barks was assigned to create a Christmas themed story for Donald Duck. Since Donald was perpetually broke, Carl created a character who was the opposite of Donald – a rich uncle named Scrooge McDuck. As is often the case, the Scrooge we know and love would take a few years to develop. Originally, Scrooge was wealthy, but not excessively. He was elderly and leaned over when he walked with his cane. And, he was clearly inspired by Dickens' Scrooge before meeting the three ghosts. This Scrooge hated Christmas and had thought balloons like "Everybody hates me, and I hate everybody!" and "Me – I've never had any fun!".
The story entitled Christmas on Bear Mountain starts with Donald being too broke to buy Christmas presents. Donald and the three nephews are invited by Scrooge to spend Christmas at his cabin on Bear Mountain. The cabin is filled with food and presents. The only drawback is the mountain is the home to bears. What Donald and the nephews don't know is that Uncle Scrooge plans to go to the cabin dressed as a bear and test Donald's courage. Scrooge's plans don't work out because there is too much snow, so he is delay getting to the cabin.
After the snowstorm, the nephews convince a cowardly Donald to go into the woods and cut down a Christmas tree. All four ducks don't realize that the tree is hollow and has a baby bear sleeping in it. Once they discover the baby bear, they try to capture it. Before they can catch the baby bear, the mother bear shows up. Momma and baby eat most of the food and fall asleep in front of the fireplace. Huey, Dewey, and Louie try to capture the baby bear. Donald tries to chase off the mother bear, but is so scared that he faints and lands beside her. When Scrooge finally shows up, he finds Donald sleeping with the mother bear, while the nephews chase the baby bear. Scrooge is amazed by their bravery.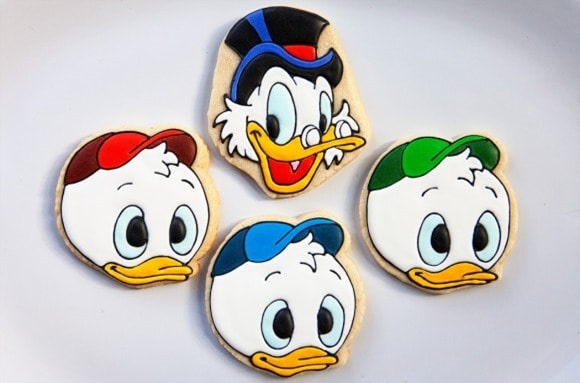 These wonderful DuckTales Cookies were made by Baked Happy.
While Uncle Scrooge was created for this one story, Carl Barks would quickly realize that the character had a lot of potential. The next summer, Carl would create the story The Old Castle's Secret. In this story, Scrooge is in financial trouble and needs to return to the McDuck castle in Scotland where a hidden treasure lies. The only problem, The Castle of Dismal Downs is haunted by an invisible ghost. Scrooge, Donald and the nephews must travel to Scotland, find the treasure and defeat the ghost. This version of Scrooge McDuck is much more likeable and closer to the character that we all know and love.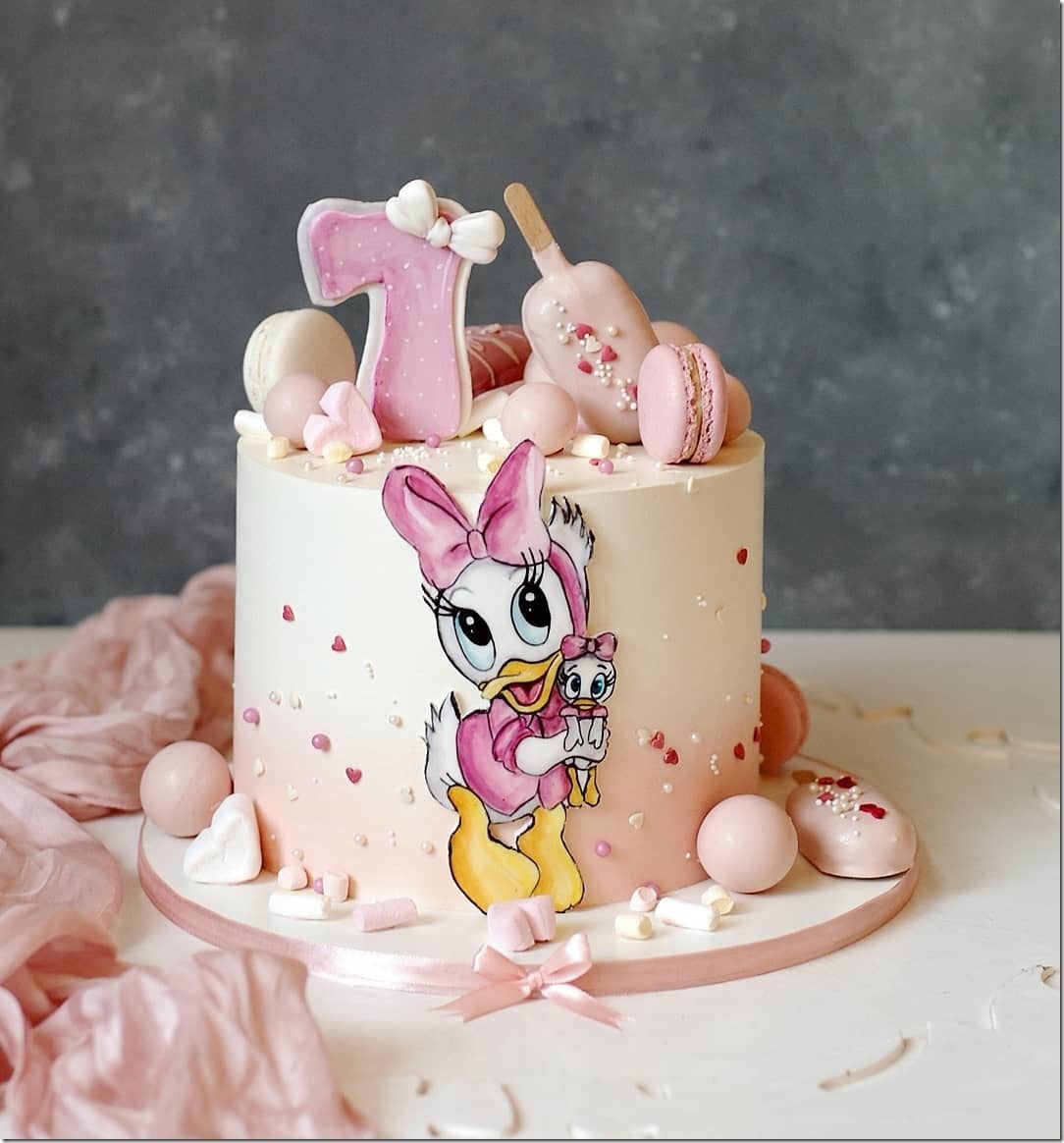 This wonderful Webby Vanderquack Cake was made by Оля Торт Рівне.
After this story, Barks started using Scrooge McDuck regularly in Donald Duck stories. In 1952, Uncle Scrooge had become popular enough that Carl Barks was asked to create a story where where Scrooge was the lead character instead of Donald Duck. This story is the classic Only A Poor Old Man. Since that story there have been over 400 issues of Uncle Scrooge comics published in the United States and countless Uncle Scrooge comics published world wide. There have been two DuckTales cartoon series. Scrooge has also been featured in other cartoons, toys, games, and clothes. All of Scrooge's success began with Carl Barks and Christmas on Bear Mountain.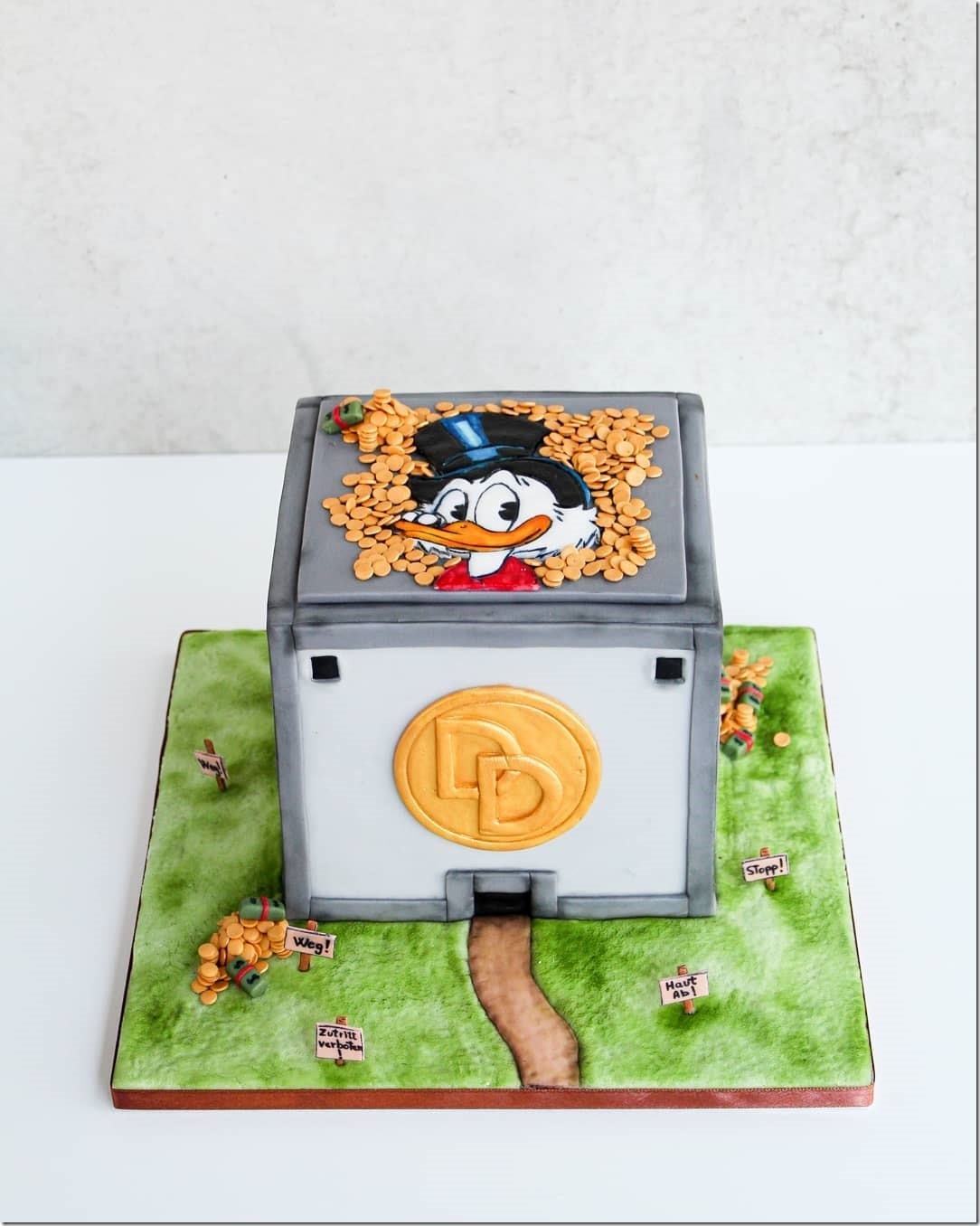 This absolutely marvelous Uncle Scrooge's Money Bin Cake was made by Sweet Clementine.
I know 2020 has been a really hard year for everyone, so I wish each and everyone one of you health and happiness this Christmas!!!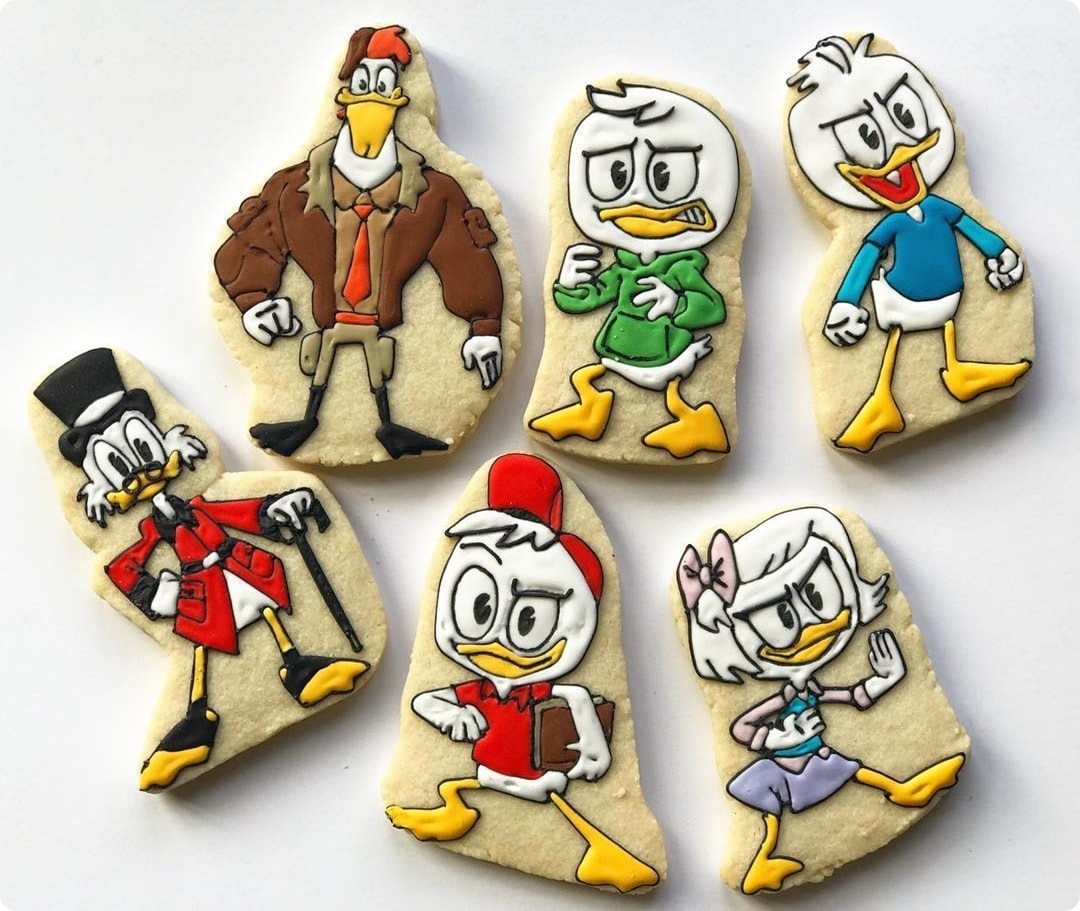 These marvelous DuckTales Cookies were made by Smoky Hollow Baking Company.
For more fun, check out:
Super-Blog Team-Up RED: Creator
The Creation of Blue Devil
http://davescomicheroes.blogspot.com/2020/12/blue-devil-creation.html
Comic Book's Unsung Heroes! Steve Gerber!
https://magazinesandmonsters.com/2020/12/15/gerber/
Kurt Schaffenberger, The Definitive Lois Lane Artist of the Silver Age
https://benjaminherman.wordpress.com/2020/12/15/kurt-schaffenberger/
The Mad, Mad, Mad World of Sergio Argones
https://comicscomicscomics.blog/2020/12/15/super-blog-team-up-red/
Super-Blog Team-Up GOLD : What If?
What If The Sinister Dr. Phibes Had Been Produced!
https://popcultureretrorama.com/2020/12/16/super-blog-team-up-what-if-the-sinister-dr-phibes-had-been-produced/
Captain Confederacy
https://www.spreaker.com/user/5870686/sm-sbtu-cpt-confed-1
What if the Ultraverse Had Continued?
https://comicreviewsbywalt.com/2020/12/16/sbtu-gold-what-if-the-ultraverse-had-continued/
What If Peter Parker became Speedball instead of Spider-Man?
https://charltonhero.wordpress.com/2020/12/16/super-blog-team-up-gold-what-if-peter-parker-had-become-speed-ball-instead-of-spiderman/
Arak, Son of Thunder – A Lost Adventure
https://thetelltalemind.com/2020/12/16/arak-son-of-thunder-a-lost-adventure/