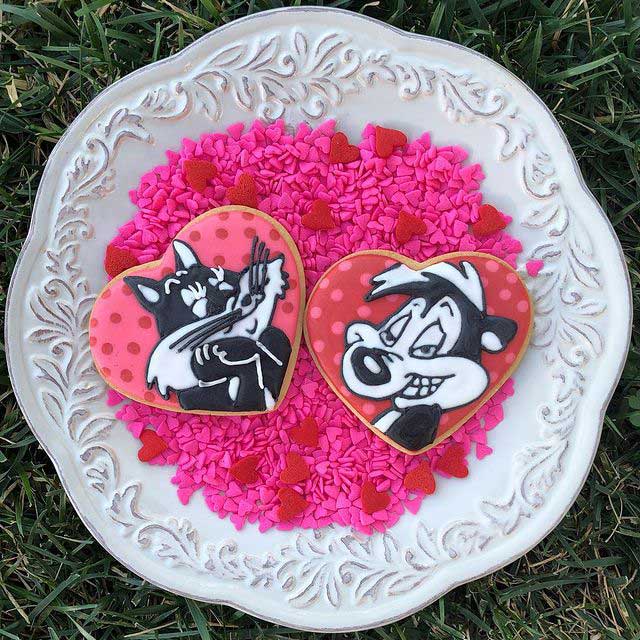 Pepé Le Pew & Penelope Pussycat Cookies
When I think of Looney Tunes and romance, I always think of Pepé Le Pew.
What a terrific way to celebrate Valentine Day week in a Looney Tunes way.
For example, these heart shaped Pepé Le Pew & Penelope Pussycat Cookies have a heart shaped cookie of him and a heart shaped cookie of her. These are surrounded by tiny pink and red heart candies. Each character is black and white.
These wonderful cookies were made by Ally's Cookies.
I like the way Penelope's cookie is pink with red dots, while Pepe's cookie is red with pink dots.
The star of the cartoon, Pepé Le Pew, is a French skunk who is always looking for a girl skunk. Instead, he chases a black cat that has, through some mishap, gotten a white stripe down her back to make her look like a skunk. The cat is named Penelope Pussycat.
She runs aways while Pepe chases her during the entire cartoon.
Here's a terrific Donald and Daisy cake from yesterday.
Check back tomorrow for another pop culture Valentine's Day couple.
To see more Pepe Le Pew and other Looney Tunes characters, take a look at these wonderful Looney Tunes Cakes and Cookies.