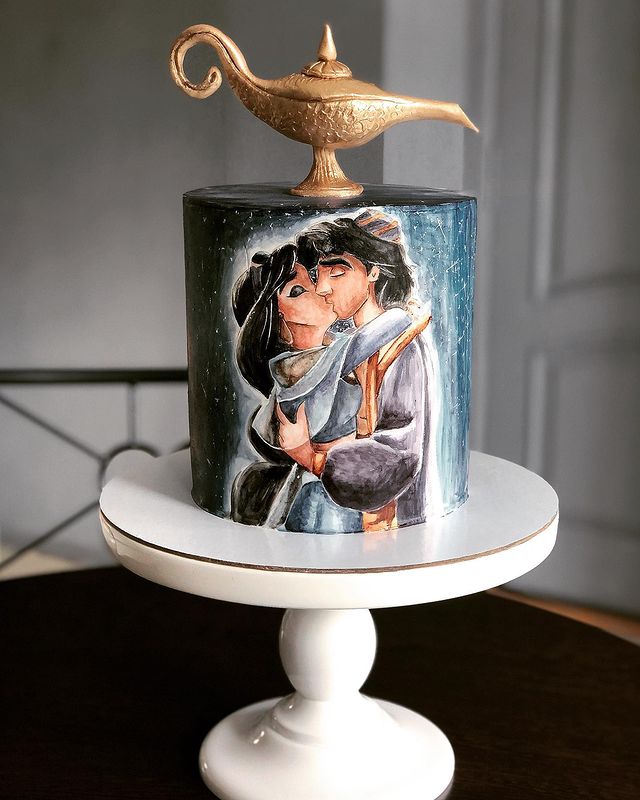 Aladdin and Jasmine Cake
This romantic Aladdin and Jasmine cake is a perfect fit for Valentine's Day week.
This wonderful cake was made by Amirova Valeria.
Firstly, an edible version of the Genie's lamp is on the top of the cake. It is probably made using Rice Krispies Treats covered in fondant. Secondly, the cake has been covered in fondant and airbrushed black and navy blue to represent the night sky.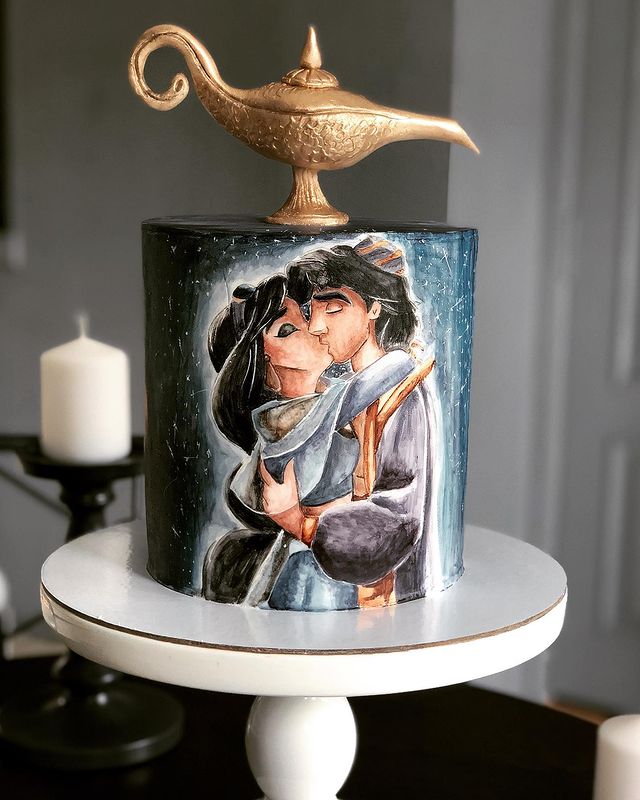 Thirdly, this edible painting looks like the scene at the end of the Disney animated movie Aladdin where they kiss. Then they ride the magic carpet into the moonlight of Agrabah. This takes place just before the ending credits of this animated feature.
Fourthly, as Aladdin and Jasmine go flying off, it makes me think of the song,
A Whole New World.
I can show you the world
Shining, shimmering splendid
Tell me, princess, now when did
You last let your heart decide?
I can open your eyes
Take you wonder by wonder
Over sideways and under
On a magic carpet ride
A whole new world
A new fantastic point of view
No one to tell us no
Or where to go
Or say we're only dreaming
A whole new world
A dazzling place I never knew
But when I'm way up here
It's crystal clear
That now I'm in a whole new world with you
Now I'm in a whole new world with you
Unbelievable sights
Indescribable feeling
Soaring, tumbling, freewheeling
Through an endless diamond sky
A whole new world
A hundred thousand things to see
I'm like a shooting star
I've come so far
I can't go back to where I used to be
A whole new world
With new horizons to pursue
I'll chase them anywhere
There's time to spare
Let me share this whole new world with you
A whole new world
That's where we'll be
A thrilling chase
A wondrous place
For you and me
What a romantic story of a street rat in Agrabah who falls in love with and marries a princess – at the end of Aladdin and the King of Thieves.
What a terrific Disney happy ending.
Here's a terrific Carl and Ellie cake from yesterday.
Check back tomorrow for another pop culture Valentine's Day couple.