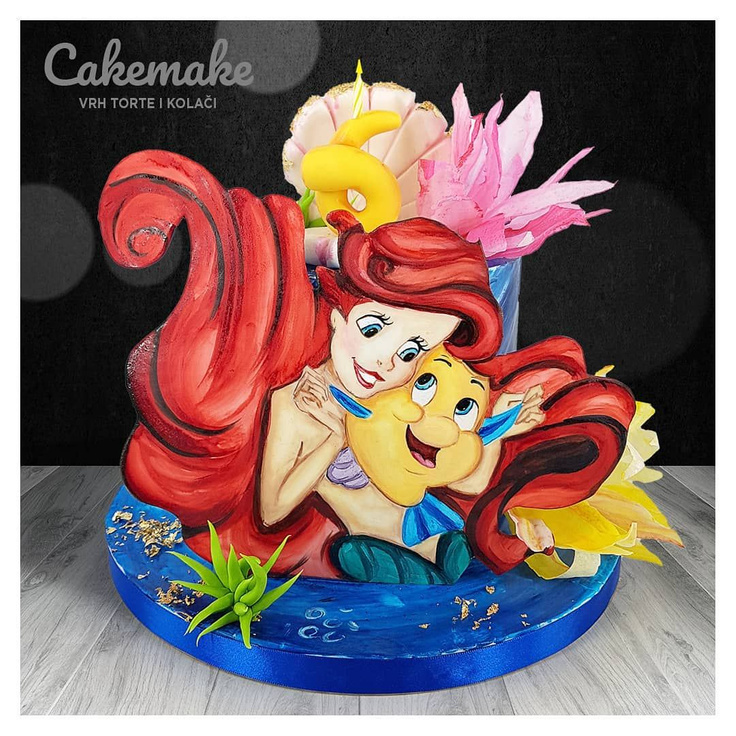 Ariel and Flounder Cake
This adorable Little Mermaid 6th Birthday Cake was made by Cakemade With Love.
This cake features Princess Ariel playing with Flounder. Ariel has Flounder's two fins in her hands. They almost look like they are dancing together. The facial expressions on the Little Mermaid and Flounder are terrific. I really like how Ariel is smiling and looking down at Flounder while he is smiling and looking up at her. There is such joy and playfulness in their expressions. You can't help but smile looking at this cake.
The Little Mermaid's red hair has been caught by the currents and is spread out behind her. The cake board is decorated to look like the ocean floor with seaweed and sand. There are pretty pink and yellow flowers on the cake. On the top of the cake is a seashell with a 6 candle in front of it. All these elements combined to create one of the cutest Little Mermaid cakes I've seen.
I can't help if you're planning a party under the sea. But we do have the finest gallery of Little Mermaid Cakes and Cookies on land!