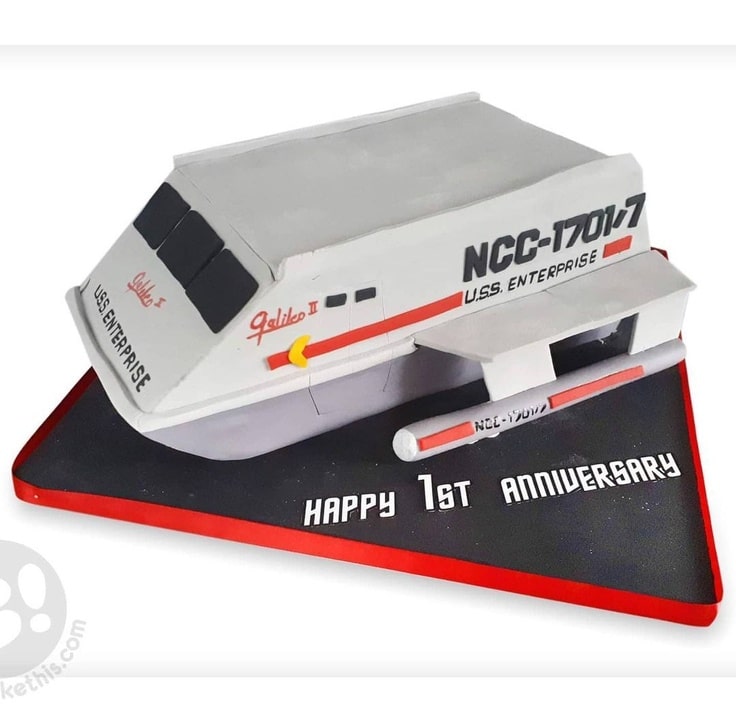 This wonderful Galileo II Cake was made by Hey! Cake This!. It was made for a first anniversary. The attention to detail on this cake is wonderful. It has the door in the side, the front windows, and the little landing struts that may also be impulse nacelles.
By far, the most famous way to come and go from the Enterprise on Star Trek: The Original Series was the transporter, i.e. beam me up, Scotty! But there were plenty of times when the transporter wasn't a good fit. For that, the Enterprise was equipped with a series of shuttle crafts. The shuttle Galileo II appears in the episode The Way To Eden where it is stolen by Dr. Sevrin and company.
I LOVE Star Trek, so I feature it regularly. For more Star Trek party ideas, take a look at these:
Star Trek / Star Wars Mashup Cookies
Star Trek Meets Doctor Who Cookies
This Edible Star Trek 3D Chess Set Is Out Of This World!