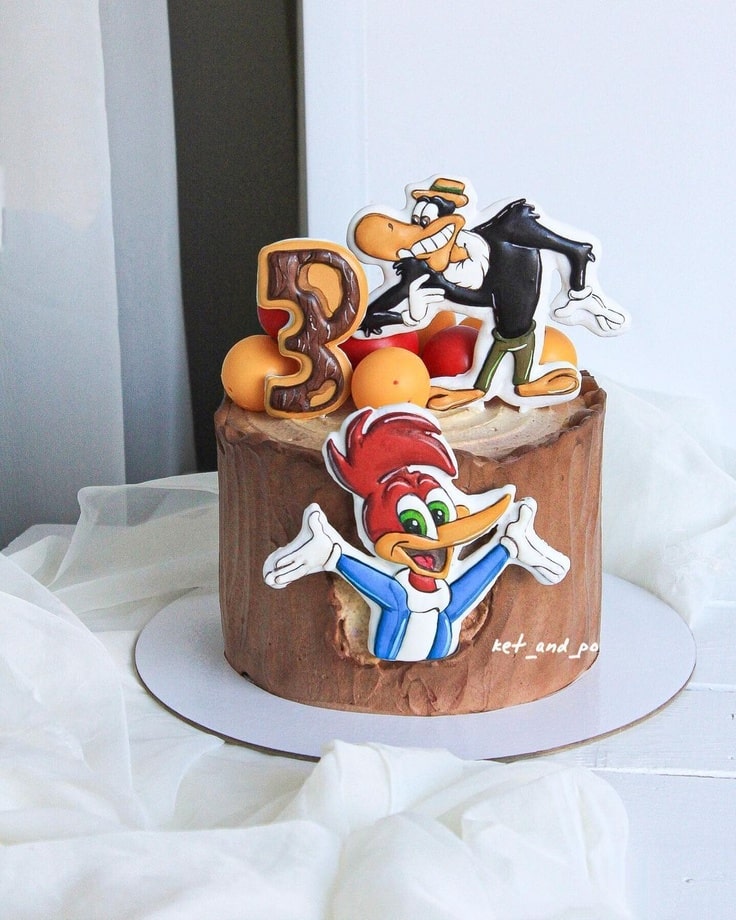 Ever since I wrote the post about these cool Chilly Willy Cookies, I've been wanted to feature Woody Woodpecker. So when I saw this wonderful Woody Woodpecker 3rd Birthday Cake made by Ket & Po, I had to share it.
This is a single tier cake that is designed to look like a log. Woody has pecked through it and is sticking his head out of the log. The top of the cake is decorated with orange and red chocolate balls. There is a number 3 gingerbread cookie which is designed to look like a piece of wood that Woody has also pecked through. Standing and looking shocked at the damage is Woody's adversary – Buzz Buzzard.
While researching Buzz Buzzard, I found a cool piece of trivia. In the TV show, The New Woody Woodpecker Show, Buzz is voiced by no other than Luke Skywalker himself – Mark Hamill.
Since I love cartoons, I recently read Mel Blanc' That's Not All Folks! If you like vintage cartoons, I highly recommend that it. In the book, Mel talks about his time voicing Woody Woodpecker on cartoons and radio. My husband is a massive Old Time Radio fan, so I asked him about the Woody Woodpecker radio show.
Woody's radio show wasn't about his adventures. Instead, it was more like Reading Rainbow. Woody would introduce a picture book, it would be read aloud and then Woody would talk about the book. The episode I heard was interesting because one of the books featured was about Yosemite Sam. Having Woody Woodpecker (Walter Lantz's star character) talking about Yosemite Sam (a Warner Brother's character) would be like Batman reading a Spider-Man book to kids.
Another piece of funny Woody Woodpecker trivia. Mel Blanc used to record singles where he sang as different cartoons characters. These weren't just novelty records. They sold like crazy. In fact, Mel's record, The Woody Woodpecker Song, was so popular, it was the #1 record in the country. Long before Casey Kasem, there was a young crooner – Frank Sinatra – who had a weekly radio show where he sang the hit songs of the week. So there are recordings of Frank Sinatra singing The Woody Woodpecker Song!
While this is my first time featuring Woody Woodpecker on my blog, I've featured plenty of cartoon birds before.
Donald Duck Doesn't Like Alarm Clocks
Move Over Thor, Tweety Bird Is Here To Save The Day
Wonderful Road Runner and Wile E. Coyote 8th Birthday Cake
These Cookies, I Say These Cookies Deserve An F– F For Foghorn Leghorn That Is!
Daffy Duck Is Having A Ball On This Space Jam Cake
Marvelous Scrooge McDuck Cake With Huey, Dewey & Louie