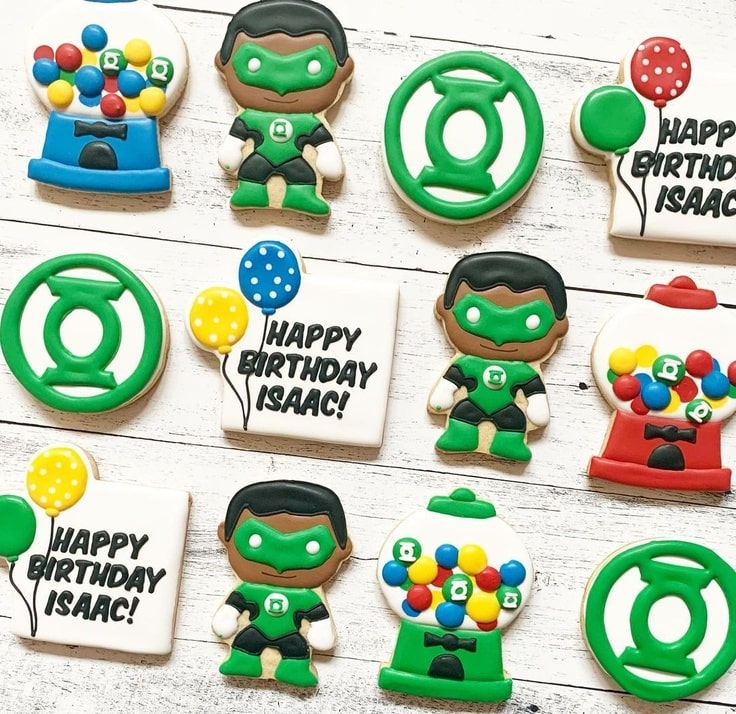 These wonderful John Stewart Green Lantern Cookies were made by Brown Sugar Baker. Because of his appearances in the animated series – Justice League and Justice League Unlimited, John Stewart is my favorite Green Lantern. His story arc with Hawkgirl was one of my favorite parts of these cartoons.
Lisa did a wonderful job with these cookies. A happy birthday cookie with two balloons on it, a cookie of John in his traditional Green Lantern costume, a cookie with the Green Lantern emblem on it and my favorite of the bunch – a gumball machine stocked with gumballs and Green Lantern rings. I'd be putting every penny I could find into that machine until it gave me a Green Lantern ring 🙂
This is such a fun set of cookies!
Planning a Green Lantern Party? Check out the following:
These great Power Ring Cookies feature the whole spectrum, including green.
These Green Lantern Wedding Cake Toppers have GL marrying Wonder Woman and Star Sapphire.
This wedding cake features Green Lantern, Star Sapphire and Larfleeze.