The delightful U.S. Acres Cookies were made by Nubeglass Galletas Glaseadas. U.S. Acres (also known as Orson's Farm and Orson's Place) was a comic strip by Jim Davis, the creator of Garfield. Unfortunately, it only lasted around three years. While the comic strip isn't considered a success, the characters are still well known because they appeared on the long running animated series Garfield and Friends. Unfortunately, the characters were sold a few years ago and the comic strip is no longer online. It is too bad because I used to read the strip on the old GoComics app.
The characters in these cookies are Lanolin Sheep, Odie (from Garfield. Did he ever appear in U.S. Acres?), Wade Duck (I love the design of this character because he is a duck who always wears a duck innertube), Sheldon (I think everyone can relate to an egg who refuses to hatch), and Orson.
These cookies are so much fun!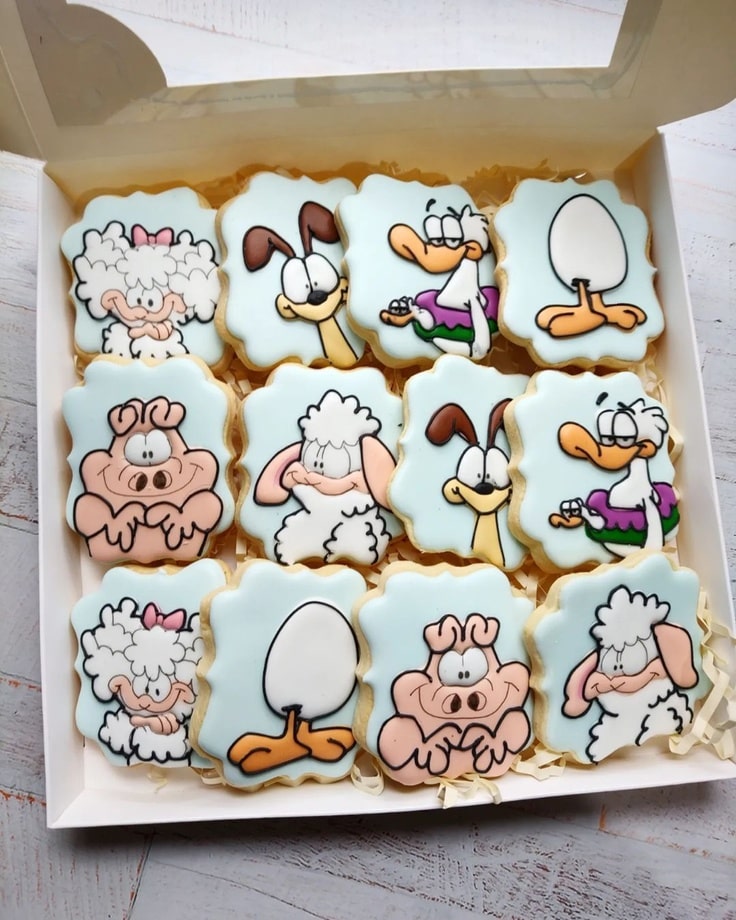 Here is the gang boxed up and ready for delivery. I'm actually boxing up three sets graduation cookies today, so I always enjoy looking at how other people box their cookies.
I grew up in a time when reading the Sunday Funnies was a weekly ritual, so I try to feature comic strip themed treats whenever possible. Here are some I think you'd enjoy.
The World's Most Popular Football Holder & Psychiatrist – Lucy van Pelt
Watch Out Here Comes A Dennis The Menace Cake
Marvelous Beetle Bailey Cookies
Terrific Calvin and Hobbes Birthday Cake