This graduation cookies tutorial tells how I made these 3 sets of graduation cookies that I made for graduates this year. I've also included some affiliate links of products I used to make these.
Steps for Making Graduation Cookies
Plan cookie design
The first step to making these cookies was to plan what they would look like. When I started planning these cookies, I looked at many different graduation cookie designs. It took a while to find designs that I really liked. I decided to make diplomas and graduation cap cookies. First, I decided the graduation cap and the bow would be the same color. Next the rolled up diploma would be represented by a white swirl created with royal icing. In addition, the design feature that I really liked was a multicolored tassel. I saw graduation cookies by NY Cookies by Victoria. and really liked the way she did multicolored tassels so I made these on my cookies.
Purchase cookie cutters
The second step is to purchase cookie cutters or manually cut out the cookie shapes desired. I already had hat and diploma cookie cutters and I used them. Here's a link to the hat cookie cutter.
Make Cookies and Flood Cookies with Royal Icing
Next, I made vanilla cookies using Lila Loa's recipe. I let them sit on paper towels over night to let any excess butter go onto the paper towels and not bleed through the royal icing later. This happens more with dark colors like reds and is more likely to happen the thinner the flood icing. Next I flooded the cookies with royal icing. I used a 15 to 20 second icing for the flood icing and a stiffer consistency to outline the shape first. I used strained reconstituted powdered egg white to thin the icing to flood consistency instead of just water.
After this, the cookies need to dry for several hours. I used a dehydrator for about 10 minutes, then put the cookies in front of a fan. Do not leave cookies in a dehydrator too long or the butter may start to bleed through the icing and discolor the cookies. I highly recommend a fan to speed drying time so cookies do not develop cracks or bubbles in the icing from drying too slowly.
Add decorations to cookies
The third step is to use colored royal icing to make the bow and tassel. Again, I used a thicker consistency to outline the bow and flood icing to fill in. The red bow was made using only thicker icing since it was a little thinner than the other colors. I used a Wilton and a PME 2.0 decorating tip to make the outlines and a PME 1.5 decorating tip to make the white scroll on each diploma.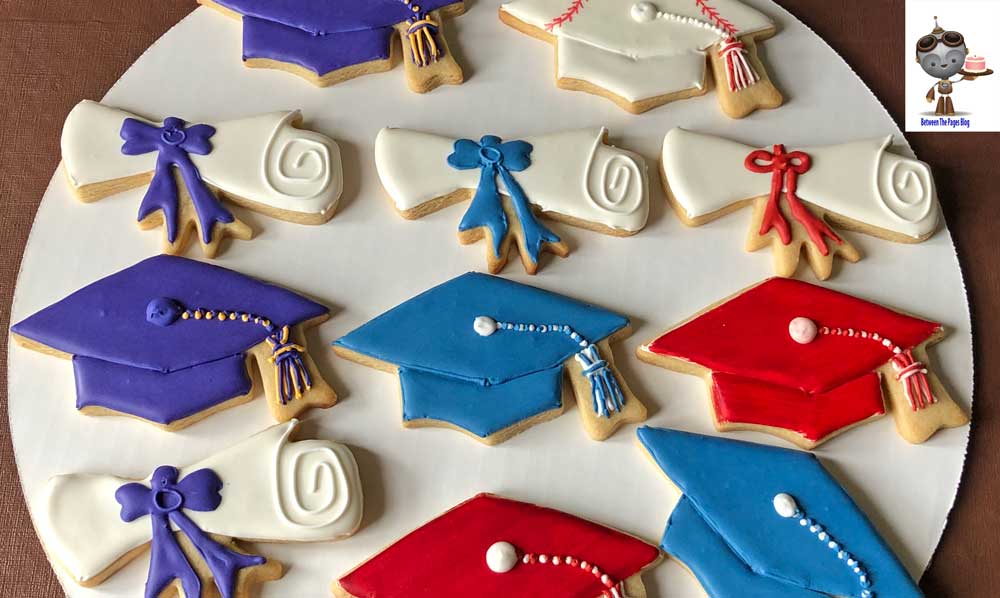 Purple and Gold Graduation Cookies
Firstly, I made purple graduation hats with purple and gold tassels and diploma cookies with purple ribbons. These were made for someone who graduated from Dekalb School of the Arts in Atlanta.
Blue and White Graduation Cookies
Secondly, I made blue graduation cap cookies with blue and white tassels. In addition, the diploma cookies were white with a blue ribbon and white royal icing to show the diploma rolled up. The graduation cap cookies were blue with a blue and white string and tassel. I made these cookies for twins who were graduation from Howard High School in Maryland.
Red and White Hats and Diploma Cookies
Thirdly, I made this set of red and white cookies for someone who is graduating Stanford's middle school online program and moving into their High School Program. These are red graduation cap cookies with red and white tassels. I flooded the cookies with white royal icing then painted them with red powder with a small amount of vodka to make it liquid.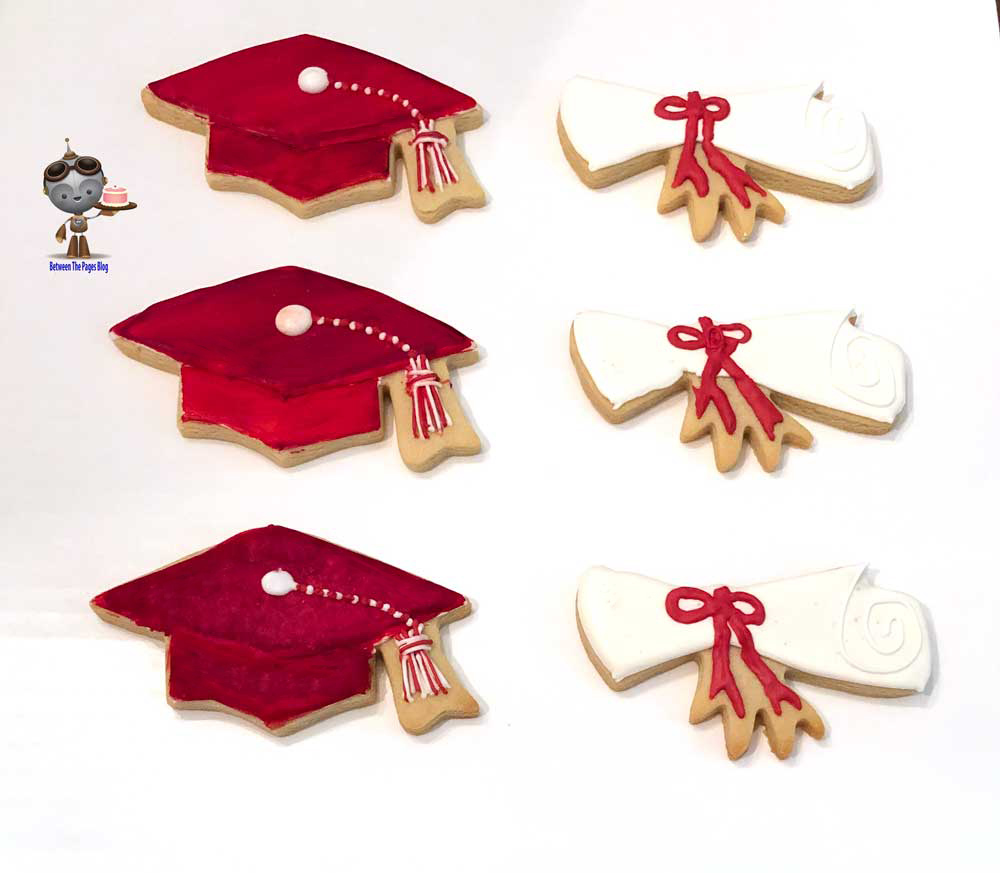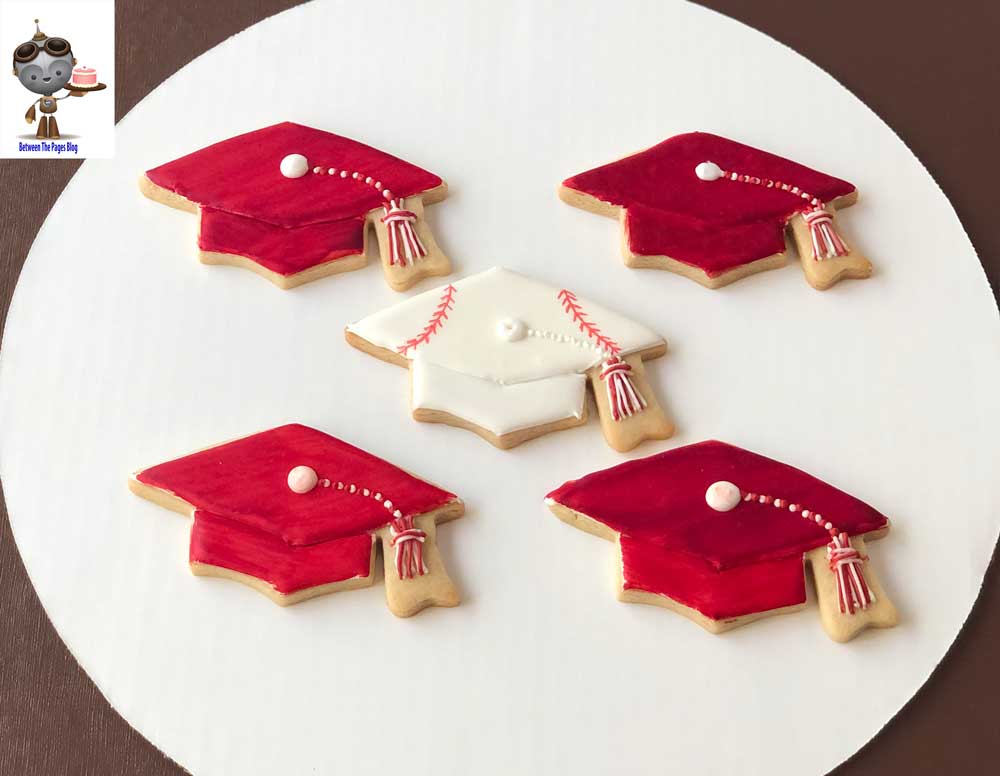 In addition, He is also a baseball player so I made one of the cookies to look like a baseball. The baseball cookie was based on a design by Cute Little Cookie. I used a red edible marker to draw the baseball lines.
Packaging the Cookies
Once the cookies are decorated, let them sit overnight to make sure all cookies are dry.
I packaged them with these clear bags. They are self sealing and the cookies show through nicely.
The purple and gold graduation cookie set packaged.
The purple cookies are being hand delivered so they are on a plastic tray with a white doily. A sheet of plastic wrap is on top to keep them in place.
The red and white graduation cookie set packaged.
The blue and white cookie set packaged.
Boxing the Cookies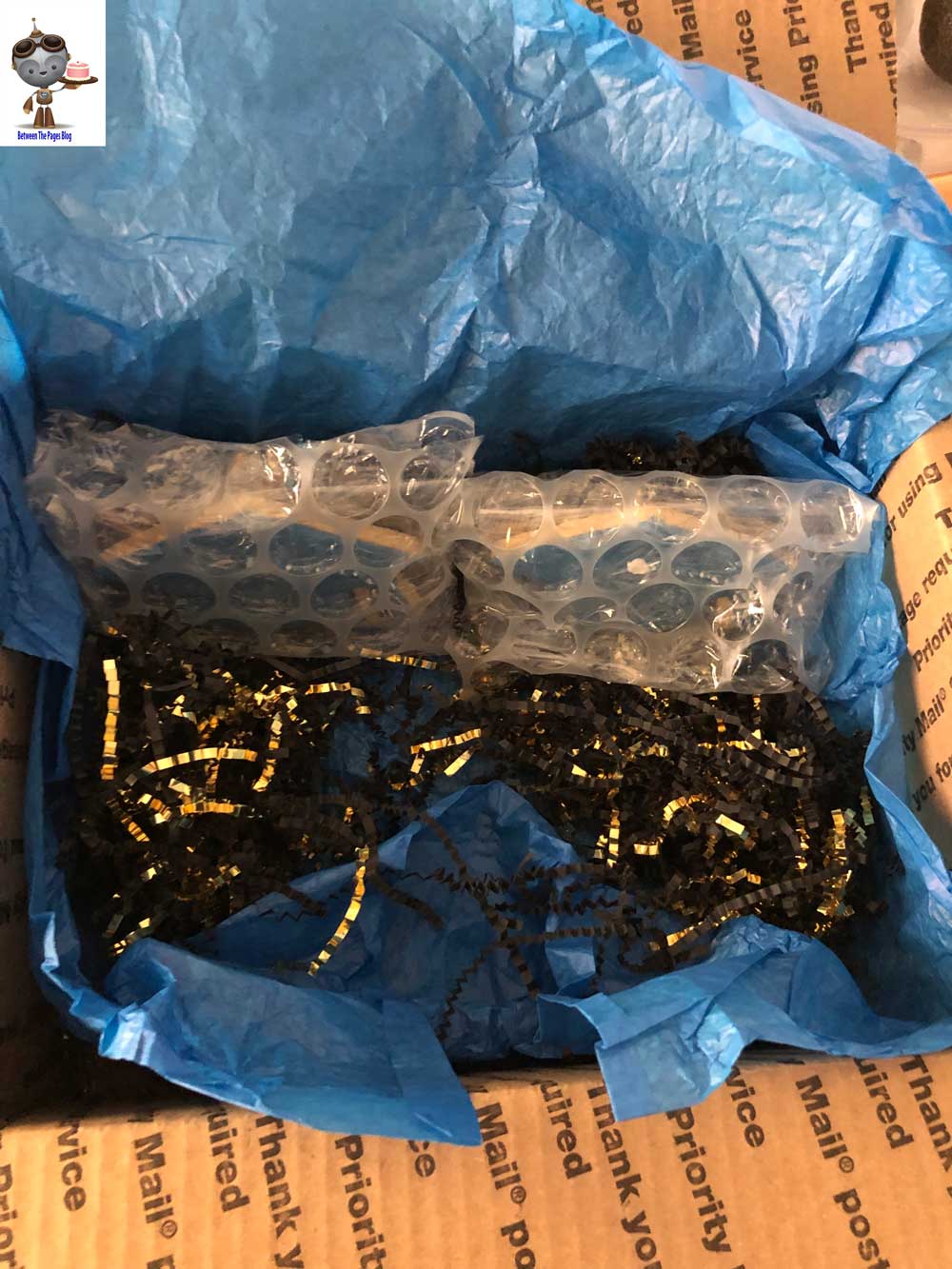 In order to prepare for shipping. I used a medium flat rate priority mail box. Firstly, I placed bubble wrap in the bottom. Next, I put in a piece of tissue paper. Then I wrapped each cookie in a hand-made sleeve of bubble wrap to further protect each cookie so they are not damaged in shipping. Next, I used black and gold confetti stuffed below, above, between the cookies where needed to fill in any extra space.
Once all the cookies are in the box, I closed the tissue paper. Then I put in the graduation card. I placed extra bubble wrap on top to make sure the cookies do not move in shipping.
Other Graduation Cake and Cookie Ideas
In addition, here's some more graduation cookies and cakes you might also like:
Harry Potter Doctoral Defense Cookies with Hogwarts Defense Against the Dark Arts professors
Teenage Mutant Ninja Turtle Graduation Cookies
Muppet Science Graduation Cake with Beaker and Bunsen on the front of the Muppet Biology book