This marvelous Alice in Wonderland Cake is a tiered cake featuring Alice, the White rabbit, the Queen of hearts, and the Mad Hatter.
This wonderful cake was made by Amandas Little Cake Boutique.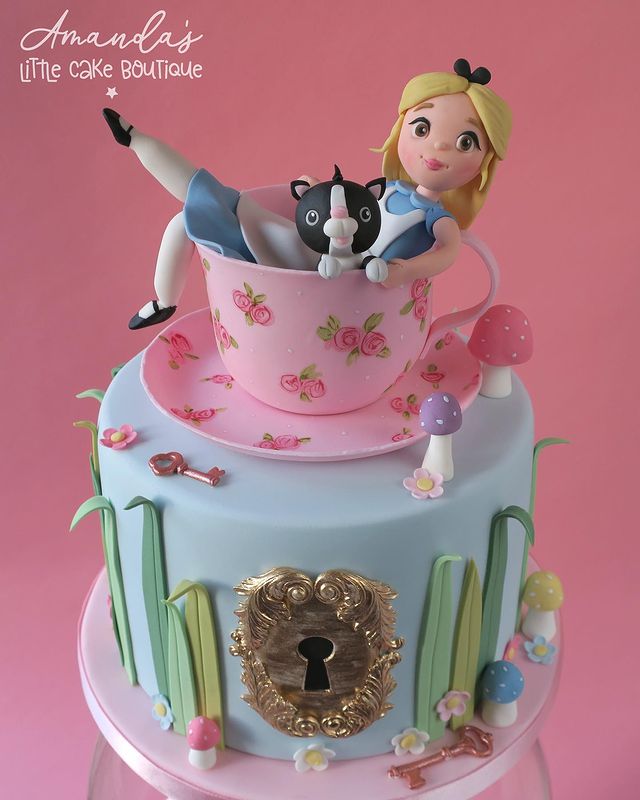 Alice is sitting in a teacup on top of the cake. Her eyes are brown to match the color of the birthday girl's eyes. The teacup looks like it was made using gumpaste. It is thin to look like a delicate china cup. A gold key is beside the teacup.
I like the gold lock on the cake layer below that is a match for the gold key. Long blades of green grass are beside it.
The middle of the cake is a glass bowl with the fondant figures of Queen of Hearts and the White Rabbit inside.
The bottom tier is light blue with a gold gate in front. Gray steps lead up to the gate. Flowers with faces are on either side of the steps. Long green grass blades are beside the gate. They match the ones on the tier above and tie them together.
Both tiers are light blue.
The Mad Hatter is beside the cake, holding an empty desert plate in his hand.
All of the figures on this cake look terrific and are modeled after Disney's Alice in Wonderland animated movie characters.
Tracey at Little Cherry Cake Company made a nice tutorial on how to use a glass bowl separator.
For Alice In Wonderland party ideas take a look at this hand-painted Alice cookie and this hand-painted White Rabbit cake and this Cheshire Cat cake.