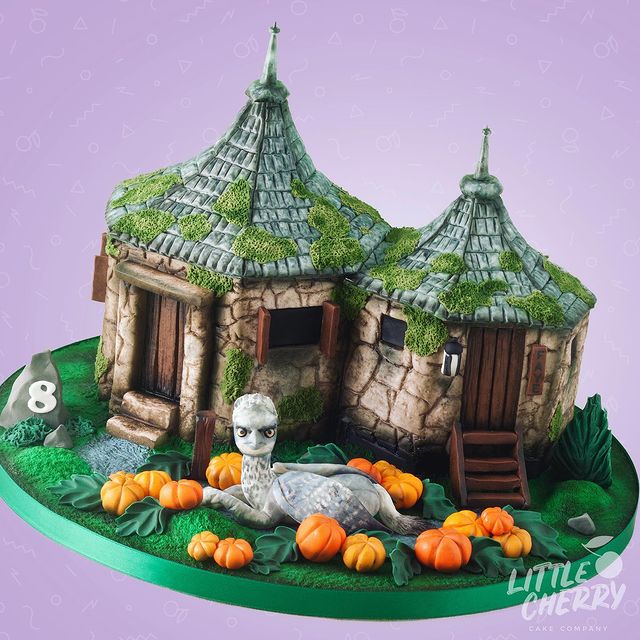 This wonderful Hagrid's Hut cake tutorial features a 3-D sculpted cake with Buckbeak in front guarding the pumpkins.
This wonderful cake was made by Tracey Rothwell of  Little Cherry Cake Company.
This is the first of 4 posts featuring Tracey's tutorials of Harry Potter cakes. She does such a great job that I wanted to share all of them with you.
Buckbeak is a hippogriff that lived with Rubeus Hagrid while Harry Potter was at his 3rd year at Hogwarts. Buckbeak was later renamed Witherwings.
I love the detail on this cake.
Notice the separate shingles on the roof and the stone pattern of the building walls. The moss on the roof has be shaded multiple colors to add its realism. Everything is shaded to add depth and dimension. Buckbeak's eyes make him look vigilant while guarding the pumpkins. The individual leaves around the pumpkins are a nice touch.
Tracey is one of my favorite bakers. She is so talented.
Hagrid's Hut Cake Tutorial
She has this terrific video on how she made this cake.  Please be sure to check out her youtube channel for more terrific cake tutorials.
For Harry Potter Party ideas, check out this amazing Hagrid's Hut cake and this splendid Hagrid's Hut cake with a view of the kitchen.