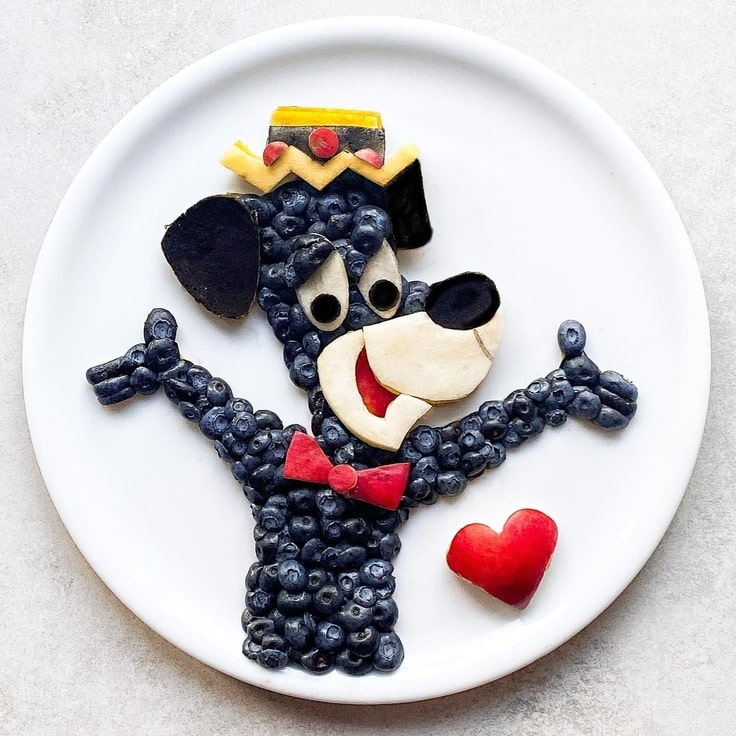 This wonderful Huckleberry Hound Fruit Platter was made by Agata Cute Food. Huckleberry Hound is made primarily from Blueberries. The detail is terrific. Huck has his bow tie and straw hat. He even has the little band around his hat. As someone who grew up watching Huckleberry Hound cartoons, this brings a smile to my face.
The Huckleberry Hound Show was Hanna-Barbera's second animates series. Not only did it give us Huck, but it also starred Yogi Bear and Pixie and Dixie and Mr. Jinks. Yogi Bear was so popular that he was given his own animated series. The Huckleberry Hound Show was also the first animated series to ever win an Emmy Award.
Later on, Hanna-Barbera would have such a large cast of animated characters that they'd begin creating series using tons of these characters together. Huckberry Hound was in a bunch of these including Yogi's Gang, Scooby's All-Star Laff-A-Lympics and Yogi's Space Race. He even had his own made for TV animated movie – The Good, the Bad, and Huckleberry Hound. In one of his most unusual appearances, he met Famous Studios and Harvey Comics star Casper, the Friendly Ghost in the animated Christmas special – Casper's First Christmas.
This is the first time I've featured Huckleberry Hound. I love Hanna-Barbera cartoons and have featured many of their characters in the past. Here are just some of the characters I've featured – The Flintstones, The Jetsons, Scooby-Doo, Yogi Bear, Snagglepuss, Penelope Pitstop, Grape Ape, Top Cat and Jonny Quest.