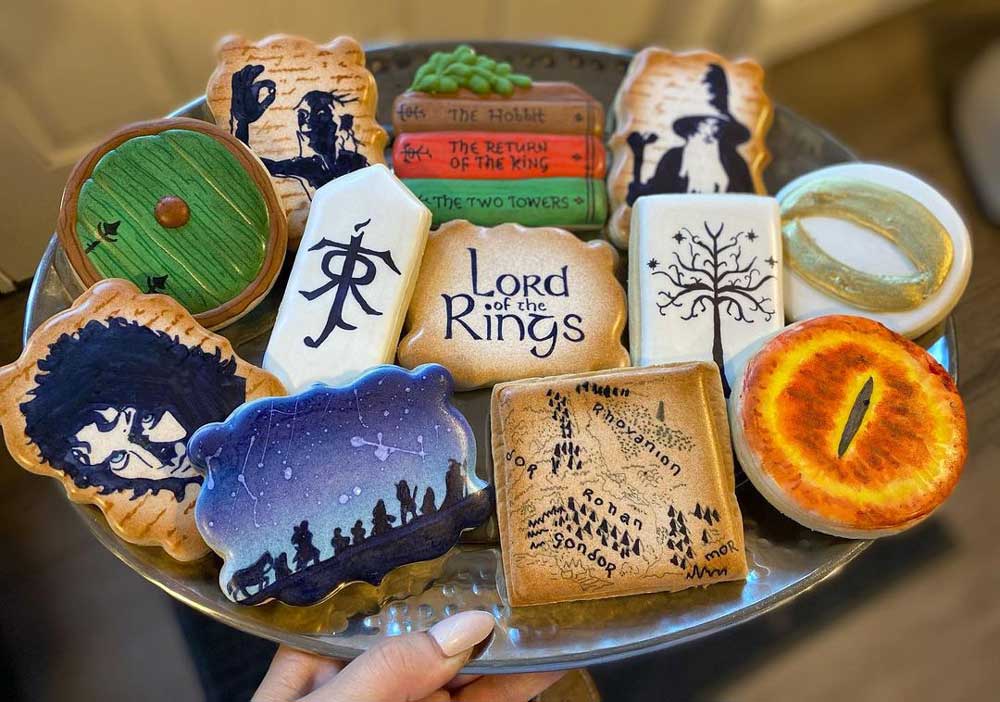 LOTR Silhoutte Cookies feature cookies of Frodo, Gollum, and Gandalf. Darker brown edges are airbrushed on the cookies. My favorite cookie in this set is a partial map of middle earth. The darker edges make it look like an old map. A blue cookie has a silhouette of the Lord of the Rings characters against the constellations of the night sky. A Hobbit Hole door is the shape of another cookie.
Other cookies represent the White Tree of Gondor, the Eye of Sauron, and the One Ring. It look like the brown parchment looking backgrounds were airbrushed and the words were put on by airbrushing a stencil. The small map lines may have been made using a stencil. A stencil is a nice way to get such tiny clean lines on the cookie.
These wonderful cookies were made by The Sweet Spot.
For more LOTR party ideas, take a look at this hand-painted Lord of the Rings Wedding Cake and these LOTR cookies with the Leaf of Lorien, the Eye of Sauron, the White Tree of Gondor, and the One Ring. Also check out these Chibi LOTR cookies.