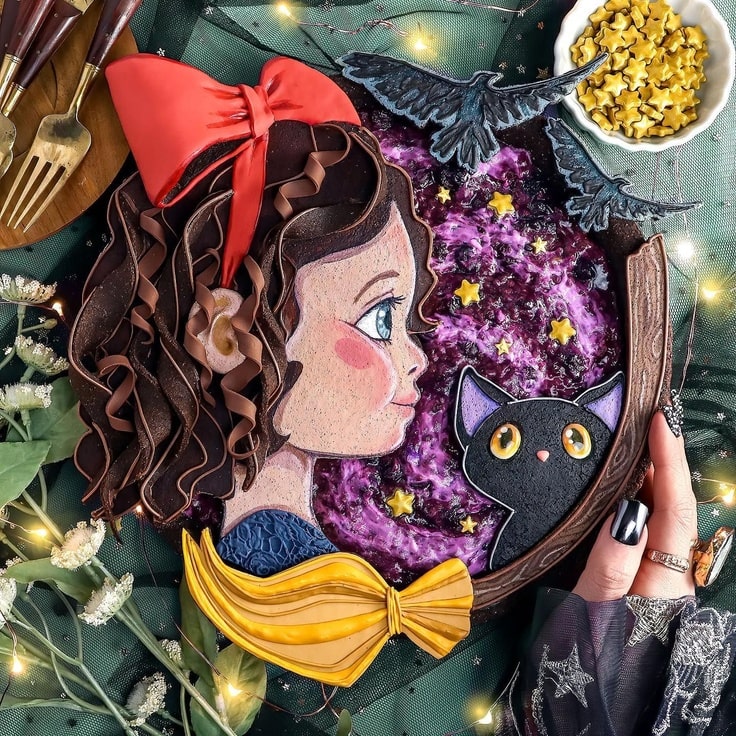 I was extremely tempted to name this post – Kiki's Pie Delivery Service 🙂 This gorgeous pie was created by Inspired To Taste. Liz created this for HBO Max.
This magical pie features a side view of Kiki. Her cat, Jiji, is looking out from the other side of the pie. The fruit filling is designed to look like a purple sky and there are stars in the sky. There are two blackbirds at the top of the pie. The bottom of the pie is Kiki's broom and in an absolutely brilliant design choice the handle of the broom curves so that it is the side of the crust for a third of the pie.
This pie has blackberry filling in a mostly chocolate-almond cookie crust.
Here are more of Liz Joy's amazing creations:
This Cinderella Carriage Tart is one of the most elaborate and prettiest creations I've posted on Between the Pages.
This Waiting for Peter Pan Pie features Wendy Darling staring out at the London night sky while Peter's shadow hovers in the sky.
This adorable Tweety Bird Pie features Tweety in his cage with Sylvester paws reaching around it.