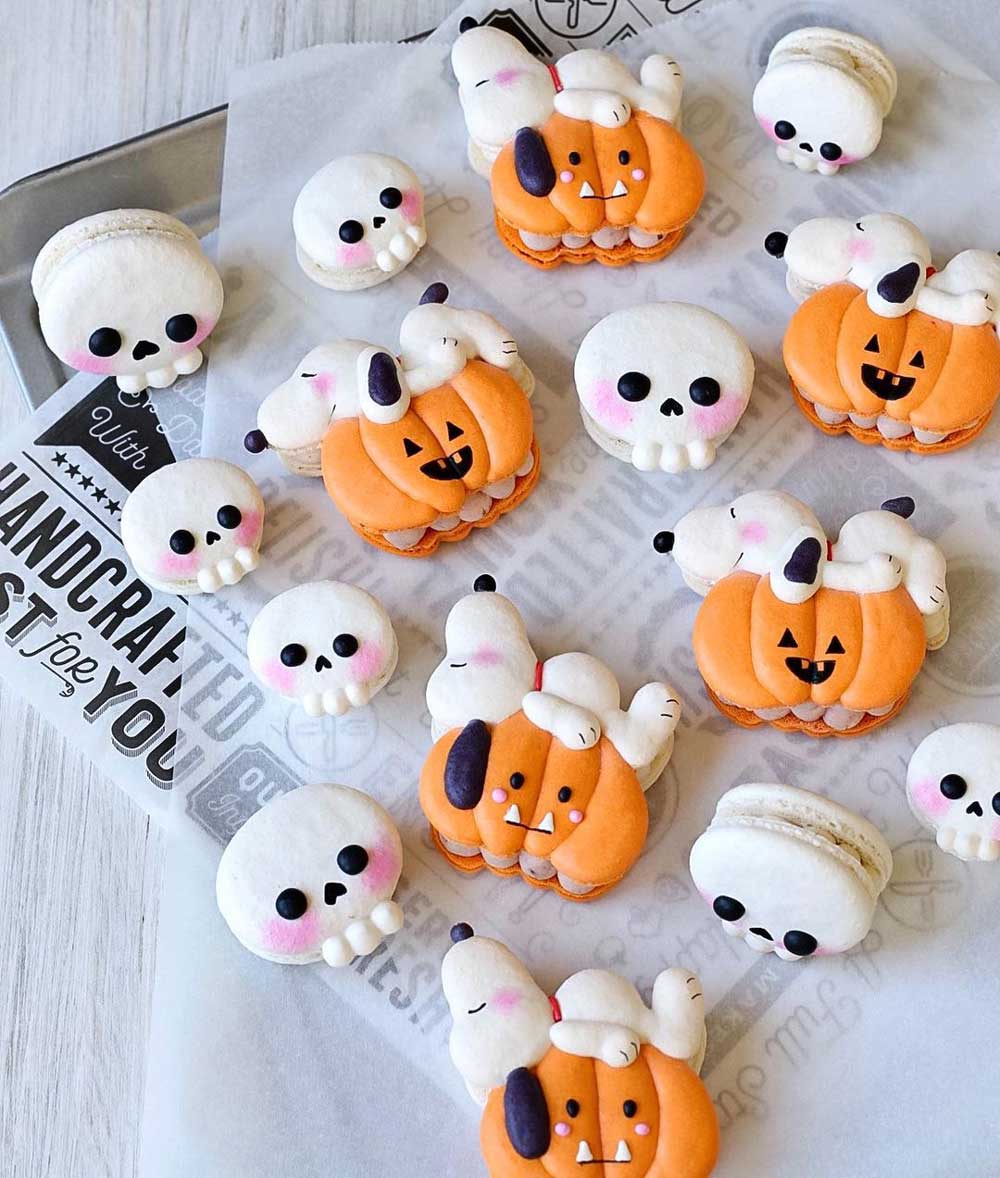 These wonderful Snoopy Halloween Macarons were made by Sugar Devotion and feature macarons of Snoopy sleeping on pumpkin carvings. On some, Snoopy is sleeping on his back and others he is sleeping on his belly. The pumpkin carvings have two cute different designs. On one design the pumpkin has little triangles carvings for eyes and a toothy smile. The other design has the pumpkin looking slightly more spooky. The pumpkin has little black eyes, pink cheeks and two fang like teeth.
Katrina also made little skull macarons. They have black eyes, pink cheeks, a little nose and three little teeth on the bottom. Adding these cookies is a brilliant move. If you look at just the Snoopy macarons, the bright orange is the color that stands out. So, the things you notice the most are the pumpkins. The skull macarons are white with black accents and a hint of pink. That's the same colors as Snoopy. Because of this, when you add the skulls to the mix, your eyes are now drawn to Snoopy. As I said, absolutely brilliant.
Here is a close-up of these two adorable Snoopy designs.
Looking for more Snoopy treats for Halloween? Check these out:
These cute Snoopy Jack-o'-lantern Cookies featuring Snoopy, Woodstock and a Jack-o'-lantern. I like these cookies so much, I've made a Halloween stencil based on the background image on these cookies.
Here is another set of adorable Snoopy Jack-o'-lantern cookies. There have three different cute designs.
These Charlie Brown & Snoopy Halloween Cookies includes six great different designs of Snoopy cookies.