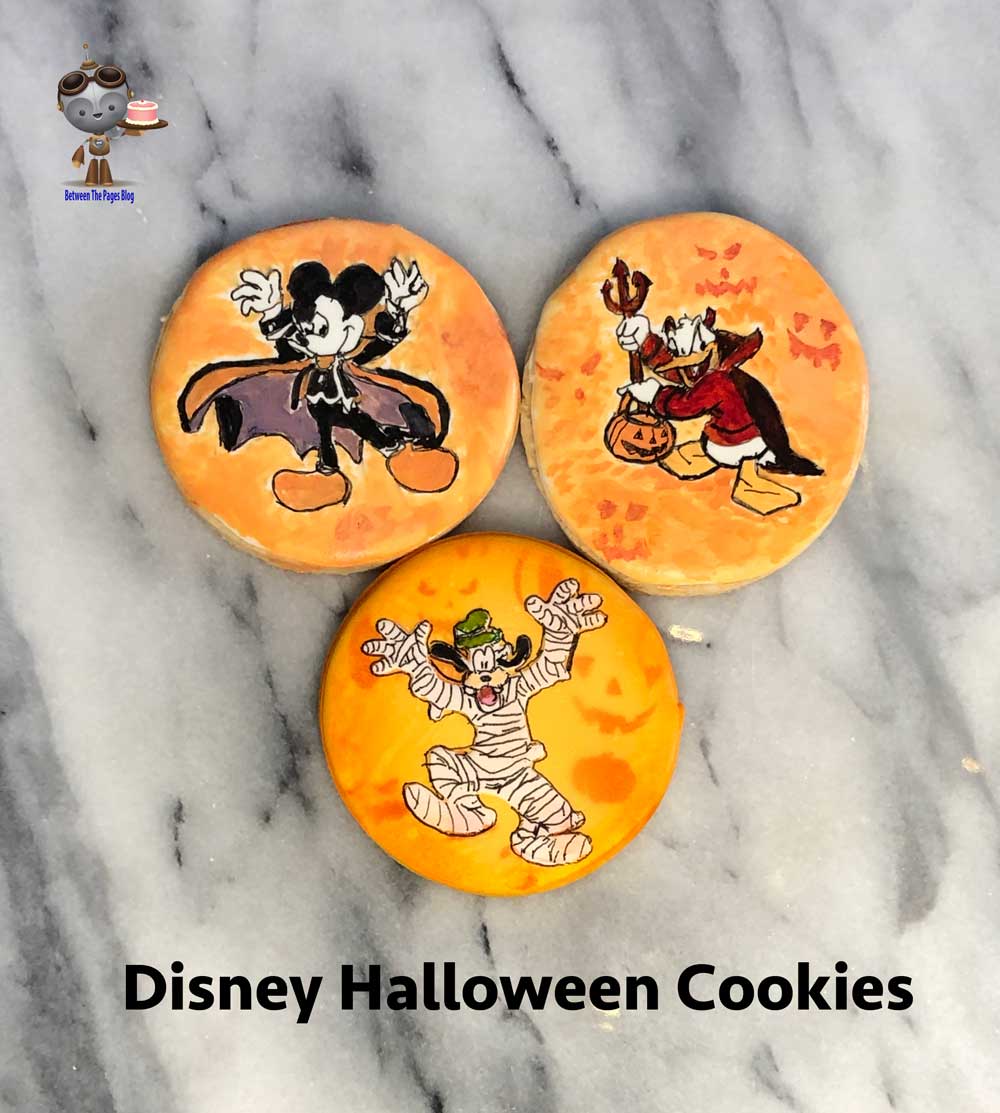 I made these Mickey Donald Goofy Halloween cookies for this Halloween season. They include Mickey dresses as Count Dracula, Donald dressed as a red devil, and Goofy dressed as a mummy. I think these 3 Disney characters make an adorable Halloween set. I used these cookie to try out new cookie design techniques.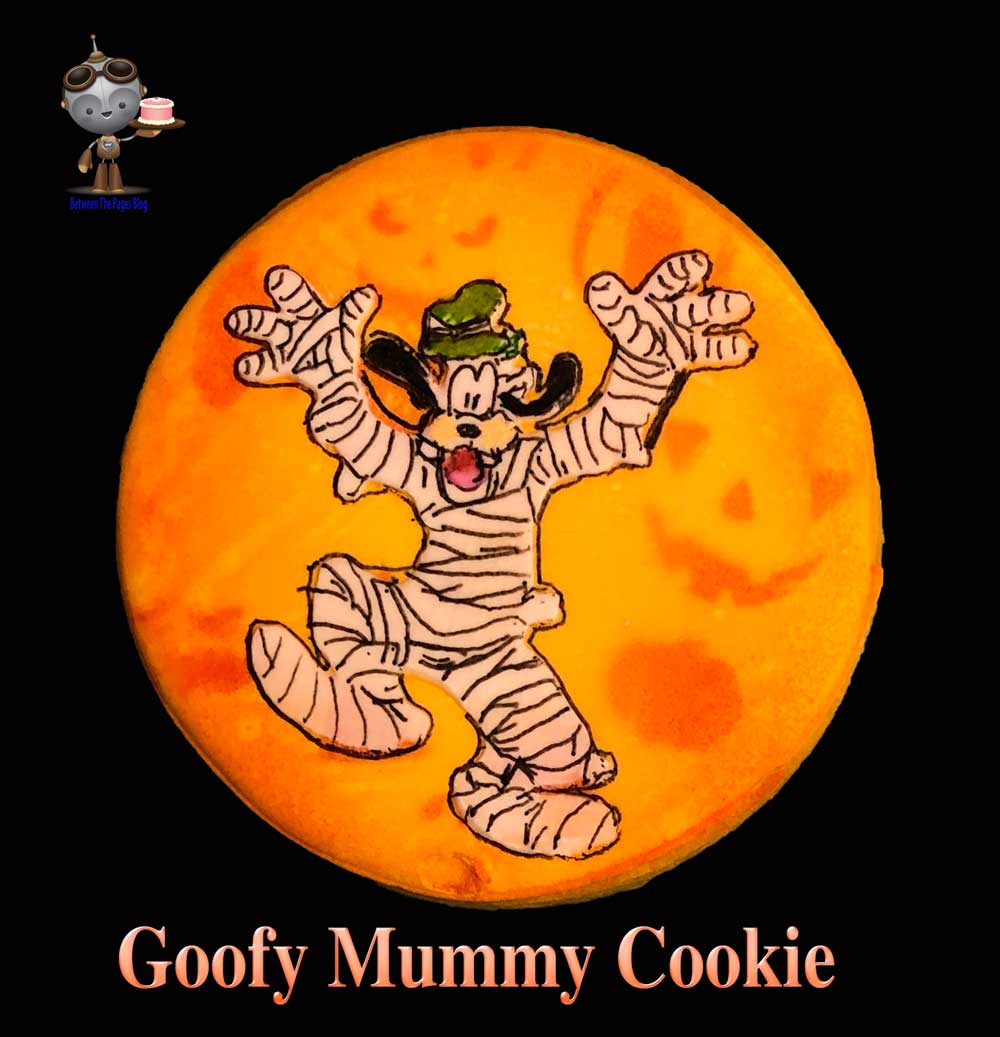 How I Made this Goofy Mummy Halloween Cookie
First, for this Mummy Goofy Halloween cookie, I airbrushed the entire cookie in yellow, then highlighted in light orange. Then I used a Cricut to cut out a stencil of carved pumpkin faces and airbrushed these over the cookie. Once all this dried. I used Photoshop Elements layers to draw an outline and used the Cricut to make a stencil for the shape of Goofy.
Next I used white royal icing to form a silhouette of Goofy's shape so I could draw him on the cookie. I wanted to use a stencil so that the royal icing would be very thin. In addition I used edible paints and markers to draw the mummy bandages and Goofy's features. I like the way this looked because Goofy seems to stay out from the background since he is on a separate thin piece of royal icing. Also the extra royal icing is thin enough to not alter the taste of the cookie. Goofy was based on a 2011 Disneyland Halloween pin.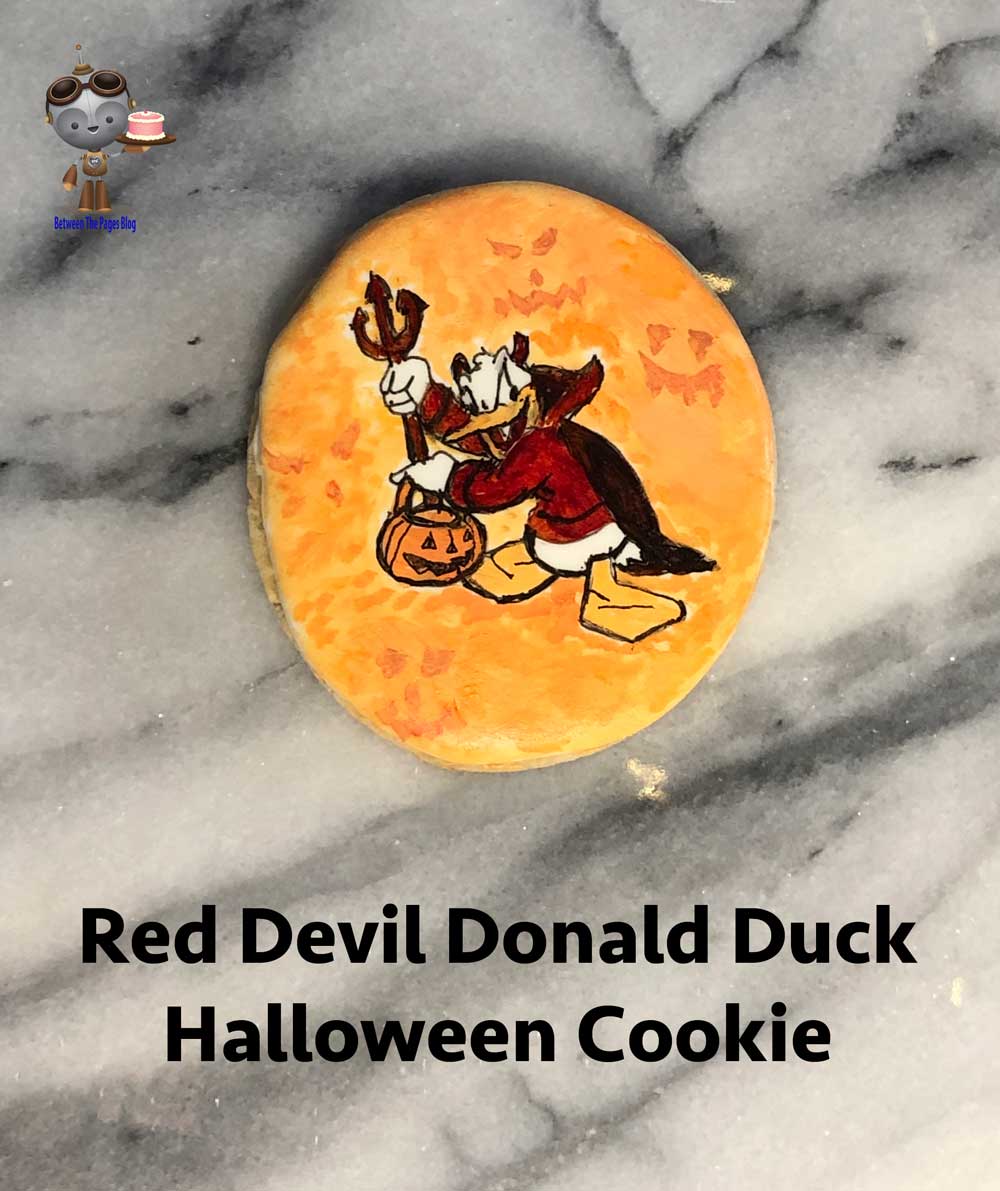 Secondly, for this red devil Donald Duck Halloween cookie I used a different technique. I draw on the silhouette of Donald and the pumpkin and totally colored everything in. Once Donald was finished, I used brushes to dab on different shades of orange to simulate the airbrushed background of Goofy. I hand drew in Jack-o-Lantern faces onto the cookie. Donald does not stand out as much as Goofy since he is not on a separate royal icing layer, but I did not have to create a separate stencil for him either. Donald is based on an iron-on decal by Etsy shop MilaVita.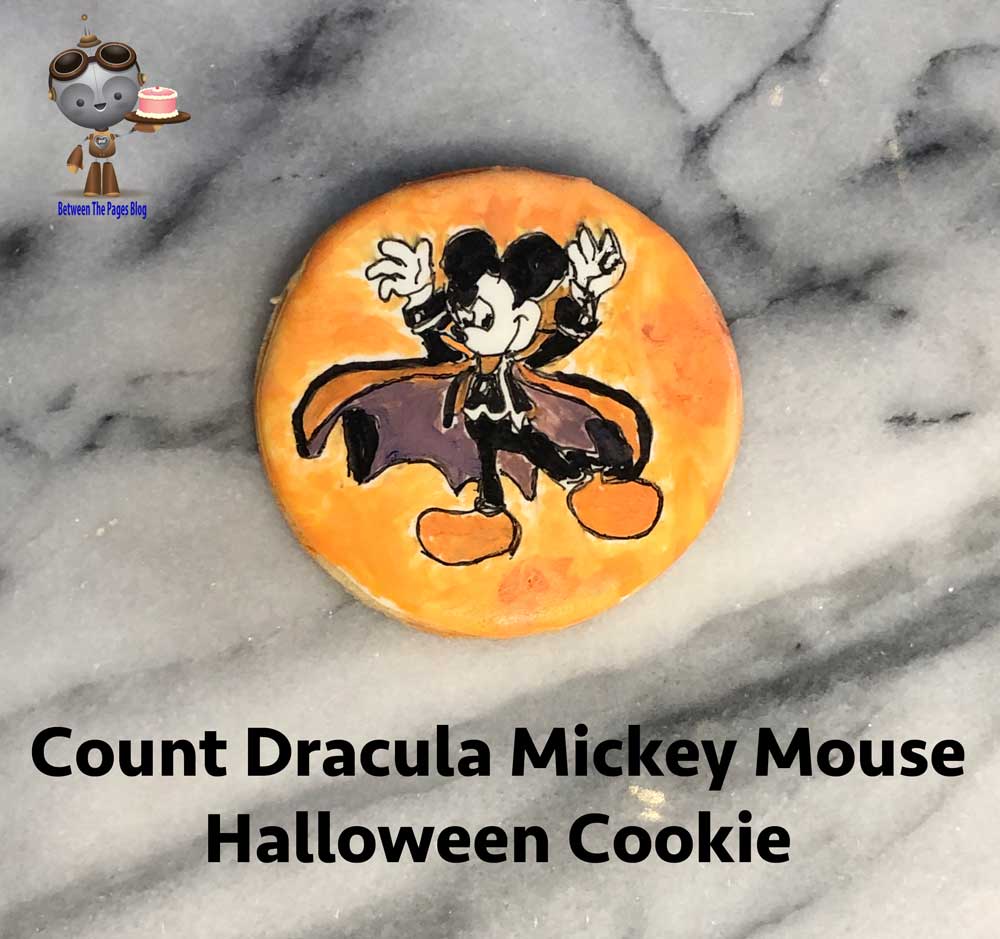 Thirdly, I used the same technique as with the Donald cookie to create this Count Dracula Mickey Mouse Halloween cookie. I drew on an outline of Mickey, the colored him completely. Next I used brushes to dab on shades of orange for the rest of the cookie background. This Count Dracula Mickey Mouse was based on a Pin Pack Disney limited edition Halloween 2020 boxed pin set.
Looking for more Disney Halloween treats?
This Count Mickey Mouse Cake has Mickey popping out of a pumpkin.
This amazing cupcake tower features Donald as a red devil, Mickey Mouse as Dracula, Minnie Mouse as a witch, Daisy Duck as a princess, Goofy as a mummy and Pluto as a skeleton.
Also, these Donald Duck Halloween costume cookies feature him in a red devil costume and a Jack-o-Lantern costume.
Here is an adorable Dracula Mickey Cake.
This Count Mickey Cake goes for a more spooky look.