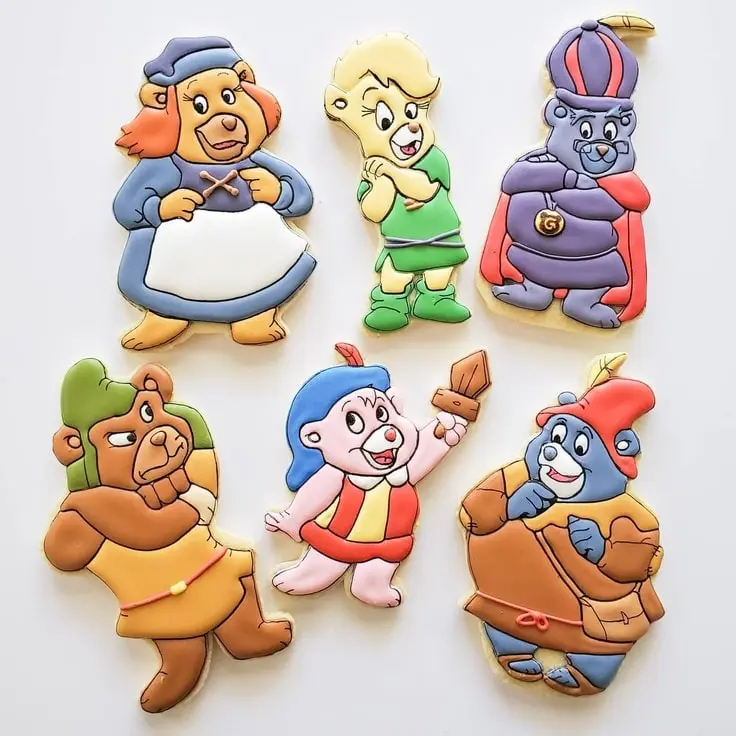 These great Adventures of the Gummi Bears Cookies were made by Monarch Baking Company. They feature Grammi, Sunni, Zummi, Gruffi, Cubbi and Tummi. The likenesses of each character is terrific.
The Adventures of the Gummi Bears was a Disney animated series that ran for six seasons from 1985 to 1991. By the time the Gummi Bears premiered, cartoons developed for television were considered kiddie fare and usually done with small budgets and cheap animation. Gummi Bears was one of the cartoons that helped change that. In 1984, Michael Eisner became CEO of Walt Disney Productions. Eisner knew that television was extremely popular and wanted to create new content specifically made for television. Eisner created the Walt Disney Television Animation department which produced the Adventures of the Gummi Bears. The animation was terrific and the voice cast was even better.
I don't think I saw the Gummi Bears until the sixth season when it became part of the Disney Afternoon. My husband and I were fans of the Disney Afternoon. We use to set the VCR to record it and watch it after work. These days, you can watch the Adventures of the Gummi Bears on Disney+.
Even though the Gummi Bears went off the air in 1991, they are still featured ocassionally in merchandise.
Funko has made pops of six of the characters – Tummi, Cubbi, Gruffi, Sunni, Zummi and Ogre Green.
Fantagraphics, who did the amazing Complete Peanuts, has been releasing wonderful deluxe reprints of Disney comics books and comic strips. One of these series is called Disney Afternoon Adventures. The next volume of this series will be released on February 6, 2024 and features the Gummi Bears on the cover. It is called Adventures of the Gummi Bears: A New Beginning: Disney Afternoon Adventures Vol. 4 and also features stories starring Chip 'n Dale: Rescue Rangers, DuckTales, Darkwing Duck and TaleSpin.
While doing the research for this post, I discovered something I didn't remember. Part of the way Disney promoted The Adventures of the Gummi Bears was by creating a daily and Sunday newspaper comic strip. The comic strip sites – Sunday Comics Debt and Stripper's Guide – each have an article with samples of the full color Sunday comic strips.
Looking for more Disney Afternoon treats?
This DuckTales Cake features Scrooge with the three nephews – Huey, Dewey & Louie.
I know what type of cake the Beagle Boys want for their birthdays, this cake of Scrooge's Money Bin.
These Chip 'n Dale: Rescue Rangers Cookies are the cat's meow because they include their arch foe Fat Cat!
Forget the Three Faces of Eve, this great Gadget Hackwrench Cake features three version of Gadget each with a different facial expression and body language.
These great Darkwing Duck Cookie include Launchpad & Gosalyn.
You'll get a charge out of these cookies because they feature Darkwing's electrical foe Megavolt!
I haven't featured The Goof Troop yet, but I did make this set of A Goofy Movie Cookies.