These Mickey & Friends Safari cupcakes & Cakesicles feature 3-D fondant figures of Mickey, Minnie, Goofy, Pluto, Donald dressed in safari outfits. They would fit in perfectly at Disney's Animal Kingdom.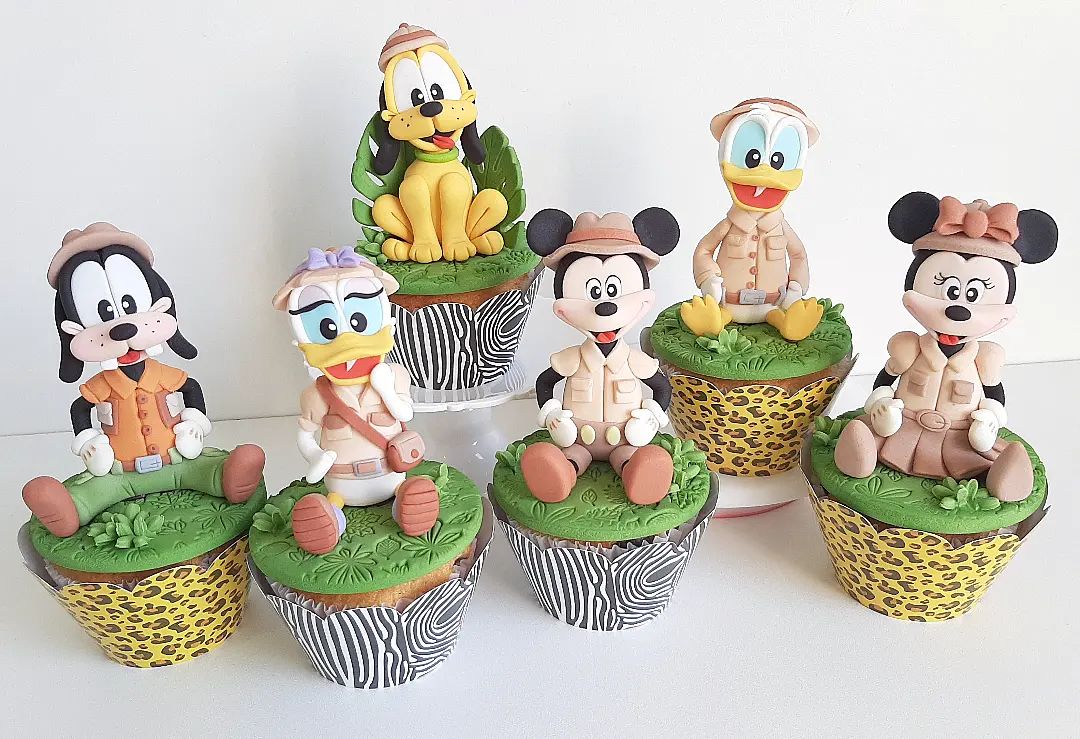 These wonderful cupcakes and cakesicles were made by Kelen – Doces Personalizados.
Each cupcake has a holder that is either a leopard pattern or a zebra pattern. These go nicely with the safari theme. I love the huge green fondant leaf behind Pluto. Even Pluto is wearing a tan safari hat.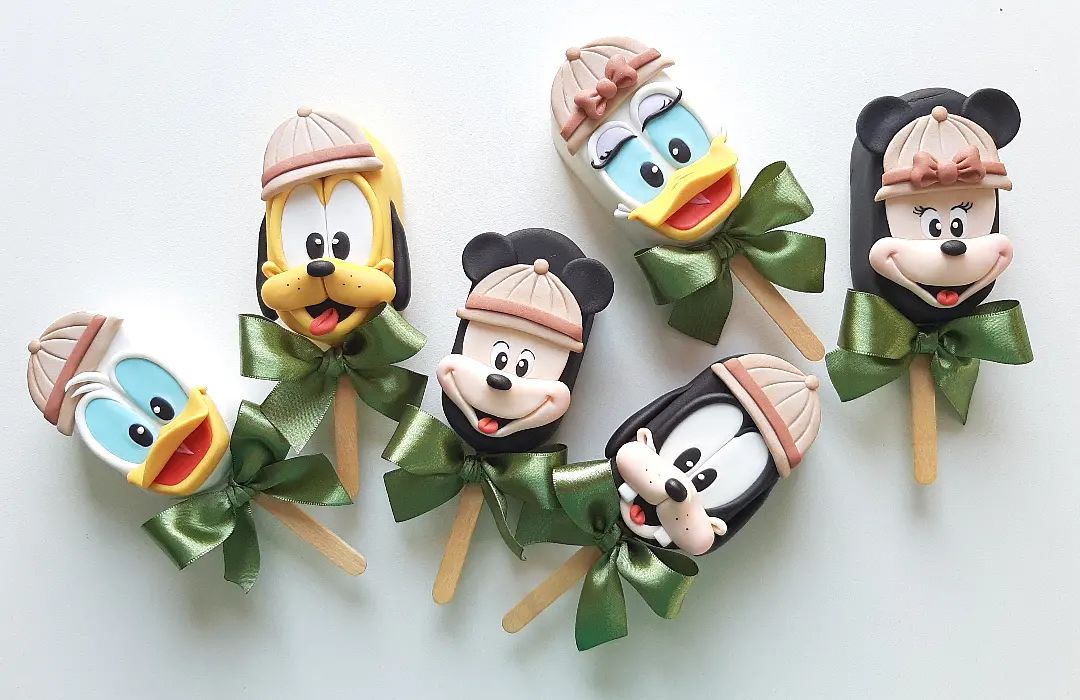 Also, these terrific cakesicles compliment the Mickey & friends safari cupcakes nicely. they match the characters on the cupcakes. In addition I like the way pieces of fondant are used to make the facial features stick out to give each character4 depth and dimension.
This 3-D fondant Donald is wearing a tan safari hat and matching tan jacket on this cupcake topper.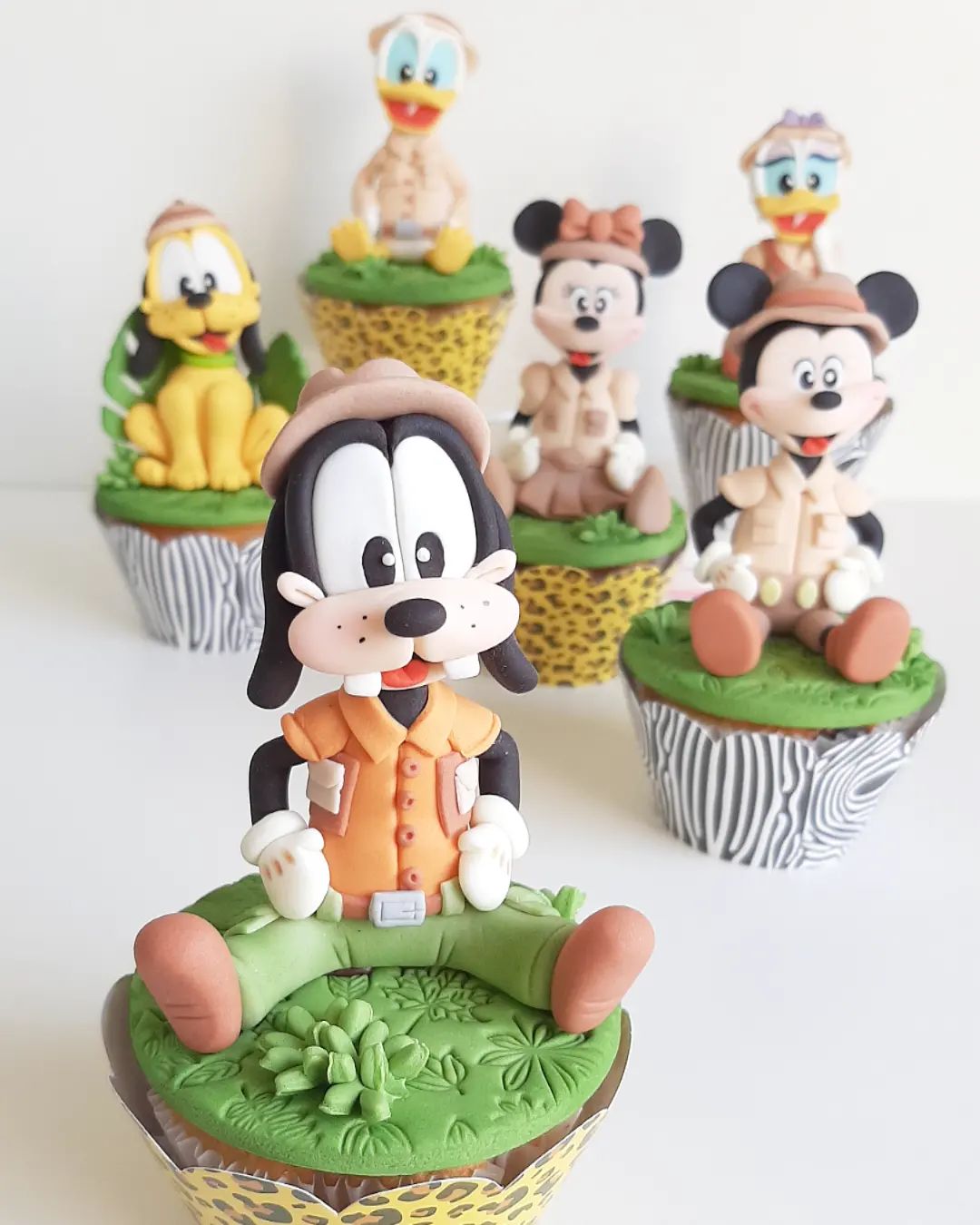 This Goofy safari cupcake has a 3-D fondant figure of him of top dressed in tan and green. He is sitting on a round green piece of fondant that covers the cupcake. I like the embossed floral and leaf pattern on the green base. Also a clump of fondant green grass is in front of him. In addition, the blades of grass on each cupcakes are in different places to add variety.
Also check out these marvelousMickey Mouse and Friends cakes and cookies.
and these Disney character cakes and cookies.
Hand-painted cake with Mickey, Minnie, Goofy, Donald
Mickey and the Magic of Disney cake with fondant figures of Mickey, Minnie, Goofy, and a silhouette of the Disney castle
Mickey and friends 3rd birthday cookies with royal icing faces of Mickey, Goofy, Donald
Cookies with chibi Mickey, Minnie, Donald, Daisy, Goofy, Pluto
Cookies with Pete, Mickey, Minnie, and other rare Disney characters