This wonderful Nightwing Birthday Cake was made by the amazing Janette MacPherson Cake Craft. It features Nightwing, with the moon behind him, watching over a city below. I really like how the birthday name, which is on the moon, is written in the same style as Nightwing's logo.
In comics, Dick Grayson, i.e. the original Robin, eventually grows up and goes out on his own. Since Robin will always be "the boy wonder" and associated with Batman, Dick Grayson decides it is time for a new identity. He adopts the identity Nightwing. Eventually, he moves from Gotham and becomes the protector of Blüdhaven.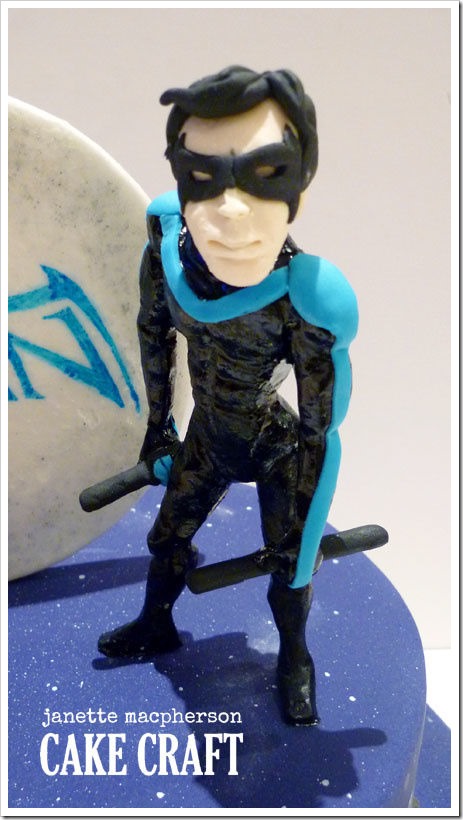 Nightwing has an all black costume with blue trim. He is carrying two nightsticks; his preferred weapon. Janette sculpted the Nightwing figure from modeling chocolate. The moon is a fondant covered cake card with a lollypop stick hot-glued onto the back for support.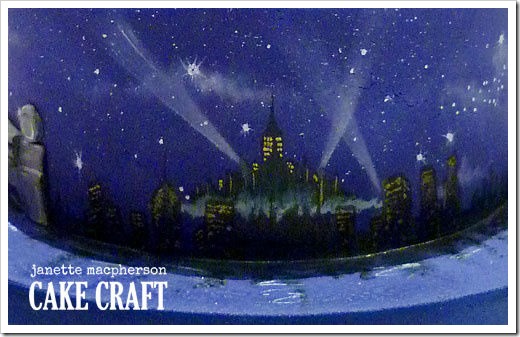 Janette hand painted the city that Nightwing is watching over. I love how the cake is a nightime scene. The cake is painted to look like a night sky covered with stars. The over all design of this cake with Nighwing watching over the city at night while the moon shines behind him is absolutely terrific!