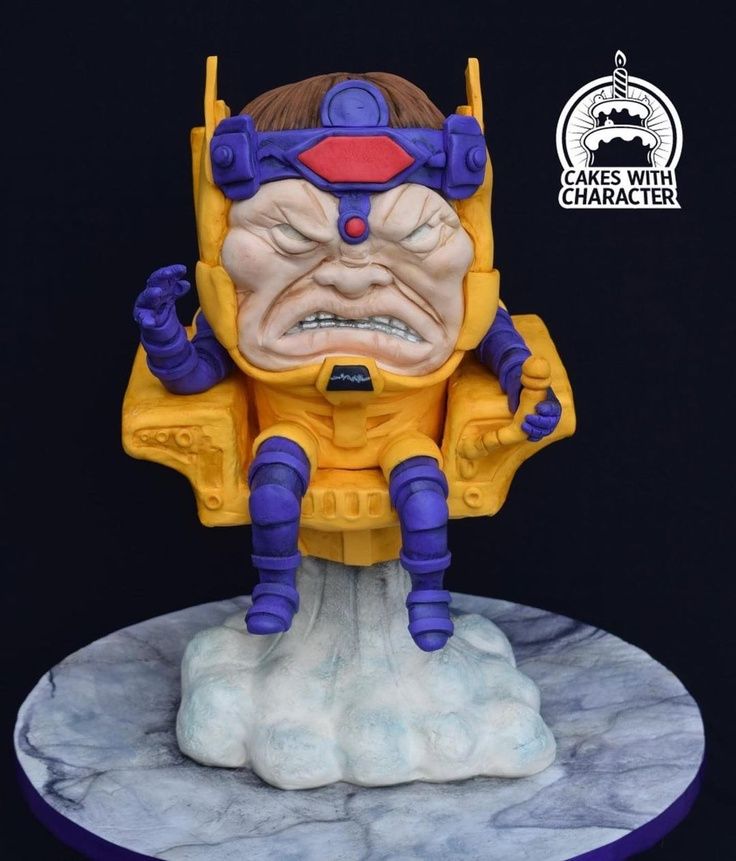 This wonderful MODOK Cake was made by Jean Schapowal from Cakes with Character.
MODOK is in yellow and blue armor and sitting in a yellow hover chair. The chair is hovering in the air and you can see the air underneath the chair. The sculpting on MODOK and the chair is amazing!
Here is Jean's description of her cake:
Welcome to the world of Marvel collaboration! here's my contribution, MODOK! MODOK (also written as M.O.D.O.K.; an acronym for Mental/Mobile/Mechanized Organism Designed Only for Killing) is a fictional character appearing in American comic books published by Marvel Comics. I always loved the look of this character so to me he was an obvious choice to recreate! A simple threaded rod and foamcore structure, he's covered with modeling chocolate throughout, added depth with edible art paints and The Sugar Art dusts.
More about MODOK character
MODOK was created by Stan Lee & Jack Kirby and began as an enemy of Captain America and SHIELD. He was created by the group of evil scientists – Advanced Idea Mechanics (AIM).
MODOK was so popular that he quickly began battling other heroes like Iron Man, the Hulk, Sub-Mariner and the Carol Danvers version of Ms. Marvel.
It is an amazing time to be a fan of pop culture because these days MODOK has his own animated series – Marvel's M.O.D.O.K. The animated series is streaming on Hulu and MODOK is voiced by Patton Oswalt.
I really like these last two close-ups of this cake because they show the amazing effect of the chair hovering off the ground and it being held up by air.
For more of Jean's magical cakes check out:
Forget the Maltese Falcon, Jean's Jack Kirby Cake is the stuff that dreams are made of!
You'll go ape over Jean's King Kong Cake that she made for the cast of the Broadway show.
This amazing Steampunk Fish Cake includes a great mini-interview I did with Jean.