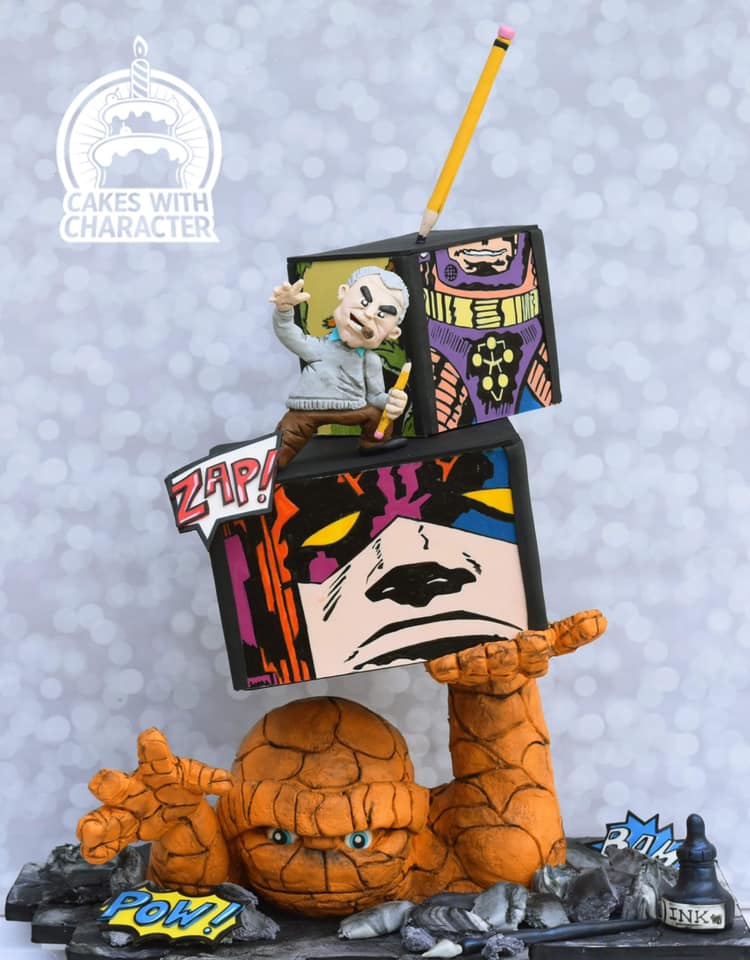 This mindboggling Jack Kirby Cake was made by Jean Schapowal from Cakes with Character. Believe it or not, this is the second Jack Kirby Cake that Jean has made. Here is my article about her first cake which focused on Jack Kirby's futuristic take on football.
Before becoming a professional baker, Jean was a freelance artist who worked in comics. I interviewed Jean last year.In her wonderful interview, Jean talks about everything from having Will Eisner as a teacher to the time she talked to Harrison Ford on the phone.
All of the characters featured on the cake were created or co-created by Jack Kirby. If you don't jack about Jack Kirby, I once wrote a detailed article about Jack Kirby and why he is considered the king of comics.
While Marvel Comics had been around for years, the shared universe that we all know and love began with the publication of Fantastic Four #1.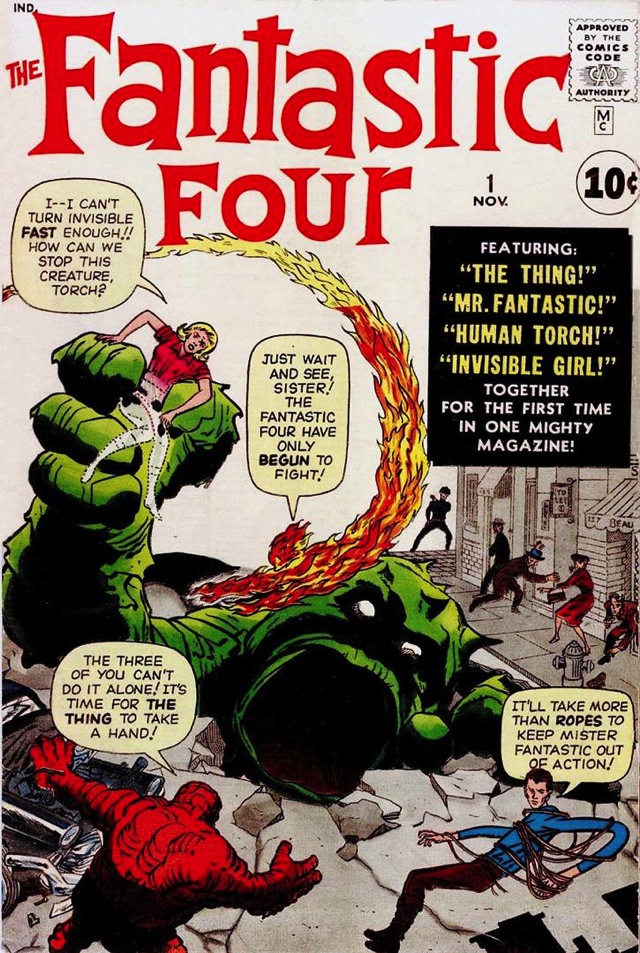 The cover of that issue was drawn by Jack Kirby. It features a giant green monster bursting up from underneath a street. He has one hand raised higher than the other. That hand is holding Sue Storm, the Invisible Girl.
This cake is a tribute to that cover. The Thing, who first appeared in Fantastic Four #1, is bursting from underground and holding Jack Kirby. This is actually the second time Jean has done a cake based on this iconic cover. The 1st time was a Simpson Cake featuring Comic Book Guy.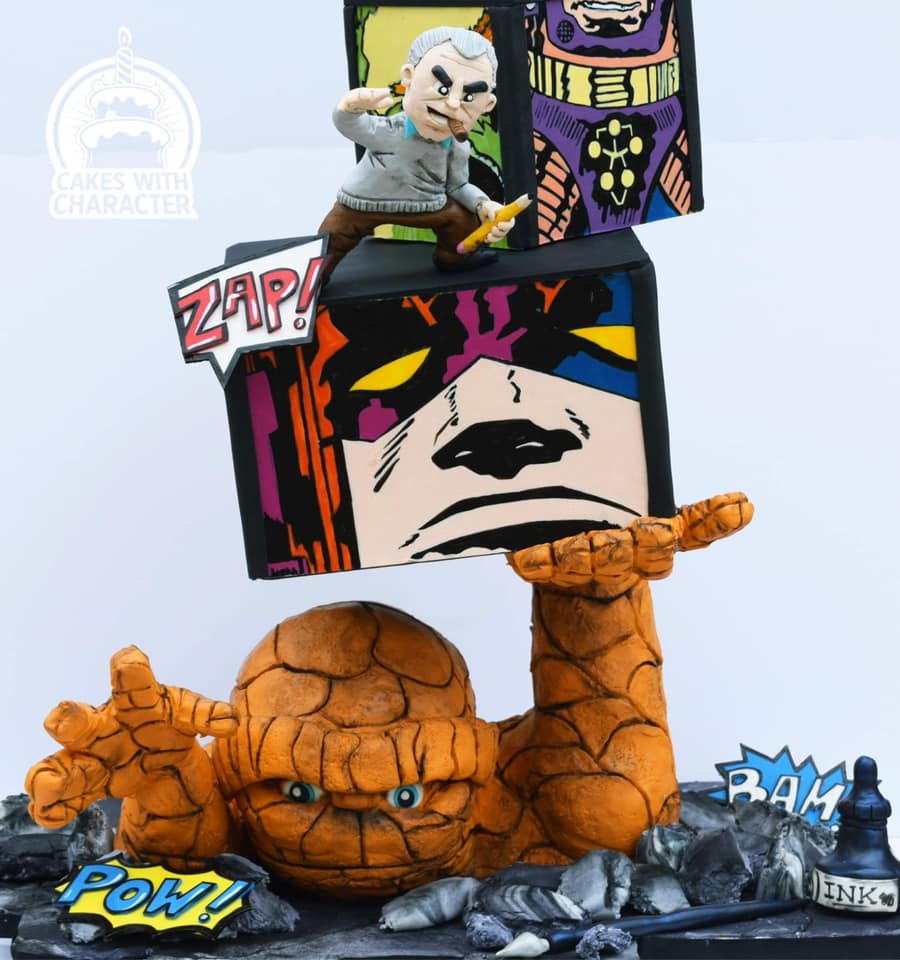 Here is Jean's description of her cake:
Such an honor to be the finalist representing the USA for the Crazy Cakes category in the Cake Star International Cake Competition!! Thank you to the judges and to ByBora Sugarpaste! For those who know me know my love of comic books and I wanted to do a cake celebrating the king of comic books, Jack Kirby! This cake contains so much of his heavy style of art work, from the bold colors to the heavy thick lines and shadowing! I used Edible art pens to sketch out some iconic imagery and then handpainted with Edible art paints in those bold colors! His mastery of perspective and that in your face stance I tried to show as well! And also featuring the tools of his craft like the quill pen and ink and those sound effect word balloons! And can't forget Jack himself who was sculpted from Chocopan modeling chocolate! I had so much fun creating this cake and I hope I did him justice! At the time I didn't understand his work but as I got older I know the comic book industry wouldn't be where it is today without Jack Kirby's influence!
Here is a close-up of the Thing. The Thing is the perfect character for this cake because his personality is partly based Jack. Ben Grimm, the man who becomes the Thing, is Jewish, was born and raised in New York City, was a World War II veteran and likes a good cigar. All of these were also true of Jack Kirby.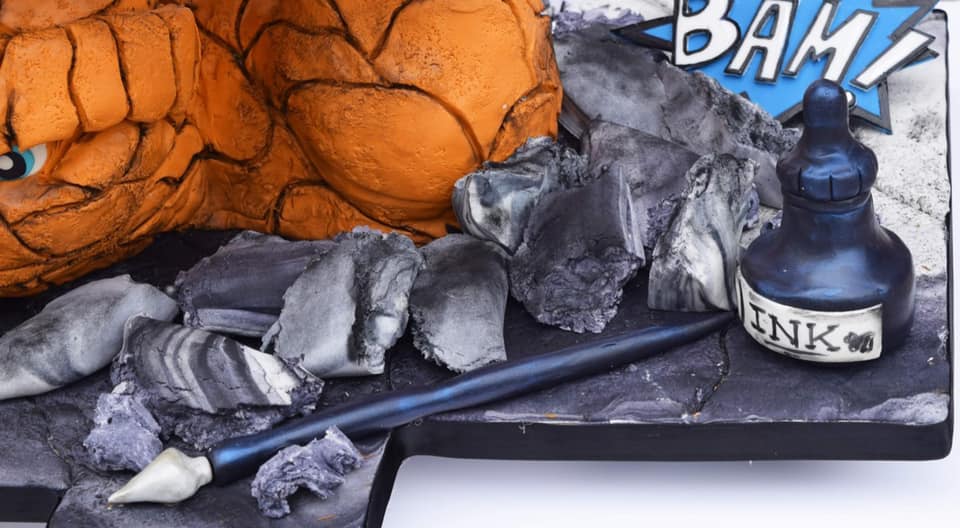 Jack's brush and ink are on the cake board, while his pencil is on top of the cake.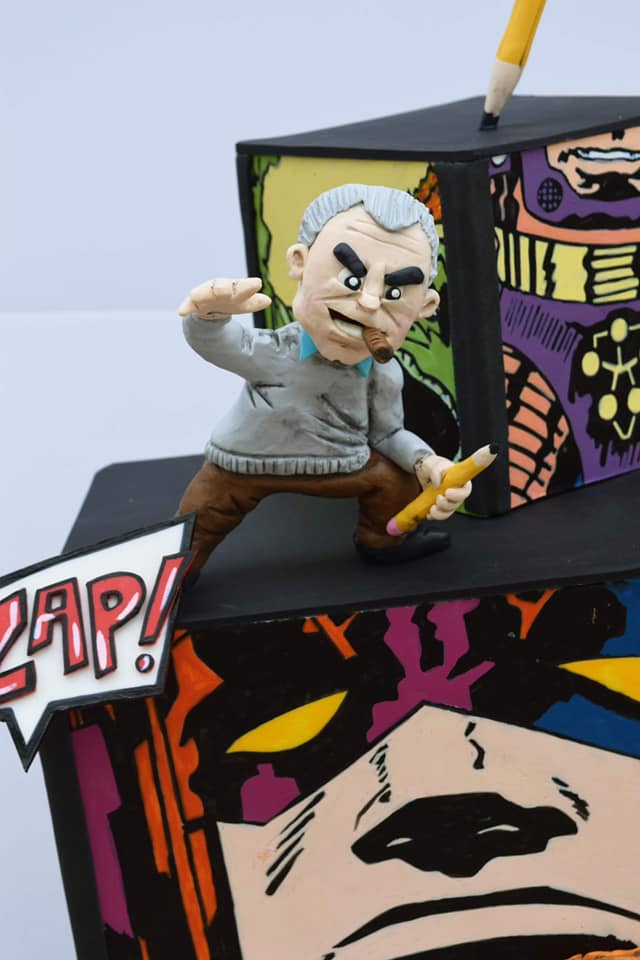 Jean's cake topper is adorable. Jack is animated as if he is excited about whatever story he is telling, he has a pencil in one hand and he is smoking a cigar.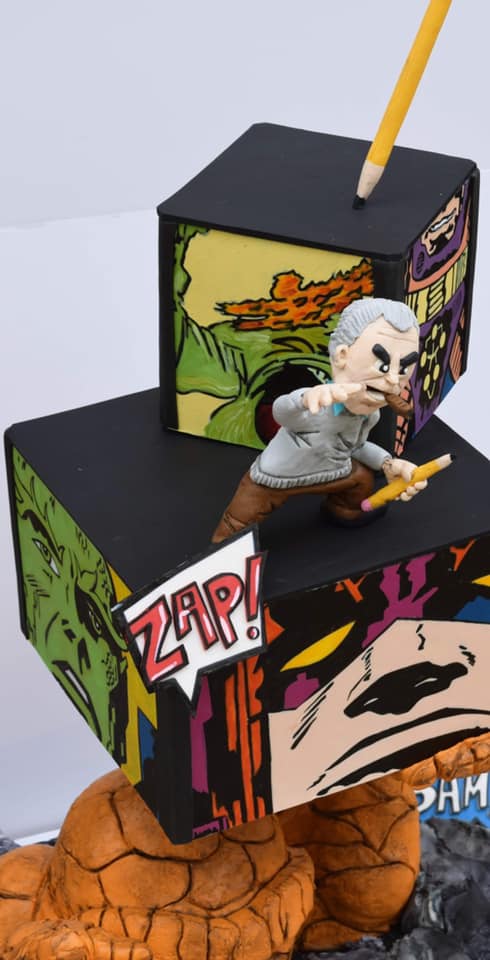 If you look behind Jack, you'll see part of the cover to Fantastic Four #1 with the Human Torch flying towards the giant green monster.
The partial figure beside Jack is Armin Zola. DC Comics had hired Jack Kirby to design a bunch of the characters in the classic Super Powers action figure line. When Jack created Armin Zola, I think he had an action figure in mind. Armin Zola is this creature with two arms, two legs, a chest and a camera where his head should be. Where his chest is there is a large screen that projects Armin Zola's face on it. Unfortunately, Armin Zola was not part of Marvel's classic Secret Wars action figures line, but there have been multiple figures of him over the years.
The figure bellow Jack is Galactus. Galactus is a massive being who devours whole planets to sate his hunger.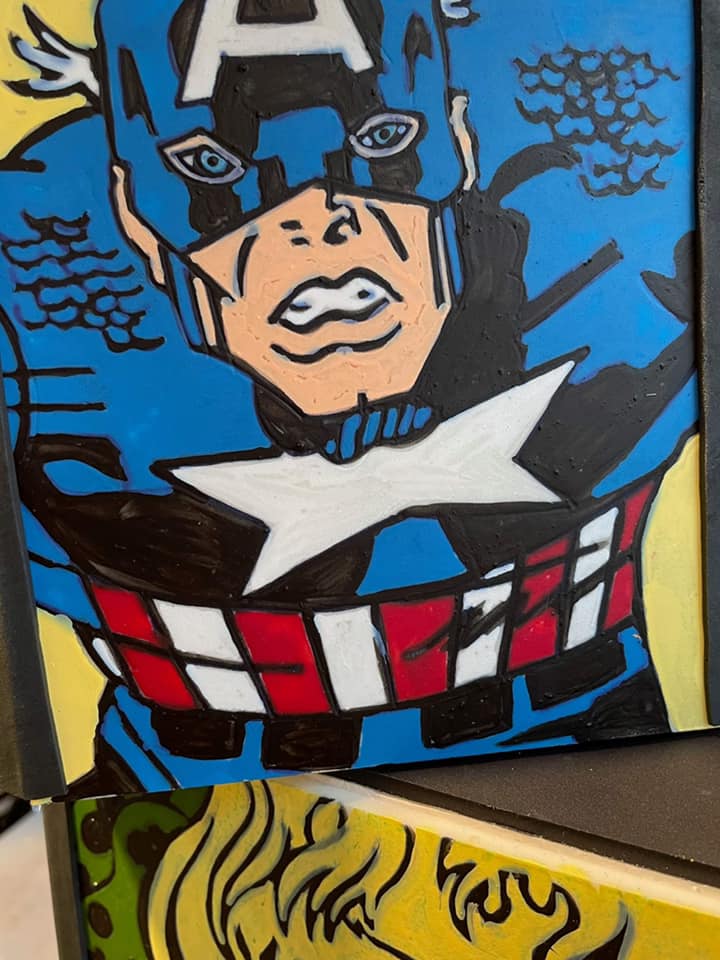 Jack Kirby and Joe Simon co-created Captain America in 1941.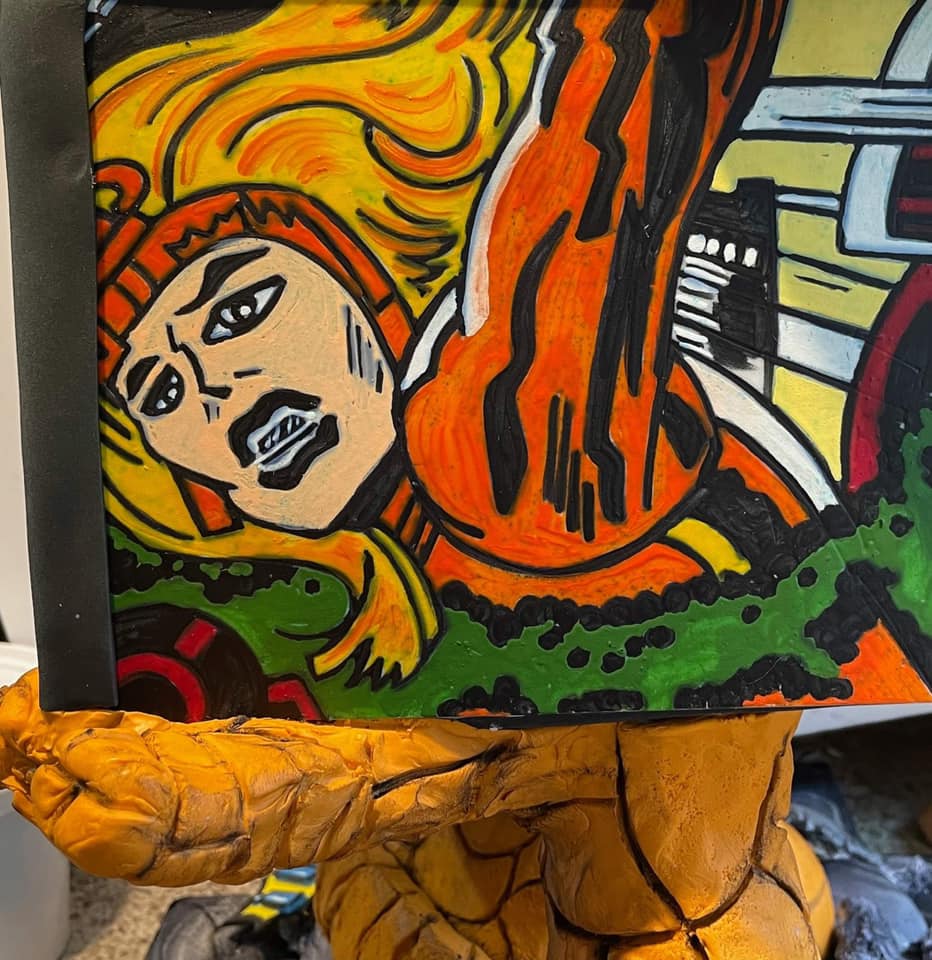 Angelina Jolie will portray Thena in the upcoming Eternals movie.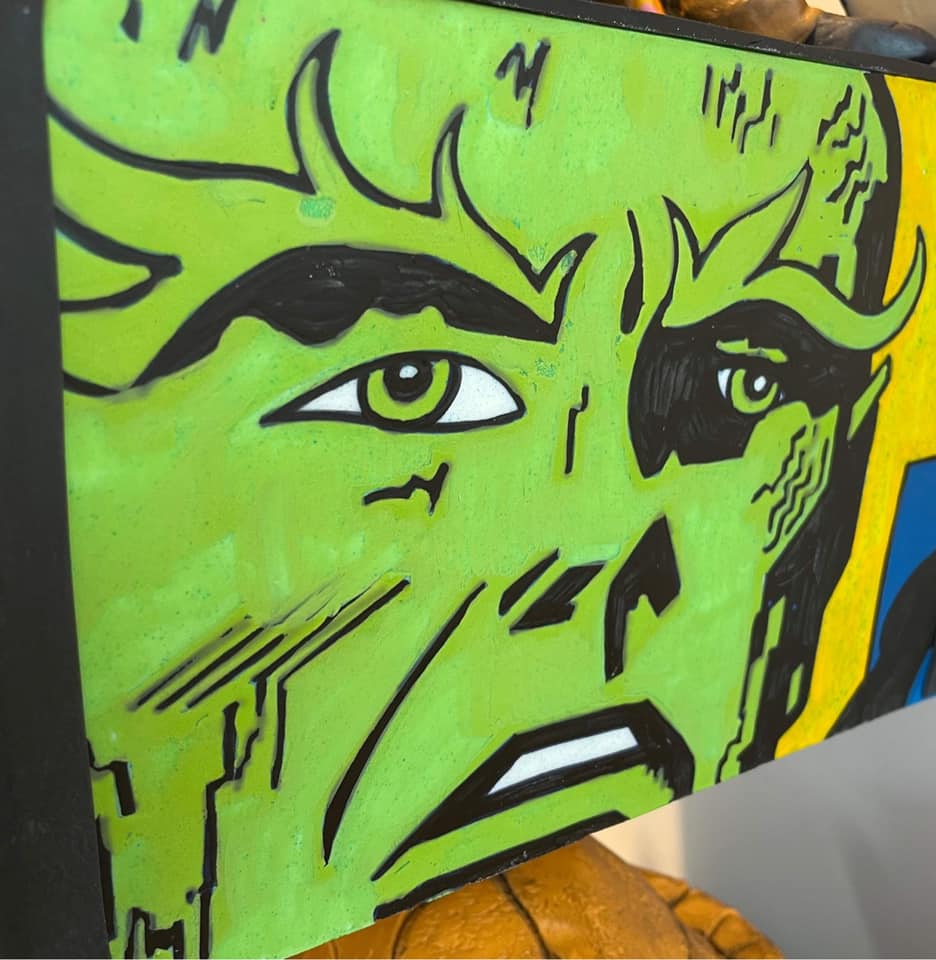 Triton is the aquatic member of the Inhumans.
Quasimodo is a sentient computer created by the Mad Thinker. He is best known for appearing in the very first solo Silver Surfer story.
I have featured so many cakes and cookies of Jack Kirby creations over the years. Here are three of my favorites: