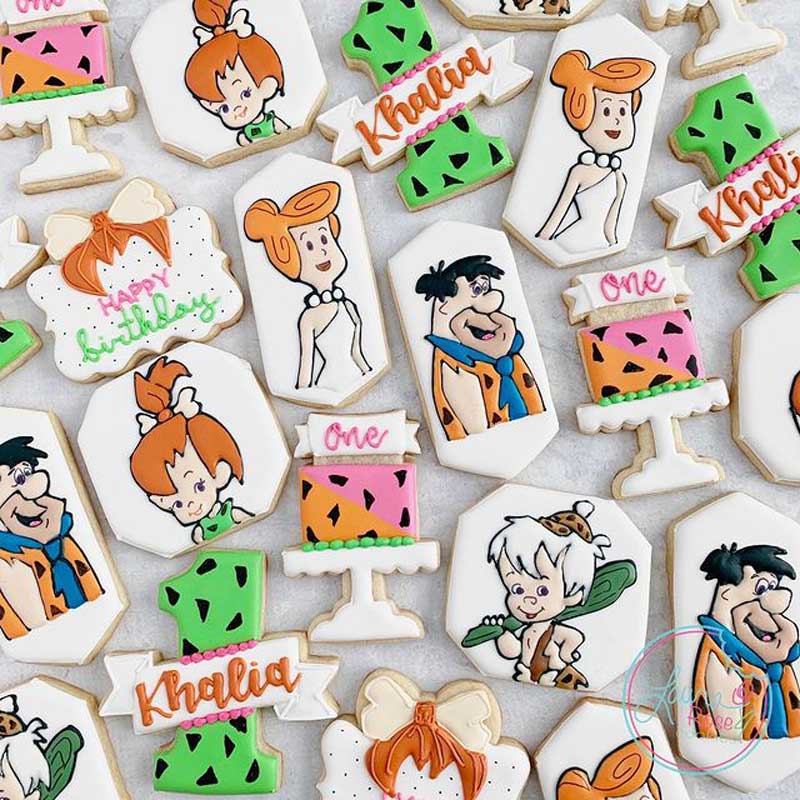 These Flintstones 1st birthday cookies feature Fred, Wilma, and Pebbles Flintstone and Bamm-Bamm Rubble.
These wonderful cookies were made by Laura Rose Cookies.
Bamm-Bamm is holding a club in one hand on his cookie.
Fred and Wilma each have their own cookie. Pebbles also has her own cookie. The characters on these cookies look so much like the cartoon characters.
There is a number 1 cookie that is green with black dots and has the birthday name.
Another birthday cookie is in the shape of a birthday cake with the word one on top for the 1st birthday.
I like the way several of these Flintstones 1st birthday cookies have the same pattern as Fred's outfit.
You can have a Yabba Dabba Doo Time with these Flintstones cookies. It reminds me of this song.
Flintstones, meet the Flintstones
They're a modern stone age family

From the town of Bedrock
They're a page right out of history

Let's ride with the family down the street
Through the courtesy of Fred's two feet

When you're with the Flintstones
Have a yabba-dabba-doo old time

Have a yabba-doo time
We're gonna have a gay old time
For more Flintstones party ideas:
this Flintstones wedding cake with Fred, Wilma and their house.
this Bamm-Bamm and Dino Cake
these cookies with Barney, Betty, Fred, Wilma, Pebbles, and Bamm-Bamm