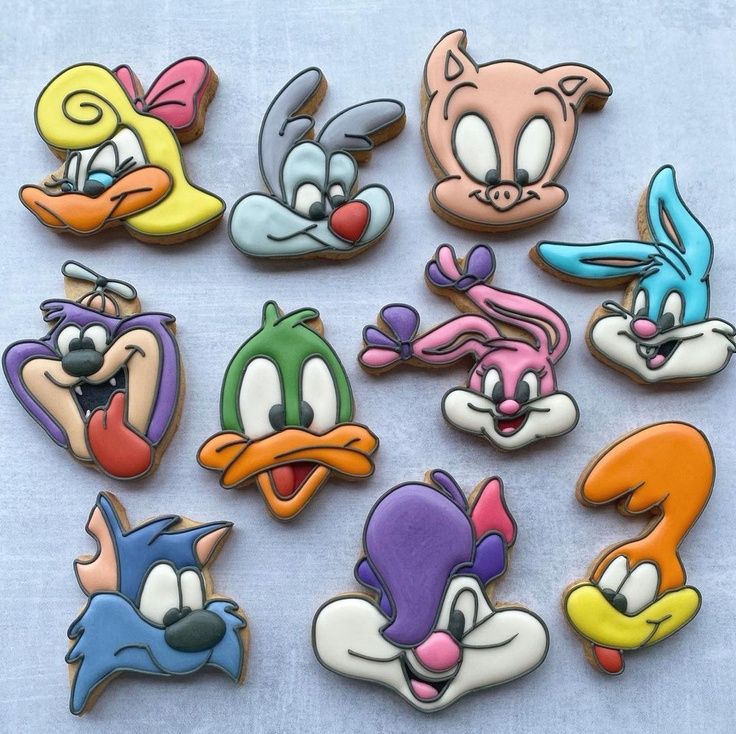 These wonderful Tiny Toon Adventures Cookies were made by Andre Cookies. These cookies are the heads of 10 different characters. I've made seven different characters before and it is so much work. Each character has a different design and color scheme. Andre made these with icing, so she had to make each color of icing you see and get the consistency correct.
From top to bottom and left to right, the characters are Shirley the Loon, Calamity Coyote (love that name), Hamton J. Pig, Dizzy Devil, Plucky Duck, Babs Bunny, Buster Bunny, Furrball (my brother had a cat named Furball), Fifi La Fume (La Fume is a great last name for a French skunk) and Little Beeper (I always thought the Roadrunner says meep meep not beep beep). Every character looks perfect. These are absolutely amazing cookies.
For more Looney Tunes cakes and cookies, check out:
I hear that the winner of the basket ball game, get these stellar Space Jam Cookies.
Bugs gave Daffy the ball on this hilarious Space Jam Cake
These matching Taz-Mania Cake and Cookies will leave you spinning.