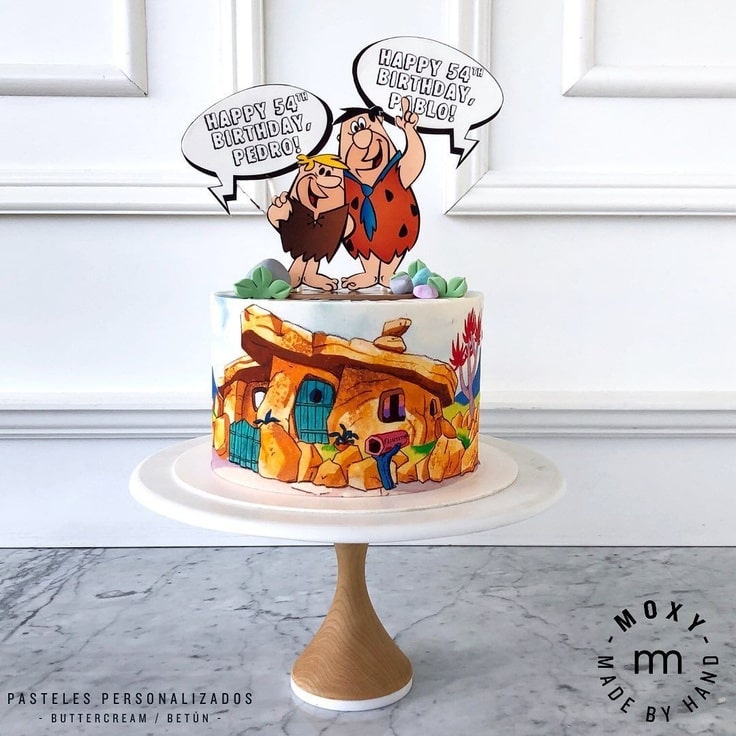 Happy Father's Day!
I thought Father's Day was the perfect time to spotlight two of my favorite cartoon dads. This wonderful Fred Flintstone & Barney Rubble Cake was made by Moxy.
The cake itself is a single tier and has an absolutely amazing hand painting of The Flintstone's house. The house is made from stones and the roof is one gigantic flat piece of stone. There is a wooden front door, a stone fence around the front of the house with a wooden door. There is also a mailbox that looks like it is made from a hollowed out log.
The top of the cake has terrific figures of Fred and Barney. Fred has his arm around Barney and both are wishing two different people a Happy 54th Birthday. The Fred and Barney Cake Toppers are great. They look like the hopped right out of a television set.
So why are Fred Flintstone and Barney Rubble two of my favorite cartoon dads?
When I was kid, Popeye was Popeye. He wooed Olive Oyl, ate spinach, and fought with Bluto/Brutus. Bugs Bunny ate carrots and outwitted Elmer Fudd and Yosemite Sam.
Fred and Barney were different. They began as a cartoon version of the Honeymooners. But, that all changed. Wilma announced she was pregnant and before you knew it, Fred and Wilma were parents. Barney and Betty didn't (couldn't?) have kids, so they ended up adopting Bamm-Bamm. Their stories changed and began focusing on these characters as parents and families. Character growth like this rarely happened in regular TV shows and was unheard of in cartoons. That made the Flintstones unique. As a kid, I didn't understand any of that. What I did realize was that because these characters grew and changed, they were more fully developed and I cared about them more.
Wishing you a Yabba Dabba Doo Father's Day!
Planning a Flintstone's Party? You'll love these:
The Jetsons Meet The Flintstones Cookies
Adorable Flintstones Wedding Cake
Fantastic Flintstones Cupcakes and Cookies