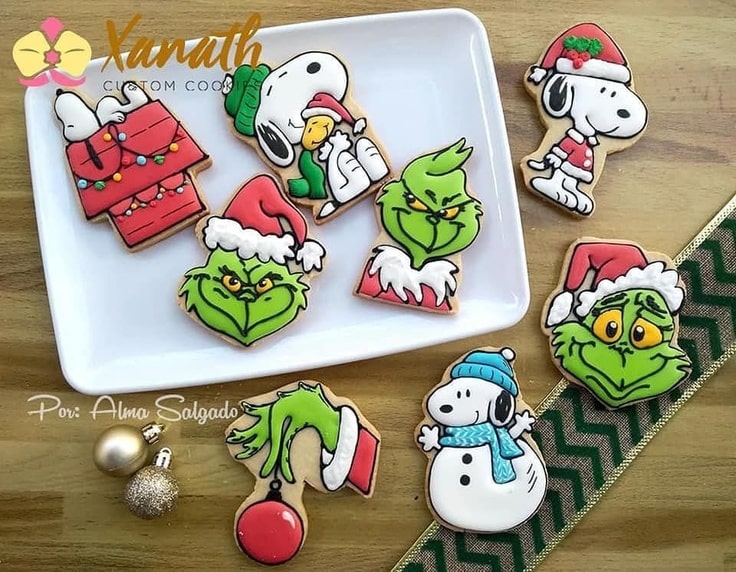 These wonderful Snoopy Meets The Grinch Cookies were made by Xanath Custom Cookies. A Charlie Brown Christmas and How The Grinch Stole Christmas are two of the great Christmas animated specials, so I thought combining these was a fun idea.
These cookies show Snoopy sleeping on his dog house which is decorated for Christmas, Snoopy hugging Woodstock, the Grinch with a Santa hat, the Grinch wearing Santa's jacket, Snoopy wearing Santa's hat and jacket, the Grinch stealing a Christmas Tree blub, a Snoopy snowman and the Grinch after his heart was no longer two sizes too small.
One of the challenges in mixing these two classic characters is that Snoopy is white with black ears and the Grinch is green and usually wears a red Santa suit. Those colors schemes don't mesh well. So in most of these cookies, Snoopy is wearing red or green Christmas attire. Notice that when Snoopy is wearing a green scarf and hat, Woodstock is wearing a red Santa hat. On the other hand, Snoopy's red Santa hat is trimmed with a little red and green holly. These little touches make Snoopy and the Grinch blend wonderfully.
Looking for more Christmas Treats with Snoopy or The Grinch?
These awesome Grinch Cake Pops would make even the grinchiest grinch smile.
What if the Grinch stole Halloween or Thanksgiving?
This delightful Christmas Cake combines The Grinch, Frosty, Charlie Brown & Rudolph.
The colorful cookies show Snoopy and Woodstock celebrating Christmas.
This adorable Christmas Cake has Snoopy and Woodstock dancing with top hats and candy canes.