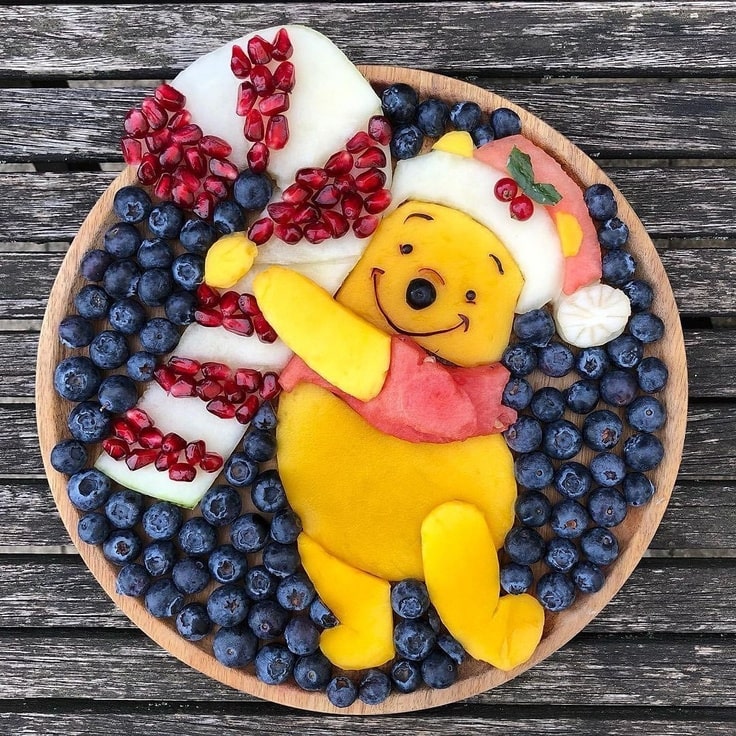 This wonderful Winnie the Pooh Christmas Fruit Platter was made by Sarah Lescrauwaet-Beach. It shows Winnie the Pooh wearing a Santa hat and holding a giant candy cane. Pooh's Santa hat looked to be made of watermelon and apple. It has holly on the front and little slits for his ears. Pooh is smiling and has a cute blueberry button nose. The giant candy cane appears to be created from apple and pomegranate. The background is blueberries. The creativity and detail on Sarah's fruit platters are simply amazing.
Looking for more amazing fruit creations?
Sarah also made this adorable Winnie the Pooh Halloween Fruit Platter. It features Pooh wearing a wizard's hat and riding a broom in the night sky.
The detail and texture on these Turning Red Chocolate Covered Strawberries is amazing.
This Ursula Berry Pie is too beautiful to eat.