These adorable Mike and Sulley Cakesicles were made by Formiga Prendada.
Mike is green. He has little horns on his head, one giant single eye and a half smile. Mike's eyes are green to match his skin.
Sulley is blue with purple spots. His fondant has little lines in it to show that he is covered in fur. He has horns, eyes, big bushy eyebrows, a nose and a big smile. Sulley's eyes are purple to match the purple spots in his fur.
Make's cakesicles has a green ribbon on the bottom. While Sulley's has a blue ribbon.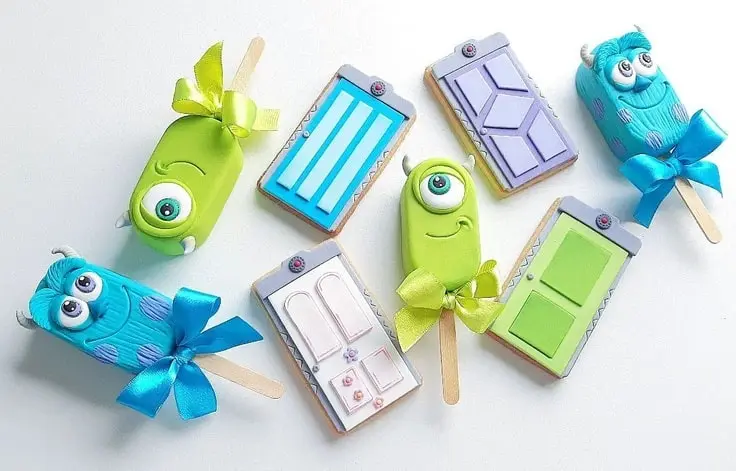 Kelen made terrific matching door cookies to go with the cakesicles.
These doors cookies are great! They even have the little grey frame with the light on top. If you notice there is a green door to match Mike. Blue and purple doors to match Sulley. The one that doesn't match Mike and Sulley? It's Boo's door. I LOVE when bakers add little touches like that!
This is such a wonderful set of cakesicles and cookies.
Planning a spooktacular Monsters, Inc party?
These Mike and Sulley Cake Pops are wonderful.
This is one of my favorite Monsters, Inc. Cakes. It has great figures of Mikey, Sulley and Boo, who is still disguised as a monster. The cake has been carved to look like Boo's bed. This cake is sensational.
This Monsters, Inc. 1st Birthday Party is so cool, it will make you want to be a kid again.