This post features my favorite Rescue Rangers Cakes and Cookies that I have featured on the blog.
Let me first start with cakes.
This Rescue Rangers 4th Birthday cake with fondant figures of Gadget, Chip, Dale, Monterey, is my favorite cake. It was made by Tera Cakes. I like the way the characters are supporting each other and working as a team to light the birthday candle.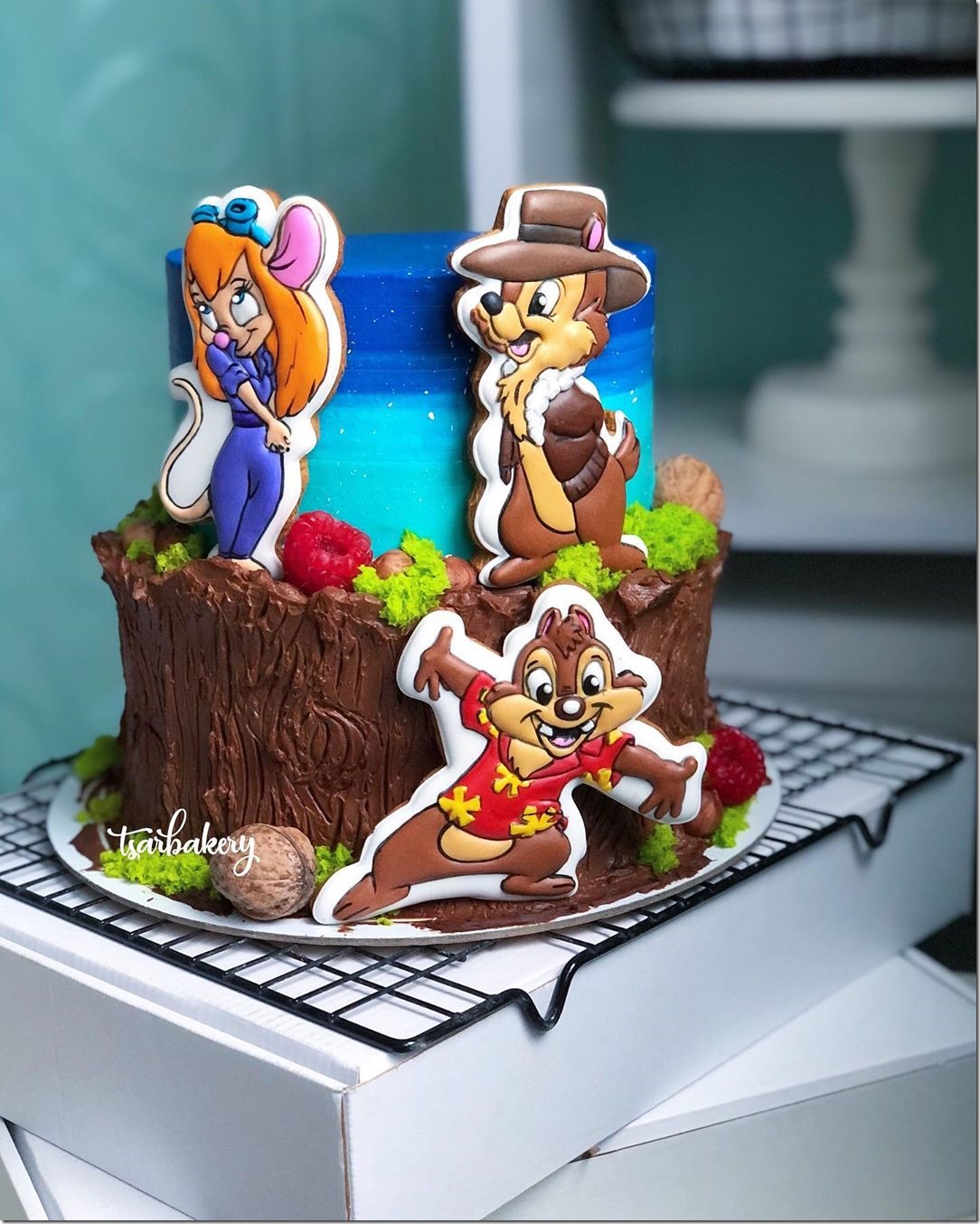 This Rescue Rangers cake with a tree stump and Chip n Dale cookies is also very nice. It was made by Tsar Bakery.
This Chip, Dale, and Gadget cake is also decorated with royal icing cookies of the characters. This cake was made by Poly Ginger Mania.
Cookie Sets
In addition I have featured many wonderful cookie sets featuring these characters.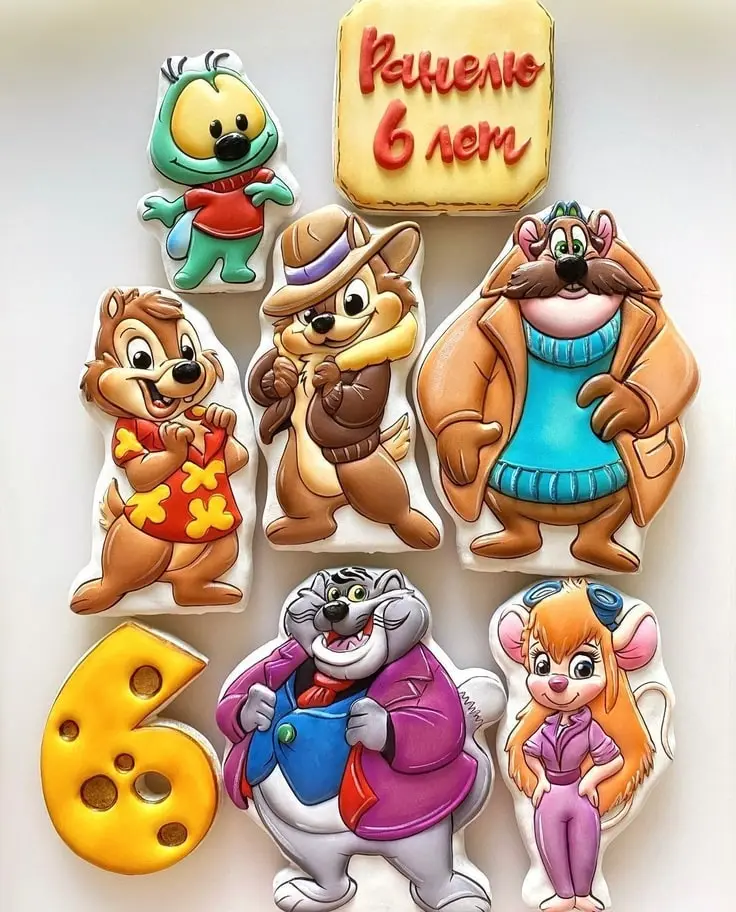 I like these Rescue Rangers with Fat Cat cookies because that include a rarer cookie that no one else has featured. I also like the Swiss cheese number 6 cookie. These were made by ПРЯНИКИ Казань.
The following cookie sets are also excellent version of these characters.
These Marvelous Rescue Rangers Cookies have nice shading on each character cookie. These cookies were made by Пряники Калининград.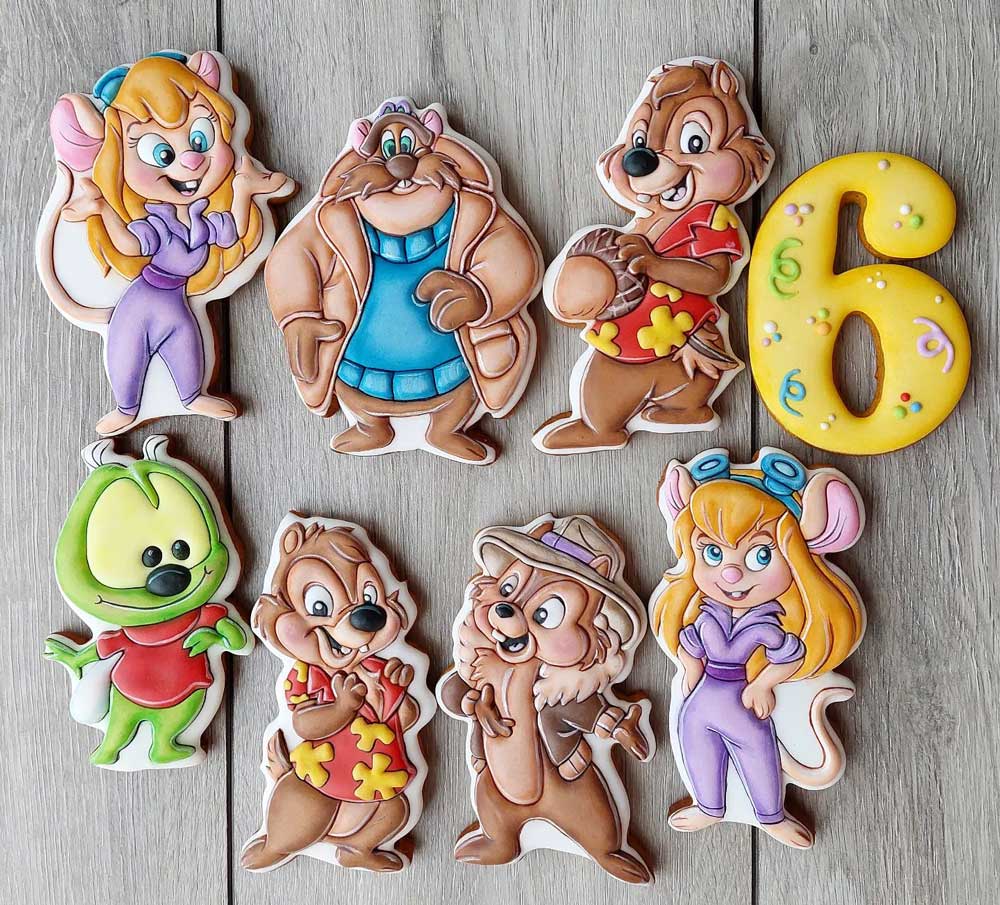 Also these 6th birthday cookies featuring the Rescue Rangers that I featured yesterday are also terrific They were made by Sweets IS..
In addition There's no case to big, no case too small for the characters on these cookies. They were made by Viva Cookies.
Furthermore, there's some terrific cookies of just Chip n Dale as Rescue Rangers. These were made by Glazur Bakery. I love the expressions on their faces. I also really like the coloring and shading of these cookies.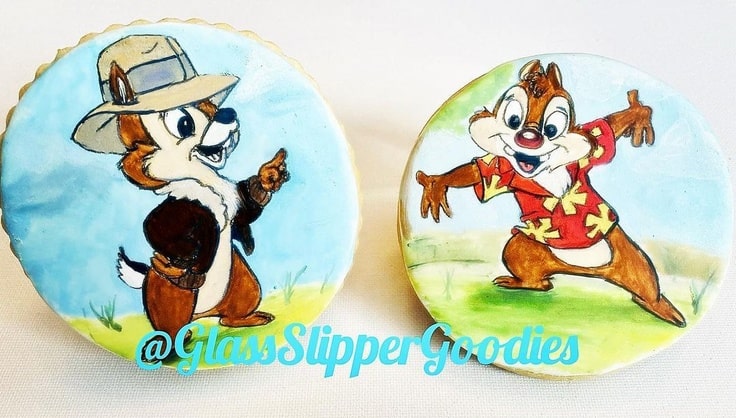 Also these hand-painted Chip n Dale cookies are really nice. They were made by Glass Slipper Goodies.
These Gadget and Zipper cookies are terrific. They were made by White Sugar and Spice. Zipper looks so cute. I really like the different shades of orange and purple on Gadget's cookie.
Food Art
Finally last but not least I want to mention this terrific Gadget food art piece. What an inventive way to eat salmon and egg. This was made by Agata Cute Food.
I hope you have enjoyed My Favorite Rescue Rangers Cakes and Cookies.