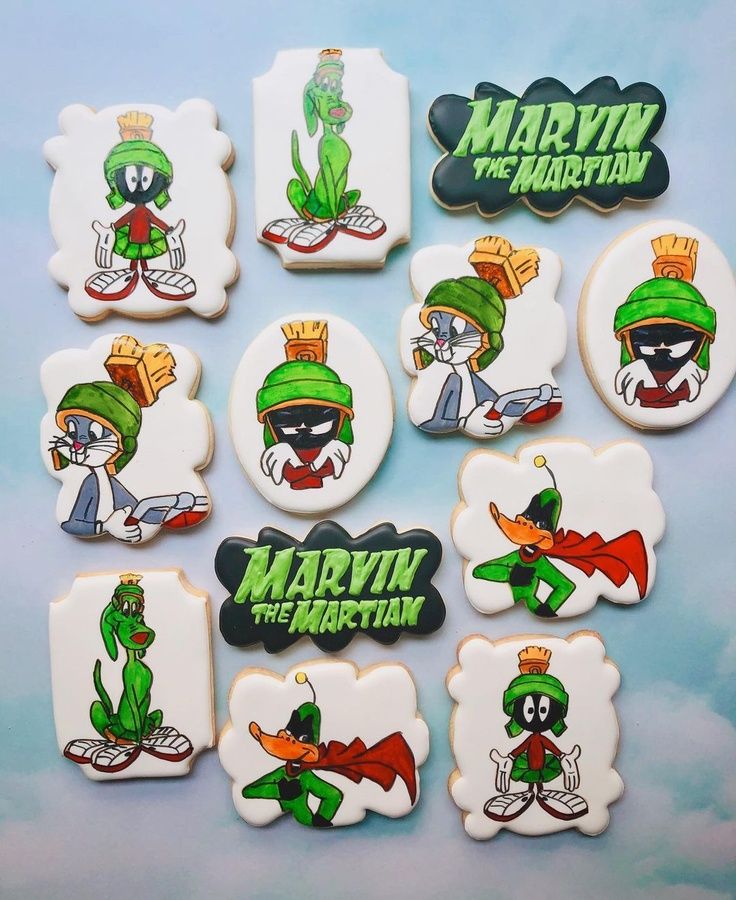 Duck Dodgers in the 24½th Century is one of my husband's favorite cartoons, so when I saw these wonderful cookies, I knew I wanted to share them. These Marvin the Martian Cookies were made by Tasty Treats By Teri. They feature Marvin the Martian, Marvin's dog K-9, Duck Dodgers and Bugs Bunny. K-9 and Bugs Bunny dressed as Marvin are from Marvin The Martian's first appearance in the cartoon Haredevil Hare.
Here are K-9, Bugs dressed as Marvin and Marvin. I'm a big fan of Doctor Who, so whenever I read the name K-9, I hear it spoken in Tom Baker's voice.
These feature Duck Dodgers and Marvin.
I really like that the close-up and full body images of Marvin have him in a different facial expression and pose.
These cookies are out of this world!
I have featured Marvin the Martian five other times:
If you're planning a wedding, check out this Marvin the Martian Wedding Cake Topper
A little known fact, pumpkins are popular on Mars. I've shared both a Marvin the Martian Pumpkin Carving and 3-D Pumpkin Sculpture.
Marvin appears twice on the coolest Space Jam cookies in the galaxy.
Last but not least, he and dozen of other characters have a cameo on this amazing science fiction cake