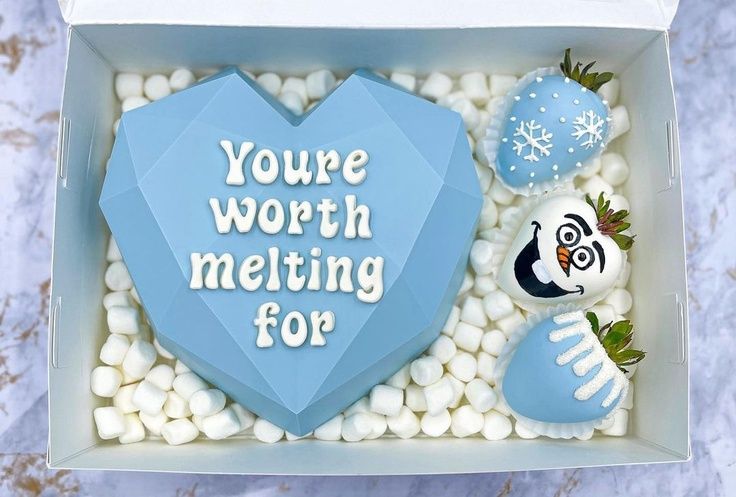 These cute Olaf Chocolate Covered Strawberries with a breakable chocolate heart were made by The Berry Shack.
This gift box contains a large blue chocolate breakable heart. It has the adorable phrase – You're Worth Melting For – written on it with white chocolate.
Secondly, there are three chocolate covered strawberries with the heart. One is covered with white chocolate and has Olaf's head drawn on it. Another strawberry is light blue with white snow and snowflakes on it. The final strawberry is light blue with white frost on the top.
Thirdly, the packing material for these sweet treats? Mini marshmallows. In addition to being a yummy idea, the white marshmallows match the white writing on the chocolate breakable heart and the white on the strawberries. This is an absolutely adorable set.
Looking for more chocolate covered strawberry ideas? I've featured Baby Yoda and Cookie Monster twice in the past.
This set has 12 Baby Yoda Chocolate Covered Strawberries, while this Valentine's Day themed set has 6 Baby Yoda Strawberries and a chocolate breakable heart.
In addition, this box includes 12 Cookie Monster Themed Strawberries and this set has a chocolate breakable heart and 6 Cookie Monster Strawberries.