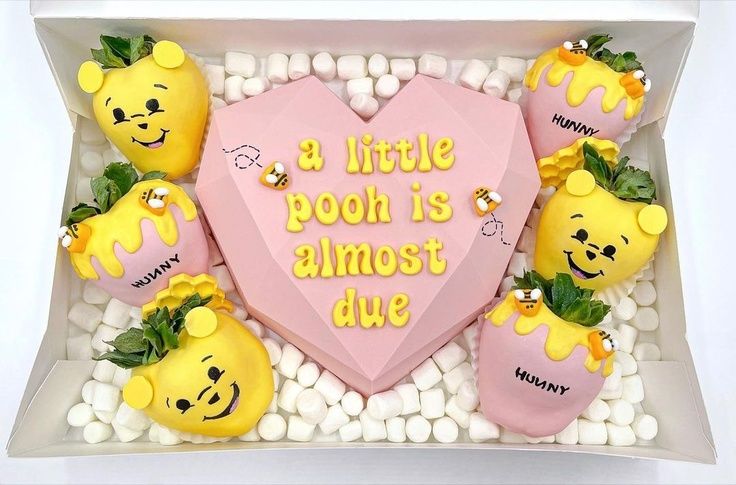 These cute Winnie the Pooh Chocolate Covered Strawberries with a breakable chocolate heart were made by The Berry Shack. I've never seen baby shower themed chocolate strawberries before.
This gift box contains a large pink chocolate breakable heart. It has the adorable phrase – A Little Pooh Is Almost Due – written on it in honey yellow chocolate. There are two tiny honey bees flying on the heart.
There are six chocolate covered strawberries with the heart. Three are pink hunny pots overflowing with honey. There are also two itsy bitsy honey bees on these strawberries. The other three look like Winnie the Pooh. They drew on his smiling face and even gave him tiny ears.
The packing material for these sweet treats? Mini marshmallows.
This set is too cute!
Looking for more chocolate covered strawberry ideas? I've featured Baby Yoda and Cookie Monster twice in the past.
This set has 12 Baby Yoda Chocolate Covered Strawberries, while this Valentine's Day themed set has 6 Baby Yoda Strawberries and a chocolate breakable heart.
This box includes 12 Cookie Monster Themed Strawberries and this set has a chocolate breakable heart and 6 Cookie Monster Strawberries.