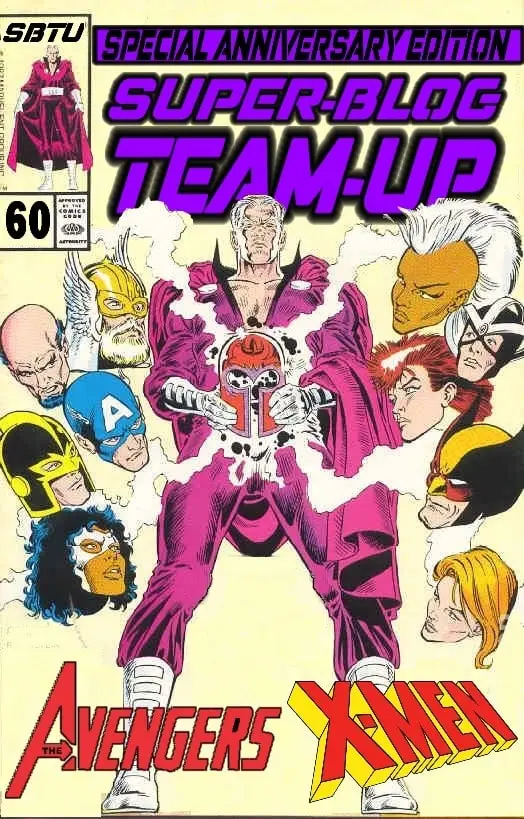 Welcome to the Avengers & X-Men 60th Birthday Party! For this party, I've assembled a collection of uncanny cakes, cookies and other sweet treats! A party isn't a party without other people, so I've invited my friends from the Super Blog Team Up to join the party.
If this is your first time to Between The Pages Blog, welcome! Between the Pages is a pop culture cake blog, so I've got fantastic treats lined by some of the world's best sugar artist.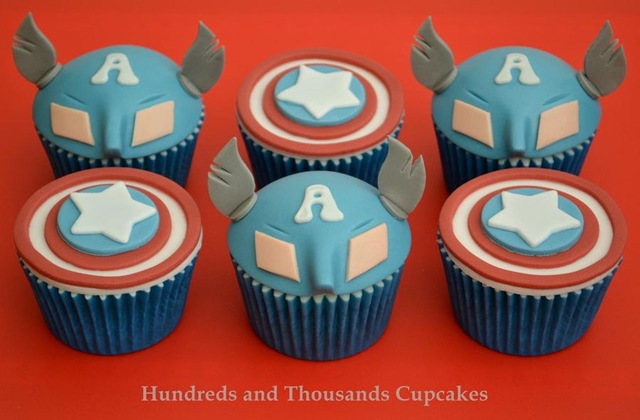 These terrific Captain America Cupcakes were made by Hundred and Thousands Cupcakes.
Carla Puig made this amazing Storm Cake for Cake Con International.  This is Carla's 3rd X-Men themed cake for CCI.  In previous years she has made stunning cakes featuring Mystique and Magneto.
This incomparable Tony Stark / Iron Man Cake was made by Lulú Lucero. If you haven't visited Lulú's Instragram, you really should, she has an amazing gift at making life like people. This amazing cake is based on Avengers: Endgame with Tony Stark wearing the Infinity Stones and a battle damaged Iron Man armor.
This cool Captain America and Hawkeye Cake was made by Marzia Caruso. One of the best loved eras of the Avengers is a period where the team is just Captain America, Hawkeye, the Scarlet Witch and Quicksilver.
This magical Scarlet Witch Cake was made by Le Boutique Pasteleria. It features Wanda Maximoff dressed in her Scarlet Witch costume. She is casting a spell.  You can see the magic coming from her hands. Behind and above her are flames.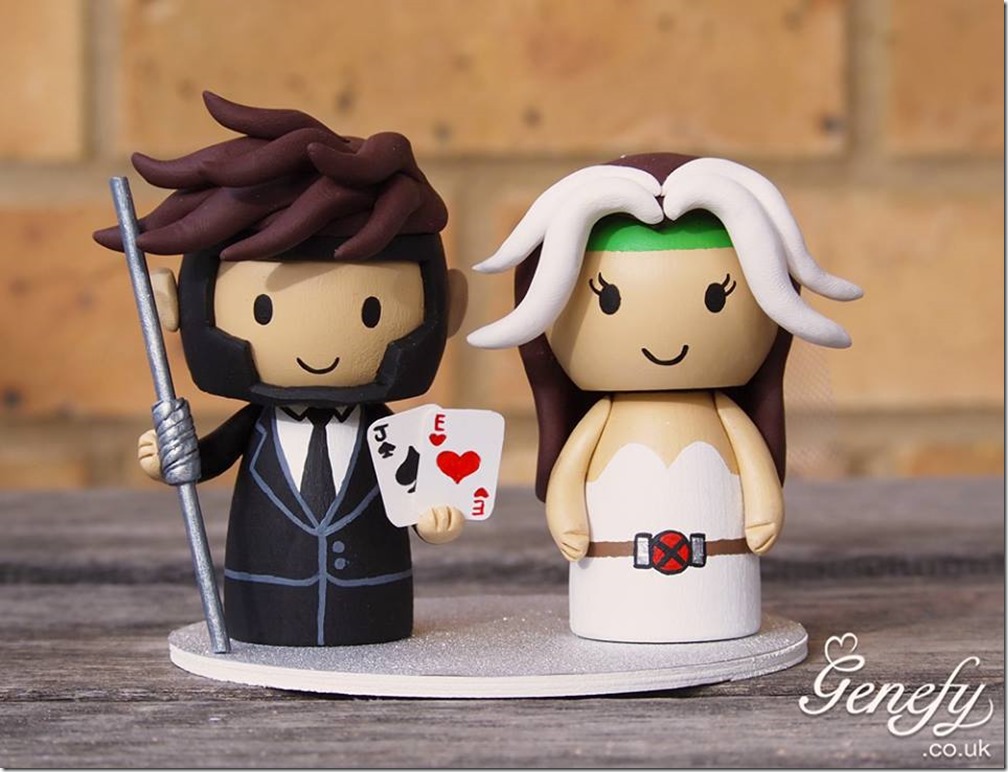 This marvelous Gambit and Rogue Wedding Cake Topper was made by Genefy Playground. Gambit and Rogue are one of the most popular couples in Marvel Comics.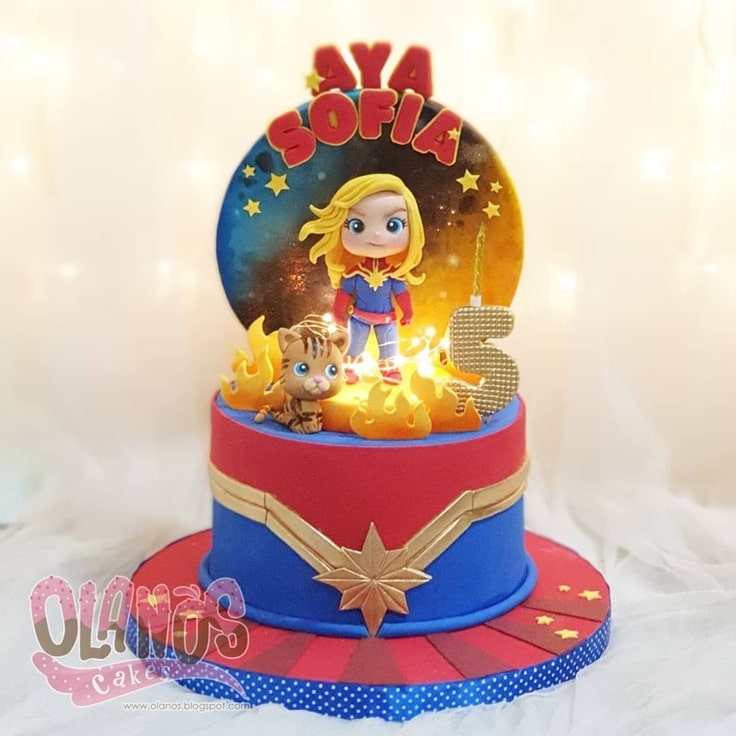 Olanos Cakes make the most adorable birthday cakes. Their Captain Marvel 5th Birthday Cake is amazing. On top of the cake are cute figures of Captain Marvel and Goose. Carol is standing in flames and the cake is lit such that there are lights shining up from bellow Carol. This such a wonderful special effect and it really makes this cake lovely.
These AMAZING Captain America Rice Krispies Treats made by A Taste To Remember.  A Taste To Remember makes the coolest Rice Krispies Treats ever! They also made these stunning SpongeBob SquarePants Rice Krispies Treats.
This amazing Wolverine vs. the Hulk Cake made by Sirac Cicek. Wolverine's first appearance was in an issue of the Incredible Hulk.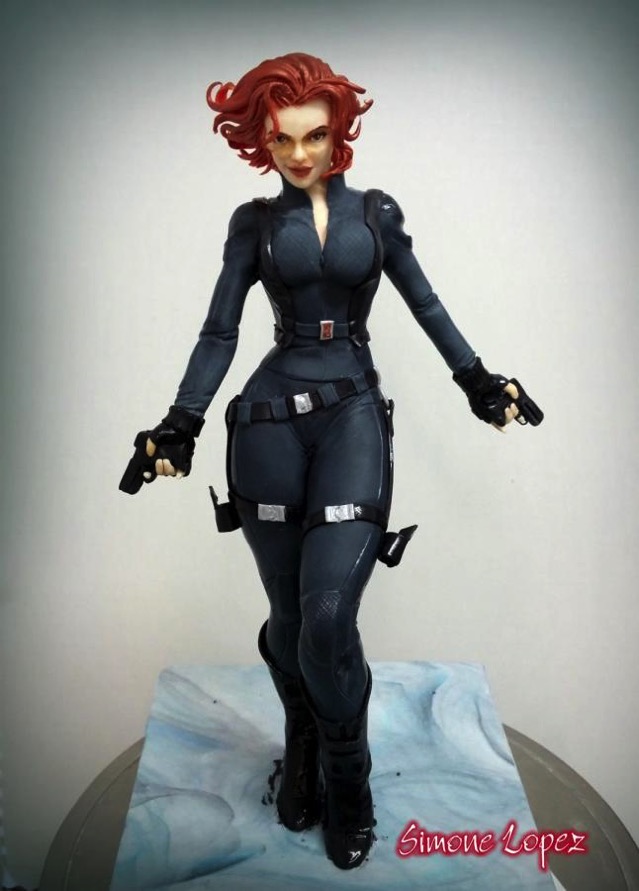 Simone Lopez made this awesome Black Widow Cake Topper. It features Scarlett Johansson's version of the Black Widow from the Marvel Cinematic Universe. Natasha Romanoff has red hair that looks like it is blowing in the wind. She is wearing her skintight black costume. The costume's belt buckle has the Black Widow logo on it. She has a holster on each side, but they're empty because she has a revolver in each hand.
Wow!!! The armor on this Iron Man Cake is gorgeous. DOLCI Pastelería did an AMAZING job with this cake!
Esmeralda Trigo made this wonderful Wasp Cake for the Let's Dream Together Cake Collaboration.  Let's Dream Together is one of the most creative ideas I've seen for a collaboration.  Each team of two or three artists made separate cakes which goes together and form a set.  Esmeralda's cake features Evangeline Lilly as Hope van Dyne.  Hope is dressed as the Wasp.  The companion cake features Paul Rudd as Scott Lang / Ant-Man.
This is too cute! I've never seen Belle and Hank McCoy together before and it is simply brilliant.  This adorable Beauty and The X-Men's Beast Wedding Cake Topper was made by Wonderland Toppers.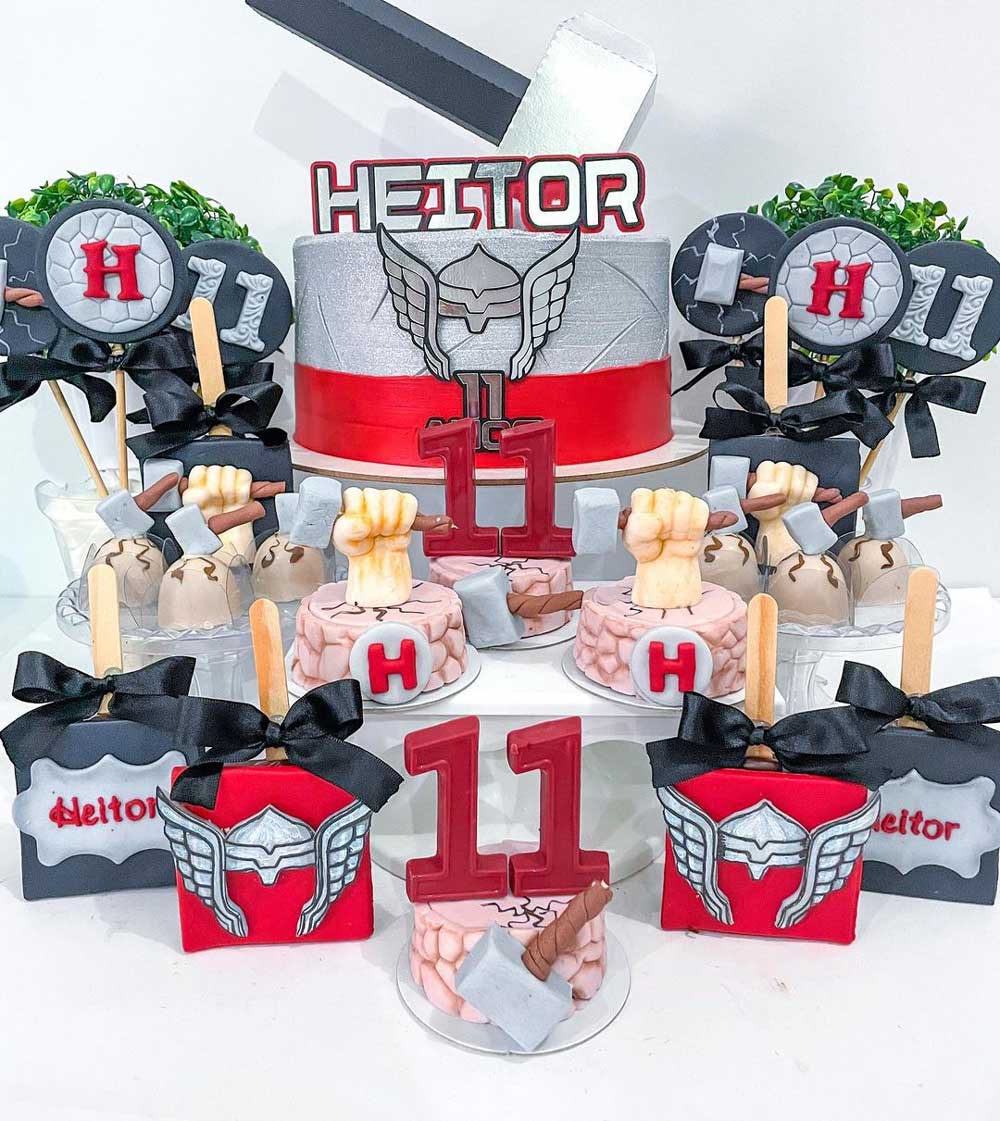 This awesome Thor Birthday Party features a birthday cake with Thor's hammer and helmet , chocolate lollipops, mini brownie cakes, and chocolate truffles with Thor's hammer on top. Everything has coordinating colors of red, grey, and black.  These Thor birthday treats were made by Doces Da Tata.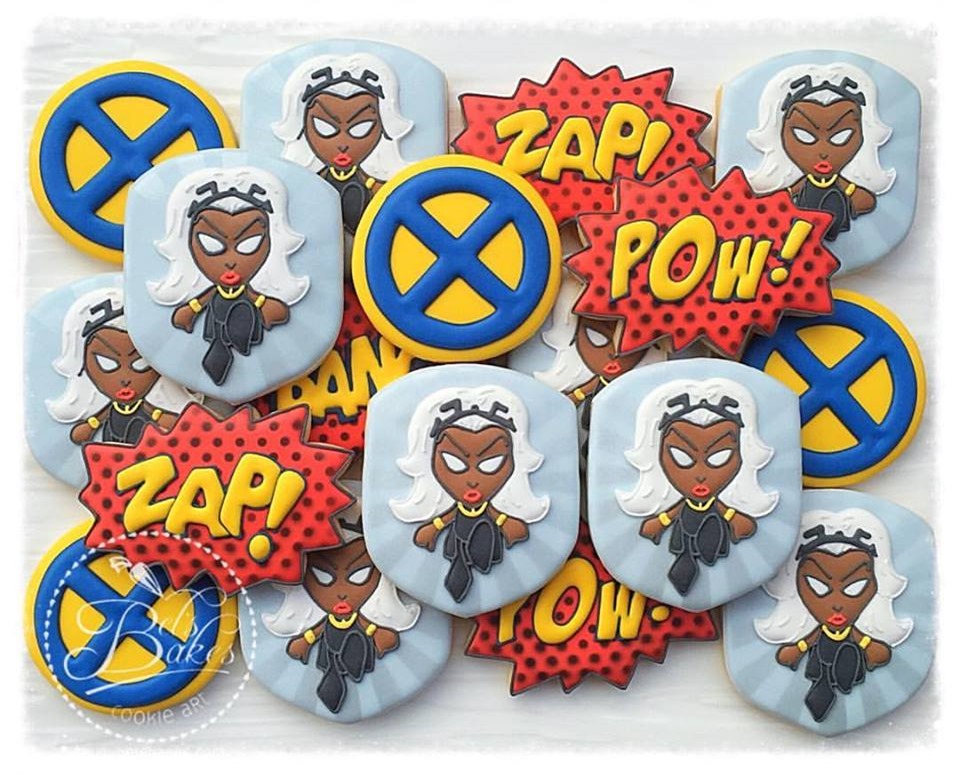 These terrific Storm Cookies were made by Bel's Bakes. Of all of Storm's looks over the years this original costume is my favorite.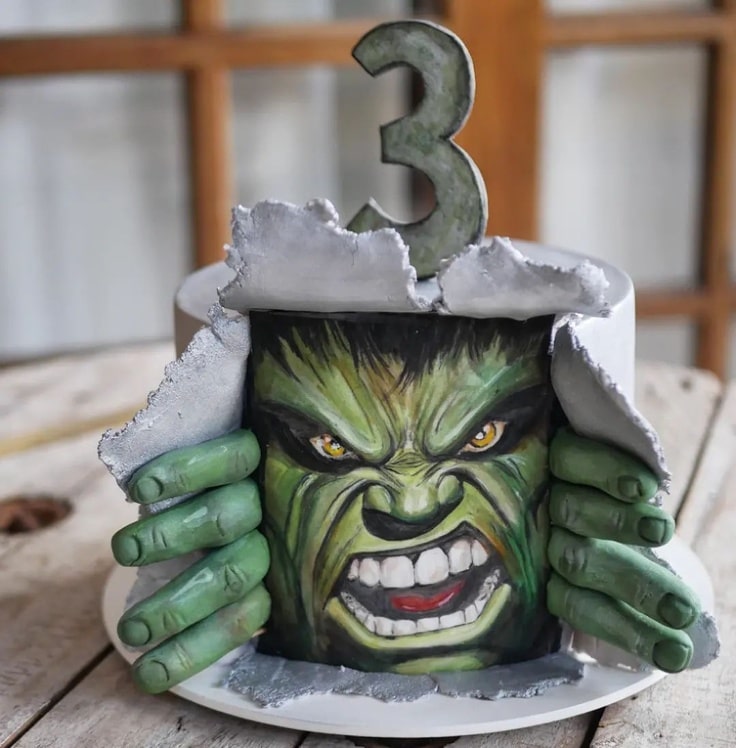 Wow! This incredible Hand Painted Hulk 3rd Birthday Cake was made by Lulu com Açúcar. The Hulk has torn the middle of the cake with his hands and his angry face can be seen inside the cake. Lulu's hand painted Hulk is absolutely astonishing!!! He looks extremely angry because he is snarling and his brows are furled so that his eyes are almost sideways.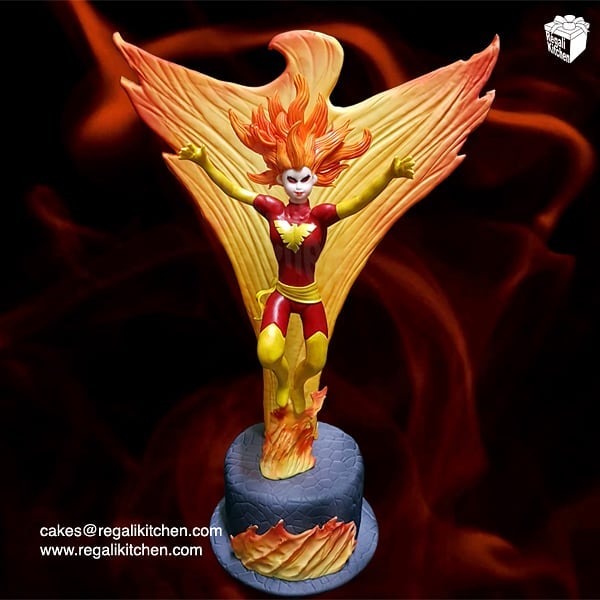 This wonderful Dark Phoenix Cake was made by Cakes By The Regali Kitchen. really like how you see Jean and the flame version of the Phoenix behind her.
This gorgeous Black Panther Cake was made by Nick Sarmentoo. Black Panther's costume is black with grey accents, so most Black Panther Cakes are also black with silver trim. When this cake was ordered, the customer specifically told Nick that they wanted a more colorful cake. So, the top tier is black with silver trim and is topped with a wonderful hand sculpted Black Panther Cake Topper. But, the rest of the cake is colors of Wakanda.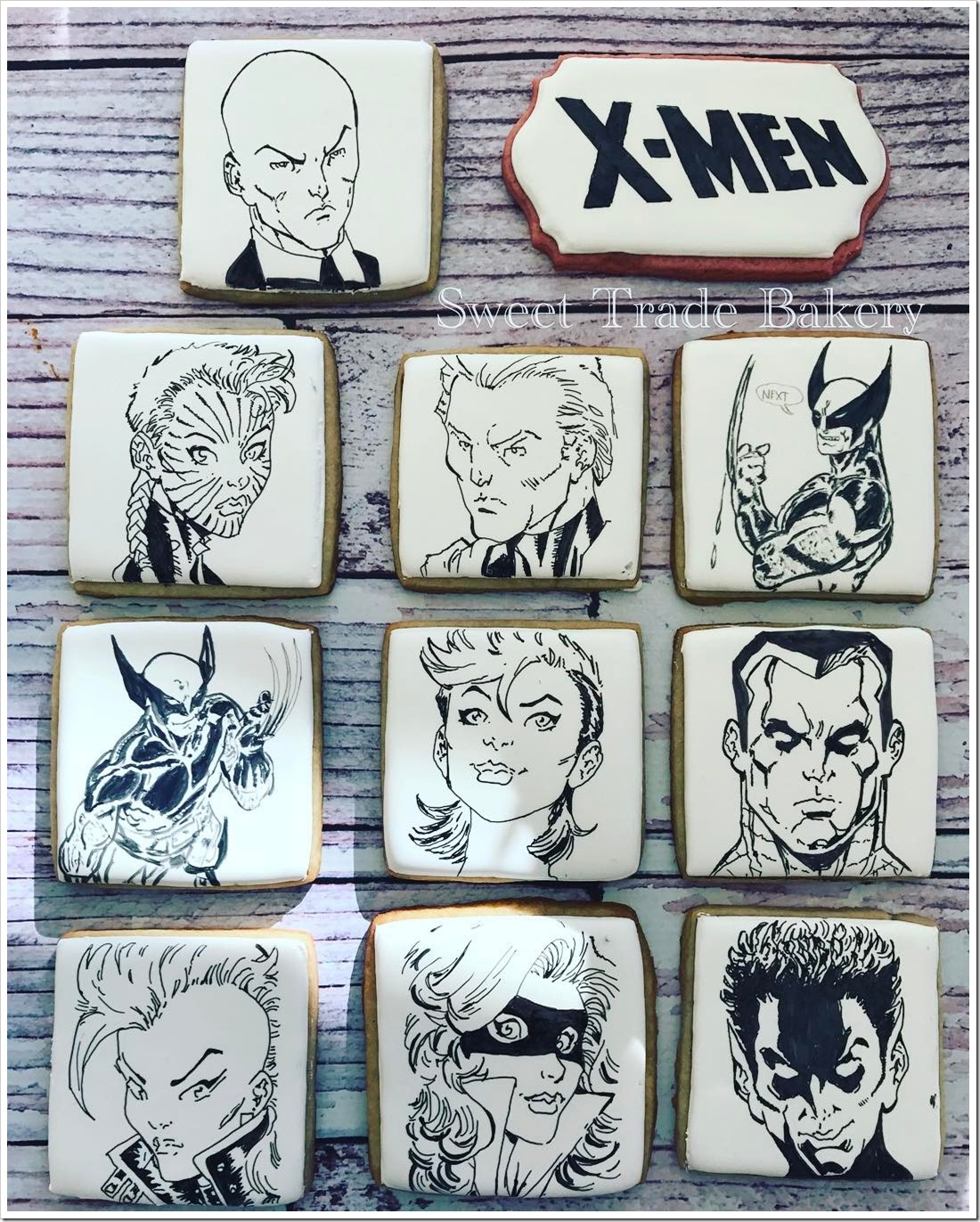 These wonderful X-Men Cookies were made by Sweet Trade Bakery.  These are from the era where Chris Claremont, John Romita, Jr. and Dan Green where the creative team on Uncanny X-Men.  They are from somewhere around issue 180 to 200. The characters on these cookies are Charles Xavier, Rachel Summers, Magneto, Wolverine (twice), Rogue, Colossus, Storm with her mohawk haircut and leather outfit, Kitty Pride in her Shadowcat costume and Nightcrawler.
This Ant-Man Cake was made by Mike McCarey of Mike's Amazing Cakes.  This amazing cake shows Scott Lang dressed in the Ant-Man costume and riding Antony his ant who flies him around where he needs to go.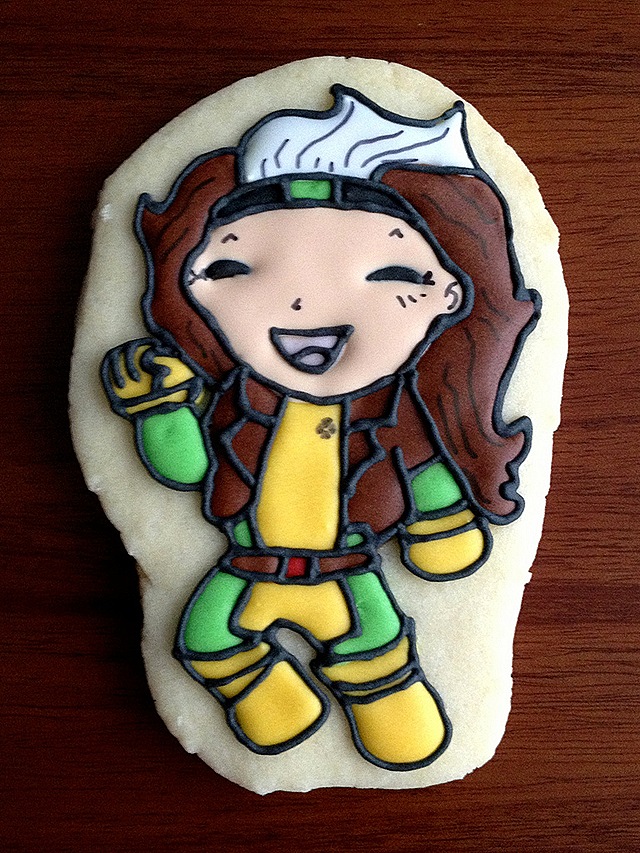 These terrific cookies of Storm, Psylocke, Rogue & X-23 were made by Audrey's Cookies.  
Nicole from Sugar Vibes Bakery made this mindboggling Iron Man Cookie.  She called it quarantine crafting; I call it AMAZING!!! Iron Man is hand painted with gel and airbrush colors.
I hope you enjoyed this post and will come back tomorrow for more amazing pop culture cakes and cookies. For more Super Blog Team Up, please check out: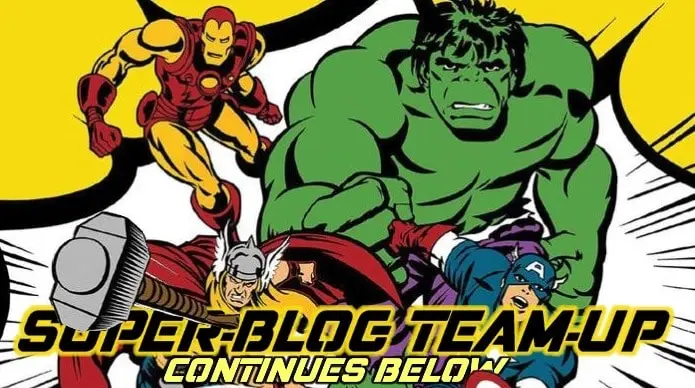 *51: You Can Do That in a Superhero Comic?!? (Uncanny X-Men #297)
SNAP Material (podcast): Marvel SNAP On-Air Battle – "West Coast Avengers (Evan) vs. X-Force (Jesse)"
Source Material Comics Podcast: "Ultron vs. Nimrod: An AI Perspective"
Dave's Comics Heroes Blog: X-Men And Avengers Beginnings